The Ballantynes of Selkirk
Michelle Lorraine Ballantyne (nee Cross), b1960 in Surrey, England.
Her father, Michael Ronald Cross, b1938, owns property in Twickenham, value around £1.5m, where he lives with his wife Dr. Francis Maria Cross
She married Captain Neil Ballantyne, b1960, in 1983. Neil served with the KOSB and The Parachute Regiment.
The couple most likely occupied married quarters in Aldershot where they added 3 sons and a daughter to their family between 1983 and 1990.
Neil resigned his commission in 1990 and relocated the family to Ashiestiel Farm, Galashiels which is a traditional detached farmhouse in a fine rural setting.
The well-presented accommodation comprises entrance hall, sitting room, dining room, study, breakfasting kitchen, large pantry, utility room, 5 bedrooms, 1 with en-suite shower room and 2 bathrooms. Further benefits included: oil fired central heating, garden, large store, log store, hen house & parking.
They added 2 more children to the family.
In 1990 together with other persons, set up their manufacturing company, "Ballantynes of Walkerburn" (more on this in part 2)
Early Career in England
Completing her nurse training at The London Hospital, Whitechapel, (now part of St Barts Trust, more on this in part 2) she started her career working as a staff nurse in the Intensive Care Unit.
But realizing her bent was with administration and finance she made an early move into Health Service Management then went on to hold a number of posts within finance before taking up a post with South West Thames Regional Health Authority, as the Deputy Regional Finance Training Manager.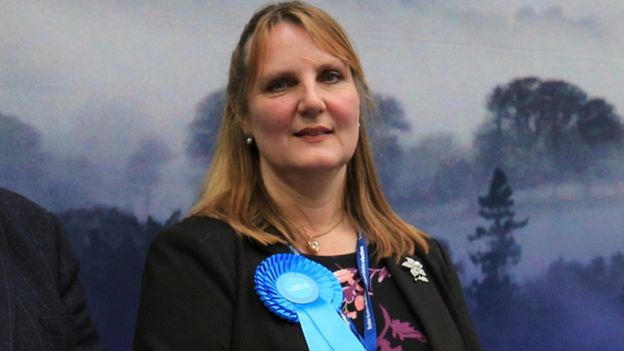 Career Progression in Scotland
After the move to Scotland Michelle continued to work as a nurse while also completing an Honours degree at Heriot-Watt University.
She then returned to Health Service Management in 2000, latterly managing Acute Medicine in Edinburgh before moving in 2005 to head up an independent charity providing specialist drug and alcohol support to children, families, and offenders.
She joined the Conservative Party in 2009 mindful of events in her early years that making promises was easy but delivering results was the real challenge and results can only be successfully achieved if promises are realistic and everyone works together sharing responsibility.
In 2012 Michelle was elected to Scottish Borders Council, where she served as Leader of the Conservative Group. Michelle was then successfully-re-elected in March 2017 and resumed her position as a leader at Newtown St Boswells.
In May 2017 Michelle became a list MSP for the South Scotland region, covering Midlothian South, Tweeddale, Lauderdale, and East Lothian while retaining her council seat. Michelle has since stood down from Scottish Borders Council to focus on her duties as an MSP.
During Summer 2017 Michelle was appointed as the party's Spokesperson for Childcare and Early Years. During her first year in Holyrood, she sat on the Public Petitions Committee and was a substitute member of the Justice Committee.
In May 2018 Michelle was promoted to the Shadow Cabinet as Shadow Cabinet Secretary for Communities and Social Security.
Following this announcement, Michelle left the Public Petitions Committee to take up a seat on the Social Security Committee.
Political Ideology (in her own words)
The Economy
The truth is that private enterprise is the backbone of any promise that a government makes. We have to have a strong economy and that means getting rid of the deficit and clearing the debt that we are currently shackled with.  If we don't do this the interest payments on the debt will rise steadily and that is money that should be used to deliver services. (But it has trebled over the past 10 years of the Tory government)
I am proud of the fact that over the last five years the coalition has in the face of a global recession formed a plan and stuck to it ensuring that Britain is now one of the fastest-growing economies in the world. This is no small feat and no one should underestimate how important it is. (What drivel she spouts)
General Taxation
The only money the government has to spend is the taxes it collects from both individuals and businesses. Individuals earn their money from business and public sector earnings are paid from the money government collects from the private sector and therefore it is clear that the only money government has come from the wealth generated within the private sector.
This is why it is so important to back and support businesses because without them we would not be able to have the universal education, health care, defense, security and welfare that we all value.
Without income from the private sector, the government would have no resources to help and all promises would be rendered false. Entrepreneurs and private industry are essential to our well-being and aspirations for the future.
Individual Taxation
Making ends meet is for many families the biggest worry that they face and without hope that things are going to improve life can be very hard.
As a Conservative I have always been committed to low taxes it is only right that you should keep the majority of the money that you earn. Raising the amount you can earn before you have to pay tax is a simple and effective way to deliver this.
The next Conservative Government will go even further in putting your money back in your pocket. For those who immediately think that being conservative is all about helping the rich let's look at the facts – the richest 20% of households will contribute more to reducing the deficit then the remaining 80% put together.
The top 1% of earners contribute 25% of the tax and this is forecast to rise to 27%. The Independent Institute for Fiscal Studies (a tory funded think tank) has confirmed that 'the very rich have lost the most under this government'.
Taxation is about raising money to provide the government with resources to provide services – it is not a punishment system for doing well and it is most effective in its aim when it encourages aspiration and operates at a level that people are happy to pay.
The Scottish National Health Service
The Conservative Party is and always has been committed to a health care service that is free at the point of use based on need and mot on the ability to pay.
My views and understanding of what is happening in the NHS are not based on political rhetoric and scaremongering they are based on thirty years of experience first as a Nurse and subsequently in operational and strategic management.
The NHS has had year on year increases in funding and the Barnet consequential means that Scotland has received our share of those increases however that money has not been passed on to our health boards and the rhetoric on privatization is designed to create fear in the hope of winning votes – it is a shameful way to mislead people and use a service which is the difference between life and death for many people.
There are many changes that could and should be made to the NHS to secure its future and provide the best outcomes for patients but using it as a political football is not one of them. (Oh dear!! howzat for a contradiction in terms?
I will work with our nurses, doctors and allied health professionals to ensure that we make the right decisions to provide an NHS that works for the people it cares for, an NHS that is about health outcomes not about targets and bureaucracy.
Public Spending
No one wants to be the one to have to make cuts in public spending, after all, it doesn't necessarily help your popularity, but it does take courage and a clear head to make difficult decisions and see them through. That is why I joined the Conservative Party.
To improve life chances for everyone we have to have a strong economy and to do that businesses must be confident to invest in their future and provide employment and opportunity. Governments' role is to provide constitutional stability and the infrastructure and environment that allows the business to flourish. Conservative-led governments do this.
Scottish Independence
Scotland voted to stay as part of the United Kingdom and that now needs to be respected to provide constitutional stability.
As a unionist I want to see Scotland with a strong voice in Westminster and Midlothian with a strong voice in Scotland, devolution should not stop at Holyrood.
(But Scotland has no voice in Westminster. The Tory government totally ignores any input from Scottish politicians, except their own toadies.)
Tax Evaders
For those large corporations who have no allegiance to our country and wish to evade our tax system, I will support further statutory measures to close the loopholes that allow tax dodging.
We have done more on this than any other government before us to prevent tax evaders and this has already raised £85 billion.
(Dream on. voicing a load of twaddle on this. More money has been moved offshore in the last ten years than the previous 200 hundred)
Other policies
The right to a good education where the quality of what you learn and achieve is more important than just teacher numbers.
Opportunities to learn, not just in university, but vocationally with access to colleges and work opportunities. (If you can afford to pay for it)
A job for everyone who wants one, and they help to get back to work for those who feel isolated from the opportunity. (Zero hours contracts count since the bulk of jobs fit this description)
The chance to own your home – Help to buy has been a huge success and has helped many people in Midlothian to get on the housing ladder.
We will continue to support and develop programmes that help people to have a home of their own.
(The scheme is discredited since it only assists those who are seeking huge mortgage loans)
A police force that works with our communities, not a one size fits all approach. ( We have this courtesy of the SNP government)
Protection for our environment recognizing that that is also about keeping our scenery beautiful and encouraging the land management that we have benefitted from for hundreds of years.
(Aha!! but fracking does not count does it? and wind and water energy generation is left unfunded so that Westminster can progress its extortionately expensive and dangerous nuclear power plant building agenda)
A strong voice in the world, getting a good deal in Europe and providing appropriate support and aid in areas of conflict and crisis. (No change there then gunboat diplomacy to be enhanced and expanded)
I hear a lot of politicians using expressions like Fairness and Justice – these are words that are used like weapons now to sell an ideology and detract from the facts.
(So true!! There is no fairness or justice in the policies enacted by the Tory government against the people of Scotland over the past 10 years.)
Statistics show that inequality has fallen under the Conservatives.
The income received by the lowest income groups has increased and for the highest income groups, it has fallen.
Wages are now rising faster than inflation and more jobs have been created in the UK than in the whole of Europe put together. (Dream on).
Whilst politics is not a meritocracy I believe that the success or failure of government is based on the quality of the people we elect to do the job and their understanding of the effect of the decisions they make on all sectors of society.
( so true but she needs to listen to her own voice since she is failing to understand the impact of the unfounded allegations she pronounces in the right-wing Scottish press and media.) More in Part 2.