Austerity-An unnecessary Hardship Imposed on Scotland By Westminster nefarious Spivs
In 2008, Northern Rock, RBS, HBOS and other UK banking institutions seemed destined to fail, largely due to criminal behavior.
80% of losses were attributed to their London and foreign based businesses.
The Westminster government intervened and bailed the banks out using £billions borrowed from the World Bank.
In a twinkling Alistair Darling and Gordon Brown lumbered Scots with a repayment of an impossible debt, added to with extortionate interest charges.
The banking system including, hedge fund investors, staff and management were not subjected to any formal police or public enquiry with result that it continued operating almost completely unaffected.
No UK banker ever faced criminal behaviour charges.
Bonus schemes were retained and in many cases expanded and London's financial hub has enjoyed many years of good living at the expense of the Scottish taxpayer.
Adding insult to injury not long after the financial crisis, the UK loaned Ireland £20 billion, (at a knock-down rate of interest) proving that bailing out banks–like reinsurance–is a risk which is global in nature and shared between countries.
In a statement, seeking understanding of his decision to, "prop up" the Irish economy George Osborne, UK Chancellor said, "Ireland is our very closest economic neighbour and we must assist."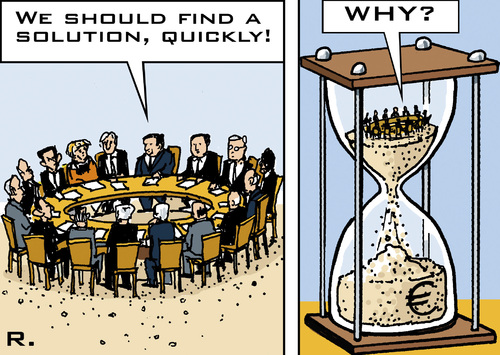 In the aftermath of the crisis, Bank of England officials claimed the UK Chancellor had botched the banking bailout and the Bank would never be able to recover all of the loans let alone match the performance of the US Federal Reserve which reported a $billions profit (out of the crisis). No austerity for the American public.
Sir Mervyn King, Governor of the Bank of England, said: "The sad truth is, in 2008, the idea of focusing efforts on recapitalizing the banking system was a UK idea. We got there first but, like many UK ideas, the Americans developed it much faster and much better."
The US forced all major banks to take Federal Reserve money, purchasing substantial stakes at around "half their book value."
The Bank of England, directed by Brown and Darling, acting against the bank governor's advice, purchased similar financial stakes, but at "full book value."
A Treasury source later said: "The Government judged that without a taxpayer injection the banks would have collapsed, with consequences for financial stability and people's money, and it judged that was an unacceptable risk to take."
But the Westminster government had bailed out banks with global operations and the former chairman of RBS, Sir Philip Hampton,(retd) in November 2012, in his evidence to the House of Lords reminded was very clear that bankers:
Had used many countries central banks as lenders of last resort for many operations in jurisdictions in which they operate.
This is a key part of what central banks do in the jurisdictions that they control.
Just because there might be an independent Scottish Government did not mean that all lender of last resort facilities would disappear. They would be continued.
This also works when a country has a banking and a fiscal union, as in the UK.
The Bank of England would provide "bank of last resort" support to Scotland, if needed.
But should difficulties arise with the foregoing arrangements the final fall-back position (assuming Scotland retained membership of the EU) would be for Scotland to seek assistance from their EU partners.
Requests simply require a majority vote in favour, but the decision is binding on all EU members.
Provision of financial support would not be breaking new ground since this is exactly what happened when Ireland, Spain, Portugal and Greece were extended "bank of last resort" backing from the EU and the Bank of England donated its £20 billion share.
In the last "face to face" with Alex Salmond, in the 2014 Independence Referendum campaign, Alistair Darling, accepted Scotland had every right to use sterling and this would not need the authority of the Bank of England.
The mendacious "mantra of fear" propaganda of "Better Together" that the Bank of England, would not provide a "lender of last resort" facility to Scotland was scurrilous myth.