The USA/ GB Alliance
1997: William Cohen – Defender of the United States of America
The Cohen Group is the largest and most influential political group in the world. William Cohen and George Robertson are key movers and shakers in it and have worked hand-in-glove since 1997. https://www.cohengroup.net/
Clinton's Secretary of Defence, Cohen was the man who built a new security order in Europe by creating a European defence structure independent of the US, through the expansion of NATO and the EU towards eastern Europe. His moves tied in with Clinton's policy of removing American forces from foreign wars in preference for providing "proxy support". There was tacit agreement within Europe for the "new" policy but with the proviso that American assets within NATO would be made available to be used in any conflict. The British government accepted the role of "European Pillar" within the alliance and agreed to lead any independent European peacekeeping and crisis-prevention missions. Cohen would be the final arbiter of any mission.
George Islay MacNeill Robertson, Baron Robertson of Port Ellen, KT, GCMG, PC, FRSA, FRSE: Labour Party Minister of Defence and an Alma mater of the University of Dundee-A pen picture.
https://www.heraldscotland.com/news/12196305.putting-on-a-front-george-robertson-may-seem-rather-priggish-but-what-lies-behind-the-inscrutable-facade-of-the-man-deemed-to-be-the-most-powerful-scotsman-in-the-world/
1997: George Robertson was appointed, Minister of Defence and immediately established a working relationship with the American Secretary of Defence, William Cohen. In that position, he committed the armed forces to a military role in the Kosovo conflict and participation in East Timor and in the 1998 air strikes in Iraq then Afghanistan.
He also initiated a Strategic Defence Review (completed in 1998) which he confidently stated would be "a force for good". The review created a "Joint Rapid Reaction Force" equipped and capable of rapid deployment worldwide aimed at neutralising, putting down any threat to the interests of the UK or USA.
The review also reintroduced "gunboat diplomacy" which would be achieved through an ambitious project to build two new large "Queen Elizabeth" class aircraft carriers armed with 600 super duper new aircraft and accompanying armadas of cruisers, destroyers and a myriad of other support vessels to show the world that Great Britain under the Labour Party was committed to the defence of the nation.
But there was a major drawback which scuppered Robertson's grandeoise plans. The Labour government had campaigned under the banner "things will only get better" but neglected to tell the public that the start of the "betterment" would be deferred for at least the first two years of the New Labour government. The defence budget was reduced by £2bn. Robertson and Labour had created an unaffordable dream and sold the nation a defective puppy.
But Blair/Brown and Robertson would not be thwarted in their intent to expand Britain's influence in the world and soon found a way betray their manifesto promises.
They set about privatising the state owned defence industry raising finance necessary to fund the Labour Party plans for world domination with the USA, starting with the balkans. Their first venture was to set up a public/private partnership called QinetiQ which made 10 senior civil servants multi-millionaires overnight, as their total personal investment of £540,000 turned into £107 million. A National Audit Office (NAO) review concluded that the taxpayer had lost "tens of millions" on the sale.
Shifting the defence industry from being a "provider" to a "decider" resulted in the Ministry of Defence (MOD) losing the ability to act as an intelligent customer able to hold suppliers to account. Providers were made kings able to charge increasingly exorbitant fees for mediocre products.
In total "New Labour" sold state owned assets to a value of nearly £60bn. Much of the money raised was used to finance illegal wars in Iraq and Afghanistan in which many young Scottish men and women were needlessly killed, wounded and maimed. The survivors have since been abandoned and sentenced to live the rest of their their lives in pain and poverty denied the assistance of the State that condemned them to the scrap heap of society. Read on: https://socialistworker.co.uk/art/13460/Qinetiq%3A+Gordon+Browns+privatised+defence+scandal
Robertson and his Wars
Bosnia was the first test of European resolve and Britain together with some other European countries responded deploying significant numbers of armed forces to police internal conflicts within the region that had been encouraged by many dozens of Daniel Defoe type agents acting under the guise of NATO "do gooders". The countries of the Balkans and Serbia were bombed into submission during an air campaign in which more than 31,000 bombing raids were conducted by the US and Britain supported by British troops on the ground. Rebuilding the countries of the Balkans is still far from complete over twenty years later but NATO and the EU has been expanded.
In 1999, he was invited to serve as Secretary General of NATO and Chairman of the North Atlantic Council. In the four turbulent years that followed, he presided over the creeping enlargement of the Alliance to include member states in Central and Eastern Europe and was the first ever leader of NATO to invoke the Article V mutual defense provision, responding to the September 11, 2001, terrorist attacks on the United States. He was instrumental in getting NATO involved in Afghanistan.
In November 2003, President George W. Bush presented him with the US Presidential Medal of Freedom, America's highest civilian honour and only rarely given to foreign nationals.
In the 2004 Queens New Year Honours he received one of Britain's highest awards, the Knight Grand Cross of the Order of St Michael and St George.
The following year he was made one of the Knights of the Thistle, chosen personally by Her Majesty The Queen, which is the highest honour in the UK, equal to the Order of the Garter.
He has the highest national honours from Italy, Germany, Spain, Portugal, Belgium, Poland, the Netherlands and many other countries.
Since 1997, he has served as a member of Her Majesty's Privy Council.
He was Joint President of Chatham House (the Royal Institute for International Affairs) for a decade and serves today on its Panel of Senior Advisors and its North American Committee.
He is an Elder Brother of Trinity House, on the Councils of the European Council on Foreign Affairs and the International Institute of Strategic Studies.
He is a Prime Ministerial appointee to the World War One Commemoration Advisory Board, a Trustee of the Queen Elizabeth Diamond Jubilee Trust, and on the Board of the Royal Edinburgh Military Tattoo.
Robertson – The ardent Unionist
April 2014: In a speech to the Brookings Institution, in the USA, Robertson likened the honourable efforts of Unionists to keep Scotland tied to the UK with those of Abraham Lincoln's fight against slavery when he stated:
"they might look more relevantly at the Civil War where hundreds of thousands of Americans perished in a war to keep the new Union together. To Lincoln and his compatriots the Union was so precious, so important, and its integrity so valuable that rivers of blood would be spilt to keep it together."
April 2004: Marriage unites the Robertson-Smith Labour Party Dynasties
Strengthening the Labour Party Dynasty in Scotland the daughter of the late Labour leader John Smith married the son of party colleague Lord Robertson on a picturesque Scottish island. Malcolm Robertson, 31, tied the knot with Jane Smith, 32, on Islay. Among those who attended were First Minister Jack McConnell, Liberal Democrat, deputy leader, Sir Menzies Campbell and former Lord Chancellor, Lord Irvine. The bride arrived at the church in a blue Rolls-Royce wearing a cream dress with a full-length veil along with her sister, Sarah, the Channel 4 News presenter who was the maid of honour.
2021: Malcolm Robertson-Charlotte Street Partners-Corporate Loyalists
Vulture capitalists are here in Scotland and increasingly running public services. Charlotte Street Partners headed by ex-SNP MSP Andrew Wilson, alongside Malcolm Robertson and Kevin Pringle are in "the business of government", "strategic communications" and "message development" which sounds very much like lobbying for Vulture Capitalists.Their modus operandi is not better government and public policy but serving the interests of their clients. Charlotte Street will not reveal who their clients are or who funds them – and have consistently refused all requests, which breaks best practice in public affairs.
The reach of Charlotte Street Partners extends over large parts of public life. Angus Grossart, banker, is chair; Chris Deerin worked at Charlotte Street, then left and came back as head of the centre-right think tank Reform Scotland which also is secretive about who and what funds it (and was set up by another banker Ben Thomson).
Their clients include News Scotland (who publish "The Times" and "Sunday Times". Pringle writes a column in The Sunday Times; and Times and Spectator commentator Alex Massie is also on the Charlotte Street payroll regularly writing a 'Beyond the Street' column on Charlotte Street Partners' website.
A recurring critisim of London think-tanks such as the TaxPayers' Alliance, Institute for Economic Affairs, and Centre for Policy Studies is their secretive funding and funders and who drives their agenda; the same has to be true about Charlotte Street. This is not a healthy state of affairs in public life in Scotland and the UK.
A company or those working for it cannot get away with declaring " we are not corporate lobbyist's", while plying that trade and the potential for public scandal is ever present. Indeed what was Nicola Sturgeon thinking when she appointed Wilson to "chair" the recent "SNP Growth Commission". The findings of which she was forced to reject.!!!! (extracted and summarised content from from open democracy) This article is an excellent read:
https://melkelly60.wixsite.com/whatthepapersdontsay/single-post/2017/05/16/snp-pay-better-together-pr-team-for-snp-currency-review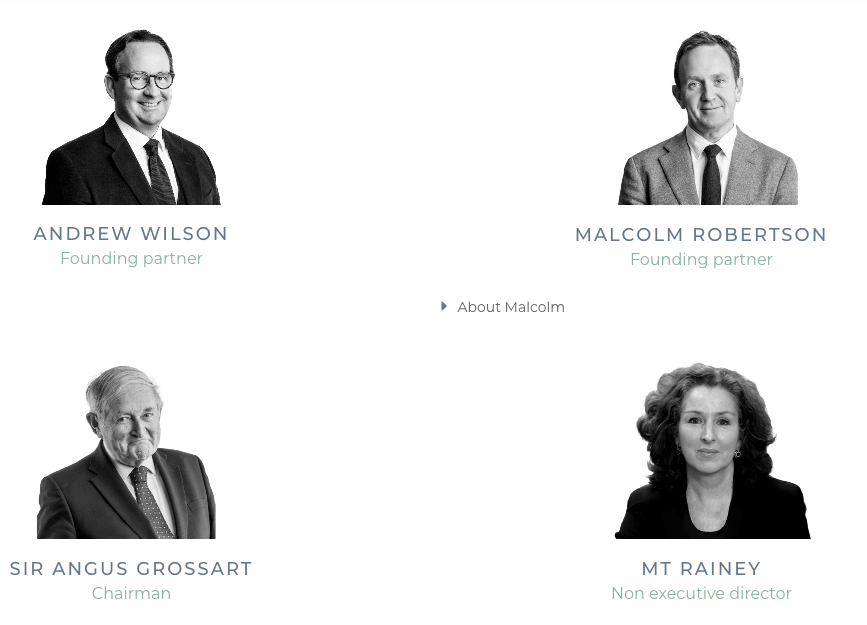 1999: Scotland's lobbygate-Observer reporters expose the links between Beattie Media and the Scottish executive
The lobbyist set out to impress the client. Grinning broadly he played his ace: "I know the Secretary of State very, very well, because he's my daddy."
"Daddy" was John Reid, Secretary of State for Scotland, Tony Blair's closest ally and a man strongly tipped to succeed George Robertson as Defence Secretary.
The lobbyist was 24-year-old Kevin Reid, a former Labour Party helper and now key player in a "New Labour" lobbying firm peddling claims of influence and access to Ministers.
Reid and Beattie Media director, Alex Barr had met "Anthony James", an Observer reporter posing as a businessman. "James" said he represented US investors who hoped to land lucrative Scottish government contracts to finance new schools and hospitals. The meeting, at Edinburgh's Balmoral hotel, was secretly taped and filmed.
At the meeting the lobbyists boasted of their privileged access to a Ministerial diary and claimed they had assisted the process of winning approval for a £60 million tourist development and a decision on shipment rights at a British airport.
Beattie Media also employed the offspring of three MPs – two of which, John Reid and George Robertson are Cabinet Ministers.
Malcolm Robertson, son of Defence Secretary George Robertson, has since transferred his employment to is now working as a lobbyist for the Scottish Airports Authority.
The third is Christina Marshall, daughter of David Marshall MP, chair of the Scottish affairs select committee at Westminster. She is now personal assistant to Jack McConnell, Finance Minister in the Scottish executive and former general-secretary of the Scottish Labour Party. He is central to Beattie's lobbying sales pitch, having headed its public affairs wing before this year's elections to the new Scottish Parliament.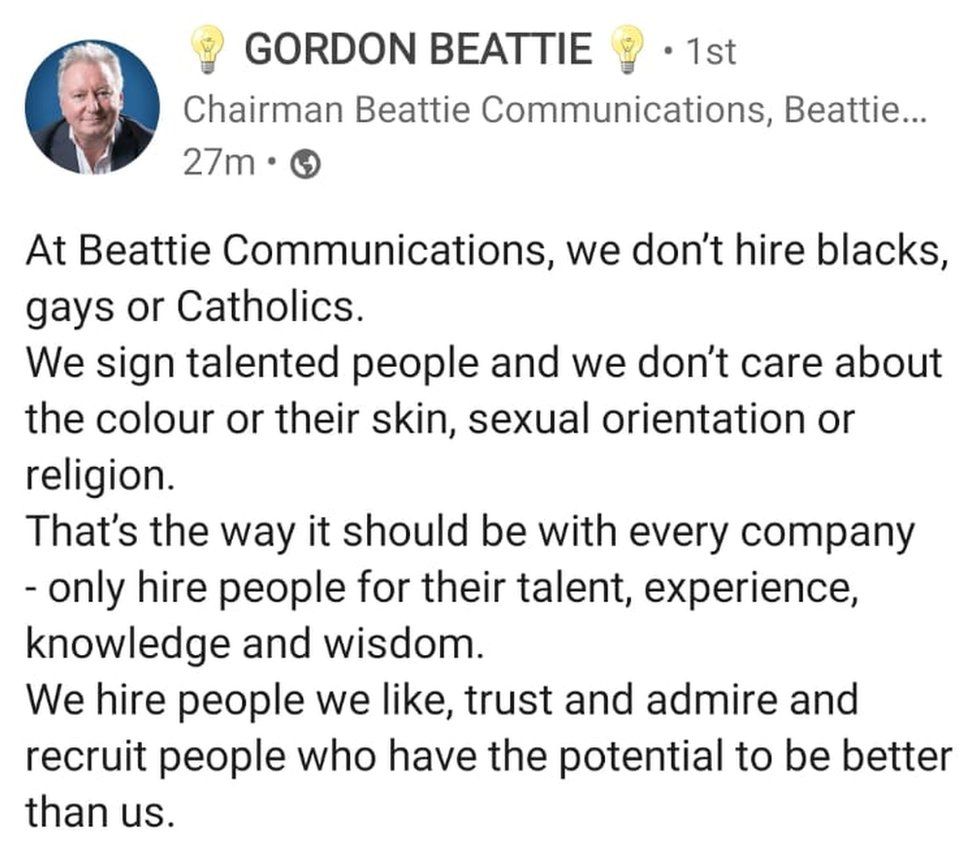 After NATO
Robertson received numerous honours (including a total of 12 Honorary doctorates from various universities).
Took up the post of Senior Counsellor at The Cohen Group, a consulting firm in Washington D.C. that provides advice and assistance in marketing and regulatory affairs.
His Career
1968–1978, Official of the GMB Union for the Scottish whisky industry.
1978–1999, Member of the British House of Commons, member for Hamilton or Hamilton South, elected six times.
1979, Parliamentary Private Secretary to the Secretary of State for Social Services.
1979–??, Opposition Spokesman on Scottish Affairs.
19??–82, Opposition Spokesman on Defence.
1982–93, Opposition Spokesman on Foreign Affairs.
1983–93, Chief Opposition Spokesman on Europe.
1993–97, Shadow Secretary of State for Scotland.
May 1997, Appointed to the Privy Council
May 1997 – October 1999, Defence Secretary of the United Kingdom
October 1999–January 2004, Robertson who had never served in HM forces was appointed Secretary General of NATO after a number of more qualified politicians declined the position and former Royal Marine Paddy Ashdown was overlooked because he had been leader of a minor political party.
Other former or existing posts
Chairman of the Labour Party in Scotland
Vice-chairman of the Westminster Foundation for Democracy
Vice-Chairman of the British Council for nine years
Vice-Chairman of the Britain-Russia Centre
Member of the Council of the Royal Institute of International Affairs (Chatham House) seven years, now President
Member of the Pilgrims Society
Governor of the Ditchley Foundation
Trustee of the 21st Century Trust
Patron to the British-American Project
Currently serves on the board of Cable & Wireless International
Currently serves on the board of The Weir Group PLC
Currently serves on the board of The TNK-BP
Currently serves on the Global Panel Foundation|Global Panel America Advisory Board
Currently a member of the Top Level Group of UK Parliamentarians for Multilateral Nuclear Disarmament and Non-proliferation, established in October 2009.
Hon president of the Clan Donnachaidh Society
Honours Awards and Orders
United Kingdom 2003 Knight Grand Cross of the Order of St Michael and St George (GCMG) Scotland
Knight of the Order of the Thistle (KT)
Order of St. George (KT)
Grand Cross of the Order of Merit of the Federal Republic of Germany
Grand Cross of the Order of the Star of Romania
Knight Grand Cross of the Order of Orange-Nassau
Presidential Medal of Freedom, USA
Grand Order of King Petar Krešimir IV. Croatia
Knight Grand Cross of the Order of the Cross of Terra Mariana. Estonia
Organisations
Joint Parliamentarian of the Year for his role in the Maastricht Treaty ratification. European Union.
Atlantic Solidarity Award bestowed by the Manfred Wörner Foundation. Bulgaria
recipient of the Hanno R. Ellenbogen Citizenship Award. Czech Republic
Elder Brother of Trinity House. UK
Appointments
life peer as Baron Robertson of Port Ellen 1999. UK
Member of the Privy Council of the United Kingdom (PC)
Fellow of the Royal Society of Arts (FRSA)
Fellow of the Royal Society of Edinburgh (FRSE)
Honorary Degree of Doctor of the University (DUniv) from the University of Paisley.
Honorary Doctorate from the University of Dundee
Honorary Doctorate from the University of Bradford
Honorary Doctorate from Cranfield University (Royal Military College of Science)
Honorary Doctorate from the Baku State University. Azerbaijan
Honorary Regimental Colonel of the London Scottish (Volunteers)