Scottish Home Rule
In the period 1905 -1914 ever-increasing unrest in Ireland coupled with growing unrest in Scotland concentrated the minds of politicians at Westminster.
By the Spring of 1914  a "Scottish Home Rule Bill", passed two readings and was fully supported by the Liberal Party (which held around eighty per cent of parliamentary seats in Scotland). How times have changed.
Just as on so many instances since the sirens of Westminster protectionism screamed ever louder as the Liberals grip on power began to wane as the English working-class changed their allegiance supporting the Labour party which was promoting workers' rights.
 So, the ascendancy of the "all for one and one for all" Labour Party and the start of WW1 put paid to the aspirations of Scots, yet again.
Click to access scottishhomerulescot.pdf
Douglas Haig
Haig – A Pen Picture
Haig was a dour, taciturn, lowland Scot from a family of wealthy whisky distillers.
He rarely gave an opinion or expressed emotion preferring to keep his own counsel, confiding his thoughts only with his loving wife Dorothy, a lady-in-waiting and confidante to the Queen at Buckingham Palace.
And she was ever keen to whisper manipulative words about the quite remarkable qualities of her husband into receptive royal ears.
There are many who conjectured that it was Haig's skills as an intriguer and his influence in royal circles that finally brought him the top job rather than his military ability.
The events of 1914-1918 confirmed their suspicions.
Haig and his private secretary Sir Philip Sassoon:
Inset: Sir John French, who was sacked for incompetence and replaced by Haig as commander-in-chief in December 1915; Blendecques Château, where Haig was based.
There are many who are critical of the lifestyle and indifferent behaviour of the army hierarchy but a life  well to the rear was not without its privations.
During 1918's aborted German offensives, Haig and his staff went four consecutive nights with little sleep, "Fighting the battle until the situation stabilized and the crisis passed." Poor wee things. Such hardship!!!!
Wars are won on the playing fields of Eton
The Sandhurst trained elite. Spot the difference in each, if you can. Like peas in a pod with their swagger sticks, walrus moustaches, jodhpurs, and shiny knee-high boots.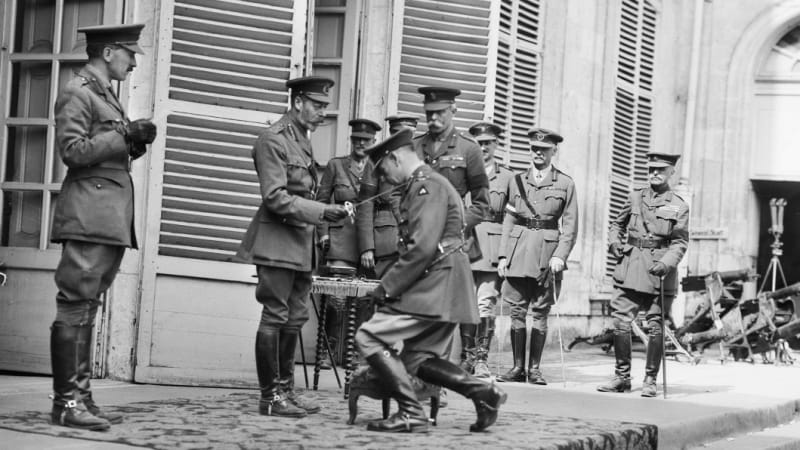 King George v on a visit to France conferring knighthoods – in reward for maintaining the stalemate on the war front.
British army Headquarters –  Château de Bertangles  One of a number of similar buildings commandeered by the British

Pictorial View of the war in France 1914-18
The British Expeditionary Force suffered many reverses in 1914 and the appointment of Haig in 195 signalled a major change in tactics.
He introduced  "defensive offense". Which was "dig in, hold the line,  bombard the enemy positions relentlessly then advance forward in great numbers mopping up what is left of the foe.
But the tactic brought problems. By the beginning of 1916, Haig had just about used the entire stock of British Army artillery munitions in France.
Reluctant to deploy his reserves he requested a resupply of artillery munitions but his repeated pleas fell on deaf ears as politicians began to count the cost of the war.
He was finally advised by the War Office that he would need to change his tactics and launch offensives to gain ground.
If successful subsequent requests for artillery munitions might then be approved.
Haigs Response was the Somme 
Commencing 24 Jun 2016 German trenches were bombarded for 7 days.
Over 1.5million shells were fired, but the shelling was worse than useless since around 40% were duds and the use of "air burst" munitions to remove extensive wire defences protecting the german positions was stupidity beyond belief.
But "HE" groundburst shells were not included in the British munitions supply since the generals had decided the war would be over in weeks and battles would be fought in the open where "air burst"  shells would be very effective.
But the Germans did not play fair. They dug trenches with all the mod cons around 50 feet below ground and relocated to safety during any bombardment.
The British Generals, who had not  foreseen the change in tactics failed to match the digging prowess of the Germans with the result that British soldiers were exposed to  the frequent German artillery bombardment and incurred many unnecessary casualties
On 1 Jul 2016, when the bombardment lifted, the Battle of the Somme began and lasted for nearly five months ending on 19 Nov 2016. 141 days of carnage.
Day one of the battle was a bloody disaster.  Briefed to expect a walkover  British soldiers were cut to pieces by enfilade fire from German machine gunners, whose trenches had remained intact despite the week-long artillery bombardment. 20,000 were killed.
By the end of the Somme offensive 500,000 British soldiers were either dead or severely wounded, (including tens of thousands of young Scots), many still teenagers.
After 141 days of battle, there was over a million casualties between the British, French, and German forces.
When the Battle of the Somme was over, 420,000 British men had lost their lives.
Haig got his much-improved artillery munitions.
He was willing to make any sacrifice to achieve success including the death of 135,000 Scottish soldiers.
By the war end total Scots deaths exceeded 180,000, (including many who died from their wounds after the war ended).
A nation with eight per cent of the overall population of the British Isles sustained 15 per cent of the casualties.
Young men of the Royal Scots, from Prestonpans / Tranent and Haddington…before being sent up to the front.
In 1914 the Scottish population was 4.6 million (under 10 per cent of Britain's pre-War population).
But, at the start of WW1 the standing (regular) British Army comprised 13 per cent. The professional Army was already dominated by the presence of Scots.
So young
Unbelievable Tosh ( the Germans equipped their battalions with a minimum of 40 and used enfilade fire against attacking Scots.)
Cowards are Shot at Dawn
The author tells of the hundreds of young men who were wrongly executed for Cowardice and Desertion by Commanders who knew that they were suffering from the effects of battle fatigue and shell shock, yet used their executions as deterrents to others and a demonstration of their own misplaced powers.
During World War One Haig was responsible for the strategies and enforcement of discipline to all allied troops.
Haig was vain-gloriously guilty for what today is considered to be war crimes, having personally signed off the death warrants of hundreds of allied soldiers and delegated, yet oversaw that signing off of death warrants for hundreds more.
Haig had been advised in 1915, that a Post Traumatic Stress Disorder referred to then as 'Shell Shock' had been found to exist in some 8% of men in active service, across all nations.
This figure was not only written down but also it was not humanely acted upon.
As if in response to those findings, Haig then ordered more and more shells to be fired, more and more men to charge across open ground covered by barbed wire and enemy machine guns and that should any man under the command of an English Officer be found to be in dereliction of duty; that he attend a court-martial from which he be executed by and/or in front of his friends.
Shot at Dawn: Lest We Forget WW1 Crimes and Haig: by Peardiver
And the pipers kept playing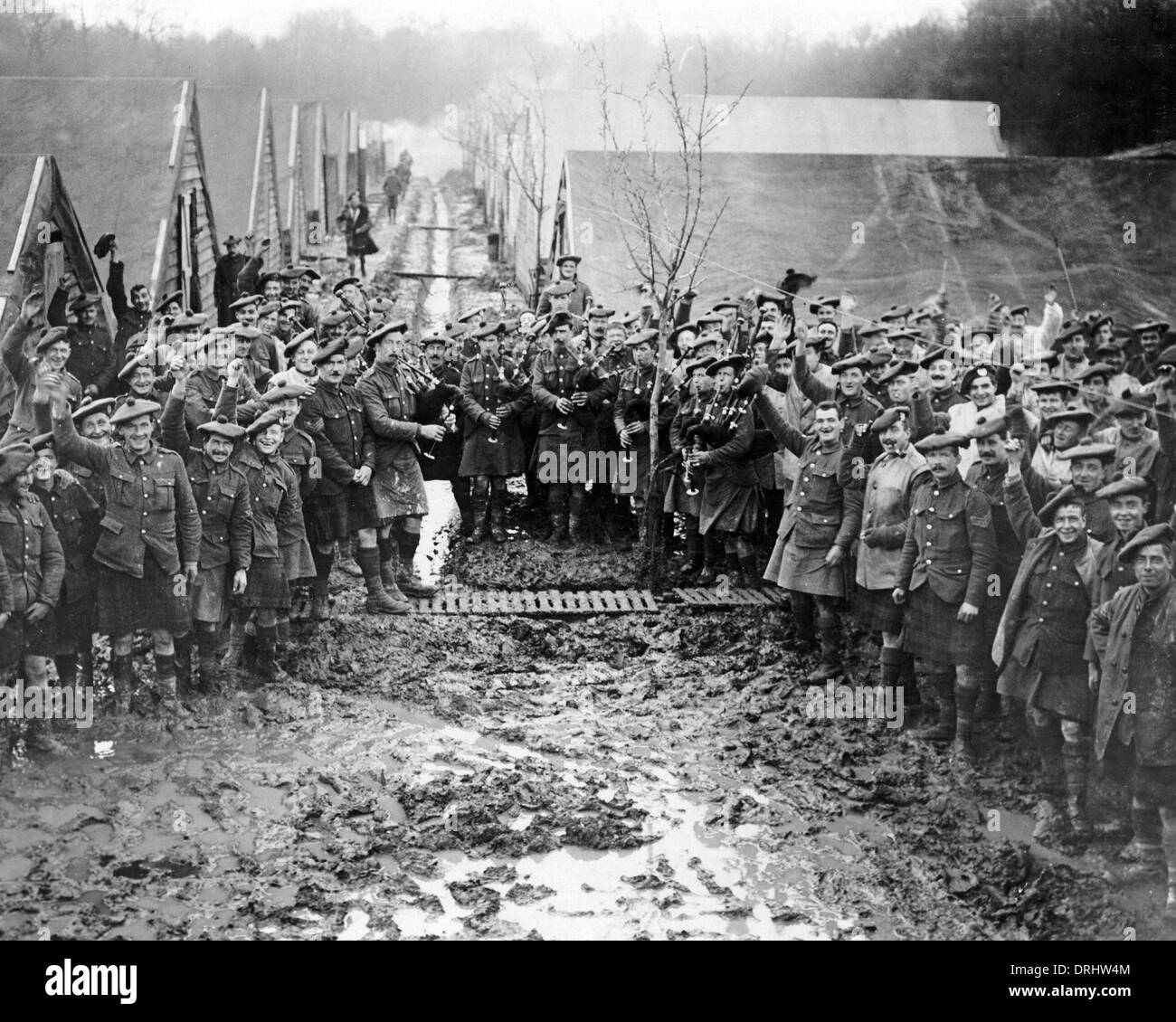 Scottish soldiers enjoying life behind the lines, (what luxury)
The Somme offensive
Many drowned in the mud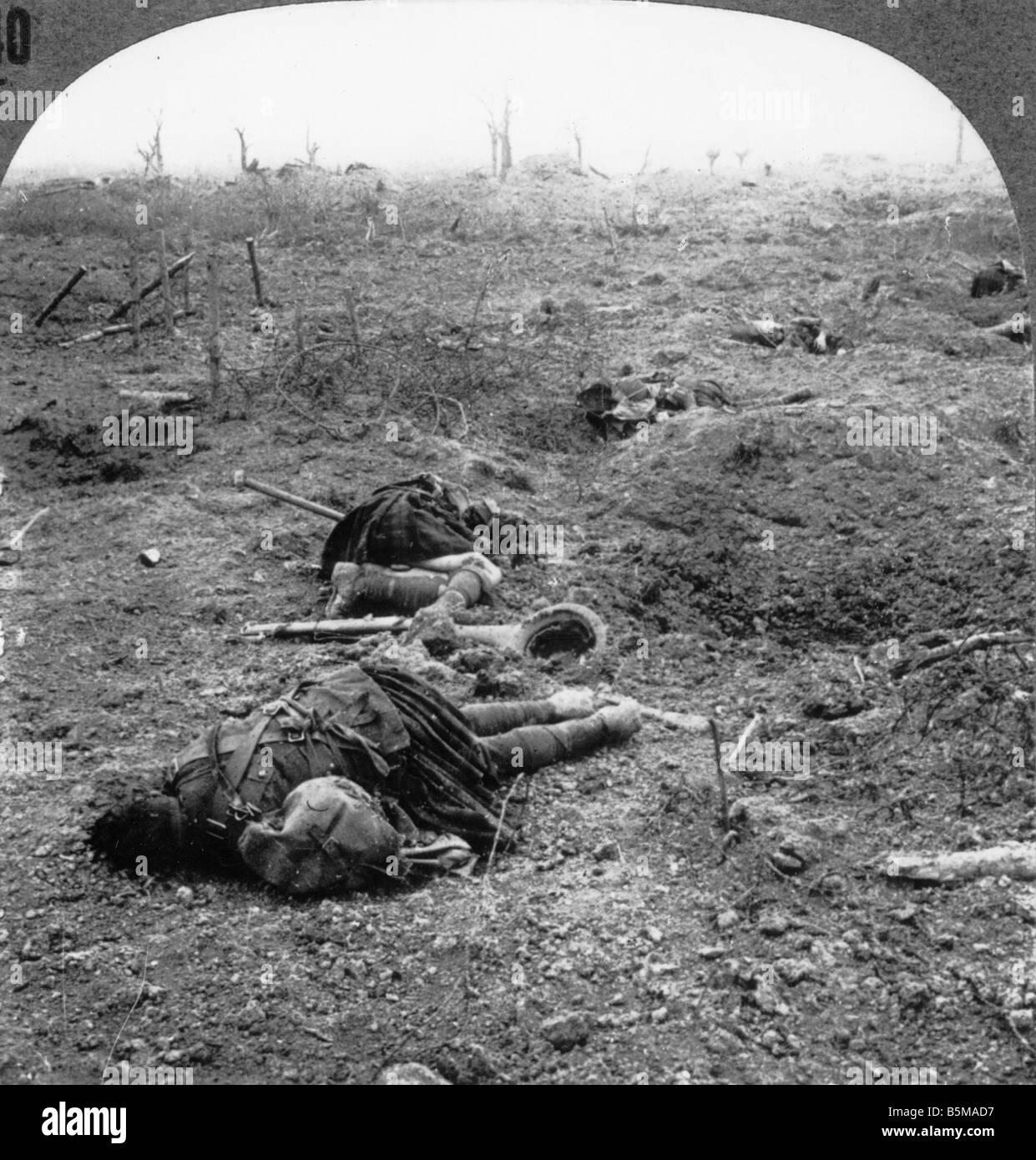 Our finest young men dead
The Somme  The Royal Scots
The boys from Newbattle entering their rat hole
Gas attack sentry
The fog of War
Fallen Scots
living in the trenches
Their sacrifice will not be in vain Scotland will be free of Westminster and its corruption.