The Ottoman Empire and the Growth of Wahhabism
The Ottoman Empire held sway over much of Arabia up to 1800, but due to perpetual unrest within the country they were forced to concentrate their forces in fortified towns and the city of Mecca.
Around 1730, Muhammad ibn Abd al-Wahhab (1703-1792) – An Islamic theologian, founded Wahhabism, an ultra pure interpretation of Sunni Islam.
Growth of the sect within Arabia was assisted by expansionist policies over the lifetime of its founder assisted by Muhammad Ibn Saud, ruler of a small Arabian sub-state who converted his family to Wahhabism and established a political dynasty with Muhammad ibn Abd al Wahhab.
Ensuring the future of the sect the son of Ibn Saud, Abdul Aziz married Imam Wahhab's daughter in 1746. Abdul Aziz was determined to rid Arabia of the Turks and conducted a military campaign attacking and capturing Riyadh in 1773, the Holy City of Makkah in 1803 and Medina in 1804.
In 1806-1807 he released his forces against the Iraqi cities of Najaf and Karbala attacking them on a number of occasions inflicting many casualties and hardship on their citizens.
In 1811, the Turks, fed up with the constant unrest, sent a large Egyptian army to Arabia and in a short campaign, Muhammad Ali Ottoman, Viceroy of Egypt, removed the Wahhabis and re-established Turkish control over Arabia in 1813.
Saud ibn Abdul Aziz died in exile in 1814. His son was taken to Istanbul where he was tried and executed for treason and armed insurrection.
The Saud's later re-established the family in Riyadh but were forced into exile in Kuwait once more due to pressure from the Turks who still controlled most of Arabia.
Towards the end of the century, having concluded a pact with Turkey, Muhammad bin Rashid took up the reins of power.
One of his first acts was to force the leader of the Al Saud family, Abdul Rahman bin Faisal and his dependents, into exile in Kuwait for a third time.
But the Saud's were persistent and in 1902 Abdul Aziz (ibn Saud) left Kuwait with a small but determined force and attacked and captured Riyadh.
He quickly increased the size of his force and harassed the Turks in Nejd and Hasa throughout the next decade.
The Sykes-Picot Agreement and After Effects
Signed in 1916 the Sykes-Picot Agreement was a secret understanding between the governments of Britain and France defining their respective spheres of post-World War I influence and control in the Middle East.
Britain and France carved up the Levant into an assortment of monarchies, mandates and emirates.
Syria and Lebanon were put into the French orbit, while Britain claimed Jordan, Iraq, the Gulf states and the Palestinian Mandate.
In 1916, Sharif Hussein, Arab Emir of Mecca, led the Great Arab Revolt, in Mecca against a much weakened Turkish occupation force.
T E Lawrence was assigned as the British liaison. In 1917-1918 Lawrence, Arab forces and Bedouins attacked the Turks relentlessly and captured the port of Aqaba.
The retreating Turks were then defeated by Arab forces in Jordan then Syria before the end of the 1914-18 World War.
In 1921, Britain and France carved up Arabia and handed the crown to King Hussain (Sherif of Mecca) they went on to create Jordan under Emir Abdullah, his brother Faisal became King of Iraq.
France was given influence over Syria and Jewish immigration was allowed into Palestine.
King Hussain's reign over Arabia was short lived when in 1924 he abdicated in favour of his son Ali. Ali himself, was unfit to lead abdicated and left the country.
The Saud Family Take Control of Arabia
The departure of King Hussain in 1924 provided opportunity for the Saud family to take control and King Abdul Aziz Ibn Saud (d1953) declared Wahhabi rule over Saudi Arabia.
He then appointed himself King of Hejaz and Sultan of Nejd and its Dependencies.
Under his leadership, with the signing of the treaty of Jedda in 1927 Arabia became independent of Great Britain.
In 1927-1928 he crushed an uprising by fanatical Islamist tribes of central Arabia.
He fathered 44 sons. six of whom have ruled Saudi Arabia.
The family has increased in size over the years and there are around 5,000 princes in place, who control all power and resources.
The Kings:
Saud ibn Abdul-Aziz 1902-1964. King 1953-1964
Faisal ibn Abdul-Aziz 1904-1975. King 1964-1975 Assassinated by a nephew (later beheaded) who had a history of mental illness
Khalid ibn Abdul-Aziz 1913-1982. King 1975-1982
Fahd ibn Abdul-Aziz 1921-2005. King 1982-2005 Ruled until 1996. Suffered a stroke. His half brother,  Abdullah took over responsibility for the country.
Abdullah ibn Abdul-Aziz 1921-2015. King 2005-2015
Salman ibn Abdul-Aziz 1935-  King 2015- His health is deteriorating due to dementia and his son, Crown Prince Mohammad bin Salman, (b1985) is gradually taking control of the Country.
Saudi Arabia holds the Koran as its constitution. The capital is Riyadh. Sunni Muslims comprise the majority. Shiite Muslims are the minority and live mostly in impoverished villages in the oil-rich eastern part of the country..
Crown Prince Mohammad Bin Salman, A King in Waiting
Prince Mohammad was appointed Defence Minister, Minister of State and Secretary of the Royal Household in 2015.
This was followed with a promotion to deputy Crown Prince in 2016 then to Crown Prince in 2017.
His rise to power is not universally supported by the Saud family and it is expected there will be difficulties when King Salman dies.
He is a lone wolf when it comes to politics and sharing of responsibilities.
Proof of this is his March 2015, launch of Operation Decisive Storm, part of which was an attack on Houthi rebels in Yemen, in support of the Yemen government.
The attack was uncoordinated across all the relevant services and without even informing his cousin, Prince Mutaib bin Abdulla, the leader of the most efficient military force, the 250,000 strong Saudi National Guard.
According to the UN and human rights groups, direct war crimes have been committed during the conflict including an indiscriminate major bombing campaign resulting in the killing of many thousands of civilians
To date, the war has already cost Saudi Arabia tens of billions of dollars and has destroyed much of Yemen's infrastructure whilst failing to dislodge the Shiite Houthi rebels and their allies from the Yemeni capital.
Prince Mohammad saw the war as a short sharp campaign against the Houthi rebels in Yemen bringing an end to the civil war in the country and returning its leader, Abd Rabbuh Mansur Hadi back to power.
In failing he has committed Saudi Arabia to a long war of attrition the outcome of which is uncertain.
Further complicating matters he announced an anti-terrorist military alliance of Islamic countries against the Houthi rebels in December 2015, without first consulting each of the countries involved.
Other indications of his aggressive and warlike thoughts is his early 2015 launch of the "Army of Conquest", against Syria.
The force, comprising the "Al-Nusra Front" and Aurar Al-Sham won a series of victories against the Syrian Army in Idlib Province, massively supported by the US air force and a Western Alliance, including Great Britain.
But, with the assistance of the Russian air force the President Bashar al-Assad and the Syrians battled on and are winning the fight against all the odds.
Prince Mohammad should be careful. There is clear evidence oil producing states are almost impossible to reform and as such they should avoid war if they wish to remain intact.
King Salman flanked by Mohammed bin Salman (right) and Mohammed bin Nayef.
29 Jun 2017: Deposed Crown Prince Confined to Palace
Deposed Saudi crown prince, Mohammad bin Nayef, 57 has been confined to his palace in the Red Sea city of Jeddah, as his young successor seeks to consolidate his newfound power.
The movements of the former heir to the throne have been restricted since his cousin Prince Mohammad Bin Salman, 31 replaced him last week denying the Crown Prince of his right of succession to the throne.
Senior Saudi officials denied Bin Nayef was under house arrest but offered: "It's just in the changeover period. Crown Prince Mohammad Salman does not want to take any risks. It is not house arrest. Nothing like that at all."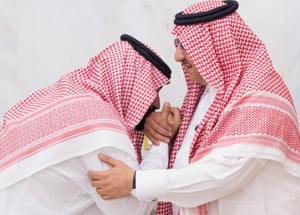 His ties to Saudi allies are far more extensive than those of his successor, a possible factor in the decision to keep him isolated while the power transition takes effect.
The House of Saud had been determined to convey the image of a seamless handover, with a government video showing Bin Salman bowing and kissing the hand of his cousin after being named crown prince.
In the lead up to the change, however, a mutual rivalry has eroded trust. "It was never daggers drawn," said the Saudi official. "It was that a younger man wanted the job and the older man did not support it.
It is reported that guards loyal to Prince Bin Salman had replaced those of his predecessor outside the Jeddah palace to where the ousted royal had returned.
It is understood that Bin Nayef and his close family members have been prevented from leaving the kingdom.
"If he is seen as benign, this will change quite quickly," the official said. "I suspect they don't want him jetting off to Washington in a bad mood and telling anyone, even our allies, the state secrets.
"There is too much risk in letting a disgruntled figure talk at a time like this."
Bin Nayef's insights into his own exit as well as political machinations within the opaque Saudi inner circle would be keenly sought by Riyadh's allies and rivals and he would likely be welcomed in western capitals, should he leave the country.
The upheaval follows a dizzying series of moves from the usually cautious kingdom, which in recent weeks has recalibrated relations with Washington and embarked on a diplomatic offensive against Qatar, led by Prince Bin Salman himself.
has been central to the changes, which have helped his profile and powers grow rapidly under the tutelage of an 81-year-old monarch who has given him an almost free hand over most aspects of society. Central to his mandate is a plan to use capital from the partial privatisation of the world's largest company, Aramco, to revitalise the Saudi economy.
However, cultural and societal reforms have also been flagged as paramount – in particular
Bin Nayef had not opposed the reform programme, but had been considered by the Royal Court – and Saudi allies – as a measured voice who had urged a more painstaking process, which had characterised past overhauls.
"He played the bad cop role," said the Saudi official. "But that did not contribute to his downfall. He had to go because he was in the way. That's all."
Political and Economic Reforms
Prince Mohammad was named the chair of the newly established Council for Economic and Development Affairs in 2015,replacing the disbanded Supreme Economic Commission.
He was also given control over Saudi Aramco by royal decree 48 hours after being appointed deputy crown prince.
His stated concern in 2015–2016 was to reform Saudi's economy towards a more diversified and privatized structure.
His reform blueprint, "Vision 2030", detailed goals and measures in various fields, from developing non-oil revenues and privatization of the economy to e-government and sustainable development.
In an interview with Al Arabia he also shared his idea for "Green cards" for 800,000 non-Saudi foreigners.
His most ambitious plan is to restore Saudi Arabia's dominance in global oil markets by driving any new competition into bankruptcy, by keeping the oil price low for a long enough period.
Saudi Arabia persuaded OPEC to do the same. A few small players went bankrupt, but American frackers only closed their less-profitable operations temporarily, and waited for oil prices to go up again.
However, Saudi Arabia, which had been spending $100 billion a year to keep services and subsidies going, admitted defeat in November 2016 and cutting production significantly asked its OPEC partners to do the same.
He followed up by slashing the state budget, freezing government contracts and reducing the pay of civil employees as part of drastic austerity measures.
Other changes included new taxes and cuts in subsidies, a diversification plan, creation of a $2 trillion Saudi sovereign wealth fund, and a series of strategic economic reforms called the National Transformation Programme.
His plans to raise capital for the sovereign wealth fund include selling off shares in Saudi Aramco.
It is this aspect of the economy that suggests trouble in near future for the Saudi royal family.
He proposes austerity and market reform in the Kingdom, but in the context of Middle East autocracies and particularly oil states this breaches an unspoken social contract with the general population.
He is pledged to introducing a work ethic into a state where a large migrant labour force plays a disproportionate role in productivity.
A senior official in Riyadh said that what is being envisaged is
People may not enjoy political liberty, but they do get a share in oil revenues through well paid government jobs and subsidised fuel, food, housing and other benefits.
Greater privatisation and supposed reliance on the market, with no accountability or fair legal system, means a licence to plunder by those with political power.
But he enjoys all the advantages of a young and forceful politician, including the ability to connect with the country's younger population.
He lobbied with some success, for regulations restricting the powers of the religious police and established an entertainment authority that has hosted comedy shows, pro wrestling events, and monster truck rallies.
But his future success will hang on his ability to fulfil expectations, particularly in terms of human rights, social, the economy and a successful: "cultural revolution.
Philanthropy
He established himself as the chairman of the Prince Mohammed bin Salman Foundation,(MiSK), which aims to help disadvantaged youth.
The foundation was a partner of the 9th UNESCO Youth Forum for Change in 2015.
It focuses on the country's youth and provides different means of fostering talent, creative potential, and innovation in a healthy environment that offers opportunities in arts and sciences.
It pursues these goals by establishing programs and partnering with local and global organizations.
It intends to develop intellectual capability in youth, as well as unlock the potential of all Saudi people.
Controversy
24 September 2015: over 2,000 Hajj pilgrims were killed in the 2015 Mina stampede.
Sources claim this was due to attempts by the personal convoy of Prince Mohammed bin Salman to force itself through the crowd, as well as several road closures in the area.
2 January 2016: It was the execution of the Shia cleric Sheikh Nimr al-Nimr and 46 others – mostly Sunni jihadis or dissenters that alerted governments to the extent to which Saudi Arabia had become a threat to the status quo.
It appeared to be deliberately provoking Iran in a bid to take leadership of the Sunni and Arab worlds while at the same time buttressing domestic power by appealing to Sunni sectarian nationalism.
Iran's Shia population replied by setting fire to the Saudi Arabia embassy in Tehran. Since then, the two countries have cut off diplomatic ties.
The confrontation with Iran shows no sign of receding.
The attack on the Saudi embassy in Tehran and its consulate in Mashhad might not have been expected but the Saudis did not have to break off diplomatic relations.
Then there was the air strike that the Iranians allege damaged their embassy in Sana'a, the capital of Yemen.
None of this is too surprising, Saudi-Iranian relations have been at a very low ebb since 400 Iranian pilgrims died in a mass stampede in Mecca in 2015.
But the Saudi leadership appear to be intent on increasing the political temperature by putting four Iranians on trial, one for espionage and three for terrorism.
The four have been in prison in Saudi Arabia since 2013 or 2014 so there is no reason to try them now, other than as an extra irritation against Iran.
Prince Mohammed, seeking to reassure the rest of the World, said: "A war between Saudi Arabia and Iran is the beginning of a major catastrophe in the region, and it will reflect very strongly on the rest of the world. For sure, we will not allow any such thing."
The cause of Saudi Arabia acting unilaterally is its disappointment that the US reached an agreement with Iran over Tehran's nuclear programme.
Again this looks naive: the alliance with the US is the prime reason why the Saudi monarchy has survived nationalist and socialist challengers since the 1930s.
Aside from the Saudis' money and protective alliance with the US, leaders in the Middle East have always doubted that the Saudi state has much operational capacity.
This is true of all the big oil producers, whatever their ideological make-up.
Experience shows that vast oil wealth encourages autocracy, whether it is in Saudi Arabia, Iraq, Libya or Kuwait, but it also produces states that are weaker than they look, with incapable administrations and dysfunctional armies.
Crown Prince Mohammed bin Salman
Personal life
He enjoys a lavish lifestyle. One incident illustrating this is his spur-of-the-moment purchase of an Italian-built and Bermuda-registered yacht "Serene" from Russian vodka tycoon Yuri Scheffler, for a price of €500 million.
Credit: The Independent, The Guardian