Ken McIntosh
Inverness born and University educated he was employed by the BBC as a television producer, working on news broadcasts and election coverage between 1987 and 1999.
Entered the Scottish Parliament in 1999, as the Labour MSP for Eastwood and retained his seat in 2003, 2007 and 2011. But failed in his bid for re-election in the 2016 Scottish election, but ever lucky Ken was returned to Holyrood on the regional list.
In his 19 year career in Holyrood he maintained a low profile preferring job retention and advancement over confrontation.
Indeed he was so anonymous that his party leader couldn't remember his name at the time he stood for the leadership of the Scottish Labour Party.
Macintosh was elected Presiding Officer at Holyrood in 2016 and suspended his Labour membership upon taking office, per the tradition that the Presiding Officer is strictly nonpartisan.  A condition of office which he blatantly ignores.
17 Dec 2010: McIntosh accused Alex Salmond of downplaying Antisemitism in Scotland and attracts the wrath of Jews who charge him with grandstanding
An article in the Jewish Telegraph, written by Sharon Mail,  quoted Eastwood MSP, Ken McIntosh, telling the publication:
"I am concerned that the Scottish Government and the First Minister, in particular, is downplaying antisemitism as if in some way Scotland was immune to or above such prejudices"
A Jewish Labour Supporter was so incensed by McIntosh's assertion he felt compelled to write and set the record straight. He wrote:
"McIntosh is a politician and unfortunately, he is politicizing antisemitism for his own benefit – he obviously thinks there are votes in playing this issue from within the Jewish community and this reflects very badly on him. There is absolutely no substance to this outrageous personal attack on the First Minister who has shown during his time in office an admirable commitment to understanding issues within this community and listening to concerns. He has addressed open meetings of the Jewish community not once but twice and took questions on any subject from any member of the audience. He has visited community organizations and one of his Ministers, Fergus Ewing, spent an entire evening with the youth of our community listening to a programme on racism, antisemitism and prejudice. If McIntosh was encouraged to take this stance by any party or organization within the Jewish community he has acted with utter stupidity. If he thought accusing the elected head of the Scottish Government of downplaying antisemitism would benefit the Jewish community he is astonishingly ignorant of grassroots opinion within our community. He should be ashamed of his conduct and he will not get my vote."
18 Dec 2010: Another politically unaffiliated Jew wrote:
"McIntosh accusing Alex Salmond of downplaying antisemitism reflects dreadfully on the Labour Party and McIntosh himself. My bet is that he thinks that the Jewish community will thank him and that it will win him votes. Antisemitism thankfully is not a major problem in Scotland. The First Minister has never said that it doesn't exist and when I sat in the audience I heard him say we need to be vigilant. McIntosh is a 3rd rate politician who is badly misguided". Memo for McIntosh: "Your behaviour will cost you support because no reasonable person will think you have done this for any other reason than to try and win a few extra votes. It is one thing to turn up at Jewish community events like your mate Jim Murphy but acting in the best interests of this community is something different. Unfortunately, both of you fail to understand that most of the community can see through your behaviour."
10 Dec 2010: Jewish Ex Labour voter wrote:
"Mcintosh has let this community down. There can be no excuse for his behaviour. It is reprehensible to abuse his position as an MSP for his own political benefit and potentially cause alarm and insecurity within the Jewish community. Salmond's behaviour towards our community has been absolutely first class. Mcintosh has lost my vote."
19 Dec 2010: Yet another Jewish voter wrote:
"Sell your Granny for a Fiver. Mcintosh has been taking lessons from his colleague Jim Murphy. Murphy ended up in opposition and backed the wrong brother Miliband to become the leader. Lo and behold our Jim is now in the Shadow Cabinet and has no doubt been a strong supporter of Ed Miliband all his life. Would Murphy and McIntosh support the Jewish community if it wasn't in their own political interests? I very much doubt it."
19 Dec 2010: A Concerned Jewish Citizen wrote:
"What is wrong with you lot? This is the same McIntosh that thinks it wise to cosy up to the Scottish Friends of Israel. For those in the dark that is a horrible organization that distributed material that broke all the rules of decency. They indulged in some of the worst excesses of stereotyping minorities and became a pariah organization within the community. Mackintosh had no problems associating himself with Scottish Friends of Israel (SFI) and wrongfully attacking the First Minister is not going to trouble his conscience one iota."
21 Dec 2010: Another Jew wrote:
"McIntosh has been an MSP since 1999. His record as a Parliamentarian is particularly undistinguished. He seems preoccupied with plans to build one of the biggest waste recycling plants in Europe within the constituency, just north of Newton Mearns. Can anyone tell me what he has achieved, and I mean real notable achievements, since being elected?"
23 Dec 2010: Concerned Jewish voter said:
!McIntosh, Labour MSP for Eastwood, a constituency in Glasgow with a sizeable Jewish community, criticized the Scottish Parliament for taking a passive stance on antisemitism.  He also expressed concern that there was no Scottish representation on the cross-government working group on antisemitism, stating;
"I would like to see us represented on the group, or at the very least to comment on its findings. It's a national initiative, so why don't we participate?"
The secretary to the Westminster all-party parliamentary group against antisemitism commented:
"The Scottish government has not been deliberately excluded and I am sure any interest would be welcomed."
A spokesperson for the Scottish government replied:
"Unfortunately, we do not have a locus to participate in Westminster parliamentary working groups."
McIntosh added:
"For some reason, this has broken down at the devolved barrier. For example, they've just announced increased funding for security at Jewish schools, but this will not be going to Calderwood Lodge Jewish Primary School."
The Glasgow Jewish Educational Forum got involved stating:
"McIntosh is not very bright!!! As an MSP I would have thought he would understand the basic concepts of devolution. It is not the purpose of the Scottish Parliament to merely replicate Westminster and the fact is that antisemitism in Scotland nowhere near the same level as in England. He is clearly not doing any of this in the best interests of his constituents. I find it astonishing that he is prepared to talk about security issues to a newspaper and it is time that he shut up before he could actually harm the interests of the Jewish community. His ill-conceived campaign to use the Jewish community to attack the Scottish Government is not acceptable. Politicians of his ilk should be shown the exit door."
17 May 2017: Presiding Officer, McIntosh Invites Israeli Ambassador to Holyrood
Without advising the Scottish government, Presiding Officer Ken Macintosh invited the Israeli Ambassador Mark Regev to visit Holyrood as his honoured guest. The Scottish Palestine Solidarity Campaign (SPSC) and the Association of Palestinian Communities in Scotland (APCS) said they would protest outside parliament, at the time of the visit which was at odds with Holyrood's diplomatic policy in regards to Israeli
Why did he do it?
The Labour Party had, for 100 years supported the growth of Israel. A policy ended with the election to Party Leader of Jeremy Corbyn, who, together with many Trade Unions backed the Palestine Solidarity Campaign (PSC).
With Corbyn's backing, the Labour Party endorsed the principles of the: Boycott, Divestment, and Sanctions Movement; (BDS) which is beginning to impact on Israeli exports.
The perceptions of the Scottish public towards the Israeli government and its policies are becoming increasingly negative and the Ambassador was instructed to use his political office to counter the Palestinian successes.
For many years, as the Eastwood MSP, McIntosh developed, maintained and exploited a network of very close links with Israeli politicians which made him an ideal conduit to convey good news about Israel offsetting the impact of (BDS).
The Scottish Palestinian Solidarity Campaign Hit back
"McIntosh, MSP in East Renfrewshire, was appointed Labour spokesman on Communities and Social Justice. Filling this specific position with a vocal supporter of a Jewish supremacist state built on the ethnic cleansing of the native Palestinian population is scandalous. The Palestinian community in Scotland can hardly address their concerns to McIntosh with any confidence, to a man who shares, or claims to share, Israel's view of the world. An open advocate for a state that systematically discriminates against its Muslim and Christian citizens is now Labour spokesman for Communities and Social Justice."
A further sinister aspect of McIntosh' appointment is that he has a history of dishonestly smearing supporters of Palestinian rights as "anti-semitic".
This goes beyond the common Zionist intellectual dishonesty in claiming a surge in "anti-semitism" in the only country in Europe that has no history of state persecution of Jews. The slightest acquaintance with the theory and practice of Zionist organizations world-wide suggests great caution in evaluating Zionist claims of antisemitism. After all, the movement claims that antisemitism is always widespread, ineradicable, something to be accepted since Herzl, and even welcomed as an incentive for Jews to leave their homes and emigrate to Palestine (after 1948 to Israel).
But McIntosh doesn't only repeat the Zionist mantra that supporting Palestine – even flying a Palestinian flag – generates antisemitism. On at least one occasion, an excess of zeal led McIntosh to apparently invent a racist campaign against Scottish Jews. The April 30th 2010 edition of the Jewish Telegraph provided space for McIntosh to announce that SPSC members "target Jewish people living here in Scotland because of their own blinkered hostility to Israel". This was based on a claim that he had seen an anti-Semitic leaflet calling for a boycott of kosher food in the Giffnock branch of Morrisons.
His claim of a hate crime against Scottish Jews by Palestine human rights advocates was totally unfounded and according to a senior police officer some months later:
"Police enquiries established that no offence had been committed."
Contrary to what McIntosh had alleged. McIntosh declined to discuss the matter further when challenged by one of his constituents. He lost any interest in the matter and cavalierly wrote to a constituent who asked him about such a serious matter that:
"I cannot find the original email".
McIntosh's outrage had quickly evaporated at what would have been – if real – a clear example of hate crime against his Jewish constituents. If he really believed that he had seen an antisemitic leaflet calling for a boycott of kosher food, then it was his clear duty to share that evidence with the police. His inability to do so lends extra weight to the suspicions of the Glasgow Jewish Educational Forum's Jeremy Stein who wondered whether McIntosh was motivated primarily by the hope of "electoral advantage" in his zeal for ferreting out antisemitic, both real and imagined.
Jim Murphy's record of virulent pro-Israeli advocacy puts him very far out of step with Scottish, UK and world public opinion. And his selection of McIntosh as Labour Party candidate for Communities and Social Justice Minister, in a Scottish Government, sent a grim message to Scotland's Palestinian community, campaigners for justice for the long-violated Palestinian people, Scottish Muslims and Scottish Christian churches, and anyone in Scotland of any or no political affiliation, whether pro- or anti-independence, who takes social justice seriously.
How can we trust someone who fabricates racist incidents to create tensions between different Scottish communities to be our Minister for Communities and Social Justice?"
Another Example of McIntosh's Close Ties With Israel
The aftermath of the 2010, murders of over 1,400 Palestinians in which Palestinian civilian areas were used as a testing ground for the development of its military hardware, brought worldwide condemnation of Israel. But not McIntosh, who was the sole sponsor of a grotesque exhibition, celebrating Israeli technology at Holyrood, which was met with protests. The same year, he falsely accused the (SPSC) of targeting Scotland's Jewish community in its opposition to Israel, claiming to have seen antisemitic leaflets calling for a boycott of kosher food in his constituency. When it was suggested to Macintosh that he ought to contact the police, it became clear that what Macintosh had actually seen was a sticker bearing the slogan 'Free Palestine, Boycott Israel'. Glasgow Jewish Educational Forum Chair Jeremy Stein speculated that Macintosh was motivated primarily by the hope of 'electoral advantage' in his botched attempt to confront antisemitic, rather than any anti-racist imperative.
 the pro-Israel lobby in Scotland has been invigorated.
The Israeli Government set aside £20 million a year to fight (BDS) and has become proficient at reaching out to socially conservative Christian groups developing political networks. Example:
Former Free Church lay preacher: Nigel Goodrich, a Christian Zionist who is the founder of the Confederation of Friends of Israel in Scotland,
The SNP too became a target, although this effort was discredited when Sammy Stein, a new SNP member who organized a pro-Israel stall at the SNP's Autumn Conference, was disciplined by the Party for campaigning against pro-Palestine SNP MSP Sandra White in the 2016 Holyrood election.
It is clear that the overwhelming bulk of public sentiment in Scotland remains sympathetic to the Palestinian cause.  Check out the global resonance of Celtic fans' display of solidarity during their Champions League match against Hapoel Be'er Sheva last year, and the £176,000 raised for organisations in Palestine is its aftermath.
Scots Will Protest at Holyrood against the Visit of Regev
When activists gather outside Holyrood in opposition to Mark Regev, they did so not just in narrow opposition to his visit but to express deeply-held solidarity which ran counter to the British state which this year will celebrate the centenary of its complicity in Zionist colonization in Palestine.
The protestors stood in solidarity with over 1,500 Palestinian hunger strikers who were facing their gaolers in the prisons of the Israeli occupation. The grassroots swell of solidarity with Palestine is not something which can be replicated by its antagonists.  (scottishpsc)
28 Feb 2018: Brexit – Hollyrood's Presiding Officer Rules SNP Proposal Out of Order
Nicola Sturgeon's attempt to force Theresa May's hand in a row over devolved powers after Brexit was dealt a blow after a flagship bill was ruled outside the remit of the Scottish Parliament. Ken Mcintosh, Holyrood's presiding officer, said the European Union (Legal Continuity) (Scotland) Bill was not within the Scottish Parliament's competence.
The bill, meant to be the SNP's alternative to the UK Government's EU Withdrawal Bill, was brought forward amid a furious row about what happens to powers being returned to the UK after Brexit.
But Scotland's Lord Advocate, James Wolf, overruled McIntosh stating:
" The bill, like all Scottish Government bills, was accompanied by a Ministerial statement cleared by me, that it is within the legislative competence of the Scottish Parliament".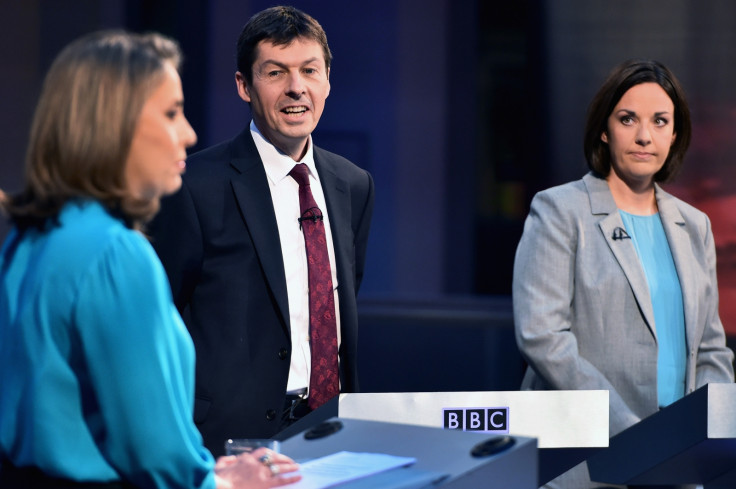 Ken Macintosh – a member of  "Scotland in Union" is in breach of the conditions of his appointment to the post of Presiding Officer
The  secretive anti-independence group, funded by a rich and powerful elite group of high society peers, politicians, businessmen and landowners, faced questions about its viability after admitting its supporters are turning off the financial raising fears about its long term viability
But the claim is at odds with the company accounts which show that 170 rich and powerful individuals gave just over £650,000 to the Unionist group between 2015 and mid-2017.
Summary
McIntosh has not impressed the public nor displayed absolute impartiality in his chairmanship of parliamentary business and his contribution to politics in Scotland in the months to come will need to be carefully monitored since his role of presiding officer allows him to influence events.