University College London's Institute for Security & Resilience Studies (ISRS)
The ISRS was founded in 2008 by former "New Labour" Defence Secretary, John Reid.
Reid was a key Blair ally in the run-up to the Iraq war deployment of British forces to Afganistan and earned the reputation as Blair's 'enforcer'.
He was appointed Home Secretary following Robin Cook's resignation to ensure few others would follow suit.
Reid was known in Whitehall as 'Minister for Newsnight' for his skill in pushing the Bush/Blair line in media appearances.
The invasion of Iraq may well be remembered as 'Blair's war', and not without some justification.
But there are many people who bear a great deal of responsibility for that criminal act. John Reid is one of them.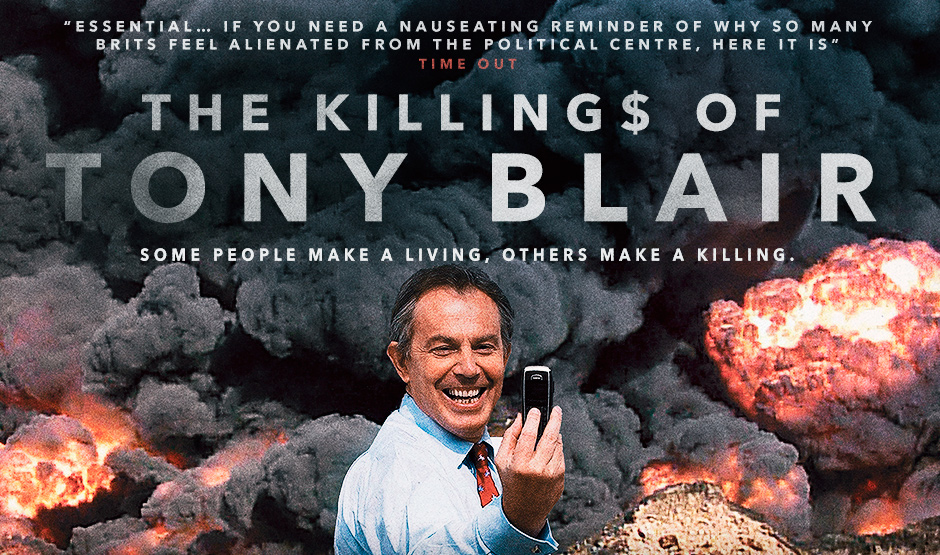 Blair, arms dealers & Britain's universities
In November 2012, Tony Blair was the headline speaker for the inaugural conference of the (ISRS)
This was a departure from Blair's recent public engagements, which were focused more on the religious community.
It is, however, perhaps more in tune with his employment by the government of Kazakhstan, who currently pay him £8 million a year to whitewash their human rights record.
In its corporate brochure, the ISRS presents itself more as a consultancy for hire than a serious academic endeavour.
Full of corporate jargon it offers services in "event driven scenarios" (war games) and securing an "authoritative media presence" (spin).
The ISRS sits alongside several other academic institutes and university groups up and down the country that have close links with arms companies and the military.
It reflects a trend in higher education to be active participants in legitimating imperial state power, not to mention providing subsidised research and much needed credibility for the arms industry.
One well known example of such a school is the Department of War Studies at King's College London.
Department members Michael Goodman and David Omand (1) in 2007 wrote an article for one of the CIA's in-house journals.
In it, they noted that following the Iraq invasion the British government felt the need to promote "greater professionalism in analysis" and commissioned King's to develop a course that would "help to generate this sense of profession, albeit a virtual one."
Note 1: Omand, a civil servant who was security and intelligence co-ordinator from 2002 to 2005. He was key in pursuing the late David Kelly (the top weapons inspector who spoke out against Blair's claims that Iraq had weapons of mass destruction)  for talking to the media.
Other staff in the War Studies department include former foreign policy adviser to Blair, Lawrence Freedman, recently spotted as contender for most obscene appointment to the Iraq Inquiry committee.
The Centre for Studies in Terrorism and political Violence at St Andrews holds similarly dubious connections.
The private military company Janusian Security Risk Management Ltd was one of the first outfits to provide mercenary services in Iraq following the invasion, and boasted of:
"a unique collaboration with the Centre for the Study of Terrorism and Political Violence at the University of St Andrews, includ[ing] shared access to research, intelligence sources and databases, and the expertise of the Centre's staff"
'Academic expertise' on questions of terror, war and 'security and resilience' is often far from an exercise in dispassionate inquiry.
As with government and the corporate world, there exists a revolving-door between the military, arms companies and certain parts of 'respectable' academia.
A look at the LinkedIn profiles of staff at the ISRS is revealing as to how it fits within this framework.
Before joining the ISRS as Research Manager, Mandeep Bhandal was at Lehman Brothers.
Chief Operating Officer Jas Mahrra previously co-founded consultancy Analytic Red LLP with propagandist Mils Hills.
Their clients included arms giant QinetiQ as well as various government defence agencies.
Director of Programmes Jamie MacIntosh was a research scientist for the MoD, before that serving in the Army with a final tour in Bosnia in 1993.
MacIntosh spoke representing the ISRS at the DSEi arms fair last year.
The problems are greater than a few individuals with interesting pasts.
Engineering departments around the country are quite nakedly in the business of doing basic research for weapons manufacturers.
Almost all the top UK universities take thousands of pounds from arms companies every year.
Between 2008 and 2011 of the 24 Russell Group universities just one, LSE, claimed not to receive military funding.
The rest between them received at least £83 million from arms companies and government military agencies.
Two "founding partners"helped launch the ISRS. They are Ultra Electronics and EADS. Both, as you might expect at this point, are in the defence industry.
Ultra Electronics is a big player in the drone business, specialising in the video-game like controllers that drone operators use to fly the machines.
Ultra are also working on a newer type of weapon called "loitering munitions".
These hover above a target area for up to ten hours waiting for an enemy to wander underneath, before plummeting to the ground to incinerate whatever is below.
As with the other drone programs in Afghanistan and Pakistan, we are sure to be told that only "militants" are targeted or killed in these attacks.
So expect to see the definition of "terrorist activity" include 'walking underneath loitering munitions', should this technology see deployment.
Another of Ultra's flagship products is the 'HyperSpike', and is a competitor to the better known 'LRAD'.
In a promotional video it is marketed as a "mass notification device".
Another use to the "everyday warfighter" is as a mass torture device.
The HyperSpike is a sonic weapon capable of blasting high-pitched noises over long distances, causing extreme pain and potentially lasting damage to those in its path.
Sonic weapons like this are increasingly deployed by US police forces to attack demonstrators. Ultra are also active in cyber warfare equipment and services.
EADS is the other founding partner. EADS is a partner in the Eurofighter programme, helped produce nuclear weapons for the French government, and through a partnership with BAE Systems and Finmeccanica, developed the 'Storm Shadow' cruise missiles used to bomb Iraq in 2003.
More recently, EADS (though subsidiary GPT) has been accused of paying bribes of £14.5 million to dignitaries in Saudi Arabia between 2007 and 2010, in order to secure lucrative arms deals there.
The payments were made to two companies registered in the Cayman Islands, Simec International and Duranton International.
According to Exaro News, the three executives at GPT who signed off on the bribes are Malcolm Peto, Jeff Cook and Laurence Bryant.
Cook previously worked for the Ministry of Defence. Along with Peto he authorised cheques to pay for luxury cars for two Saudi commanders, Mohammed bin Khalid al-Nahed — head of the signal corps of the Saudi national guard — and his deputy, Abdul Rahman bin Abdullah al-Ayaddi.  Two civilian advisers also received new cars.
In a development that will shock no one, officials at the MoD are said to have known about the offshore payments, but have done nothing.
Simec is named in a recently leaked MoD memo from 1976 discussing "agency fees" paid to secure Saudi deals.
It would thus appear that Saudi officials have been receiving payments through the same company — one based in British territory — for a staggering 36 straight years.
The other mysterious Cayman company, Duranton, was recently reported by the Telegraph as intending to sue GPT for breach of contract, after GPT terminated their agreement. Some world we live in if you can sue for failure to pay bribes.
The Serious Fraud Office is now supposedly investigating GPT over the payments.
The last time the SFO investigated an arms company over bribery in Saudi Arabia was when BAE Systems were accused (amongst other misdeeds) of paying Saudi Prince Bandar bin Sultan hundreds of millions of pounds in bribes.
The Right Honourable Tony Blair forced the SFO investigation to be dropped so as not to embarrass the House of Saud, or as he would put it 'endanger Britain's national security'. Small wonder then that he topped the bill for the symposium.
Those speaking alongside include Blair include John Browne (of tuition fee trebling fame), Michael Gove ("one of the Cabinet's most original thinkers") and, um, Ross Kemp.
It is a disgrace that Blair should show his face anywhere in public, least of all in a place of learning.
The damage this conference will do, indeed has already done, to the reputation of higher education only compounds that of the gross involvement of the arms industry. (Stop the War Coalition)