Aberdeen – Enlightened Electorate or a City of Luddites?
Aberdeen is a lively, cosmopolitan city located in North East Scotland, famous for its beautiful architecture and as a gateway to Scotland's spectacular castle and whisky country. The city has been the hub of the UK's energy industry for nearly 50 years and has enjoyed a high quality of life and low unemployment.
The city offers a wide range of activities and opportunities through its vibrant sports and social scene, its cultural events calendar and its world renowned research and education institutes, to its network of business and employment support services.
Politically Aberdeen was a labour stronghold until 2003 when the Liberal Democratic and Conservatives parties formed a governing coalition.
The 2007 election saw the demise of the Conservative and the rise of the Scottish Nationalist Party. There was no overall control and the largest party, the Liberal Democrats formed a governing coalition with the Scottish Nationalist party.
The newly formed local government instructed completion of a full financial review. This revealed a financial black hole of massive proportions and the matter was referred to Holyrood and the police for investigation (reports below).
The 2012 election brought more change. The Scottish Nationalist Party gained more seats but not enough to take control. Labour, the largest party formed a coalition with the Conservatives.
The Council's political leaders have been obstructive, at times offensive (almost to the point of misrule) to any initiative muted by the Scottish government in Holyrood, often by-passing it airing issues through a compliant press and the office of the Scottish Secretary, David Mundell (most likely the conduit for the Conservatives on the Council).
The level of undemocratic actions and misguided decisions of the administration alienated it from many Aberdonians, but local government elections were held on 4 May 2017 and the electorate returned  a Tory/Labour council. The logic of  many voters is beyond understanding
What follows is a number of historical events applicable to Aberdeen many of which are indicative of incompetence, misrule and activities bordering on criminality. Quite why they failed to persuade the good people of Aberdeen to dump Labour and Torys defeats me.
New look Aberdeen – Hated by the public but approved by the council
9 October 2014: Aberdeen City Council has reinforced the belief that it is surely one of the most distasteful and sleekit of local authorities.
It has played a dirty game over the development that it once boasted would be Marischal Square – a great opportunity for a civic space it once promised – an idea that captured the mood of the city's citizens browned off by a recent diet of lacklustre plans lacking in ambition and confidence.
Did they say square? They did. Did. Not any more. Because square there aint. Unless you follow the logic of Cllr Boulton who, in reply to being challenged on the great disappearing square, muttered something along the lines of – the whole area is a kind of square.
It is clear the Labour- led coalition which includes a Tory and Independents while happy to provide a blank sheet for the developers eager to build shops, offices and a hotel were less interested in what the people of the city wanted. Did I say less interested? Not interested.
Of course councils ignoring the wishes of the people is not a new phenomenon but disappointing nevertheless whenever it occurs and when it doesn't even try to modify the commercial aspects of the design as a sop to public opinion.
The final decision was taken away from the Planning Committee and put to full council to ensure the commercial proposal went through, as councillors would be more or less voting along party lines. This was nothing short of politicising the scheme and a scandalous manipulation of power on a project that is so controversial.
Cllr Willie Young is reported to have indicated on July 17th this year that the decision had already been taken to go ahead with the Muse development causing consternation among opposition councillors opposed to the deal.
https://lenathehyena.wordpress.com/tag/aberdeen-city-council/
After-note:
1.The projected and budgeted cost of relocating the Council Headquarters to the Marischal College was around £30m. The final bill will be around £140m.
This gives rise to the public view that the approved new builds have been put in place as income generators. The finance raised from Aberdonian's to be used to help offset the massive overspend. So it is "sod the public and the park" and the Aberdeen taxpayer can be used to clear the overspend.

2. The demolition of Aberdeen City Council's former headquarters (St Nicholas House) was delayed following the discovery of asbestos which had to be cleared from the site by the council before any sale could be processed. The work costing many £ million was not included in the forecast costs. No matter the Aberdeen taxpayer absorbed the overspend through their rates.

28 August 2008 : Aberdeen is Europe's oil capital, but its council suffered a financial crisis, so what went wrong? Behind the granite facade lies a city in municipal ruin.
This year the city council decided to close many welfare facilities in a round of cuts alleged to be as high as £50 million – a vast amount for a council with an annual budget of £417 million.
"How could this happen in Europe's oil capital, a city full of millionaires?"
Bewilderment that was reflected around the country that a city, home to an industry worth an estimated £15 billion annually, could not afford to pay for its services.
The council was hauled before the auditors at the Accounts Commission.
The Accounts Commission said previous coalition councils had spent £10 million over limit for at least the previous five years and "did appear to have the capacity for change". The impression of poor management was further reinforced during the commission's inquiry, when the council leader appeared unable to answer questions on policy.
No-one resigned or even accepted blame – Len Ironside, retained the role of leader of the opposition. Only chief executive Douglas Paterson took early retirement from his £127,000 a year post after a scandal involving a £10 million under-sale of properties.
http://www.scotsman.com/news/aberdeen-city-council-special-report-behind-the-granite-fa-231-ade-lies-a-city-in-municipal-ruin-1-1088387
February 1997: Aberdeen City Council – Demand for Labour councillor Ramsay Milne to quit
A political row blew up yesterday when the Liberal Democrats on Aberdeen City Council called for the resignation of Labour councillor Ramsay Milne following criticism of him in a report by the Local Government Ombudsman. The report, censured the former Aberdeen District Council for maladministration and criticised Mr Milne for breaching the national code of local government conduct.
The Ombudsman's report followed a complaint relating to a controversial land deal under which the council paid £400,000 to Grampian Healthcare NHS Trust for land in Cornhill Hospital on which the Castlehill Housing Association was to develop property, including homes for dementia sufferers.
The development proposals drew several protests from nearby residents but were eventually approved. Councillor Milne was involved in the deal in his capacity as estates planning officer of the trust. When it was discussed in committee and at council he did not declare an interest because, he explained, he stood to make no personal gain out of the land disposal.
The complaint to the Ombudsman was about the lack of an environmental assessment and although he expressed sympathy he did not uphold it. However, commissioner Frederick Marks said that while Councillor Milne's conduct did not give rise to the complaint he viewed his conduct as a breach of the national code of conduct on a number of occasions.
After-note:
At 2016 Mr Milne is the Chairman of:The Planning Development Management Committee charged with primary responsibility for ensuring the effective and proper disposal of the Development Management and Building Standards responsibilities of the Council.
This is the same person who as a senior manager in a similar position with Grampian Healthcare authorised the sale of Health Service property for a sum of £2!!! (See below)
May 29 2006: Brother-in-law of the former First Minister, Jack McConnell, McLuckie is the millionaire owner of property company Camvo 37.
In 2007, retired detective sergeant, Alistair Watson – the officer behind the 'cash for honours' enquiry that dogged Tony Blair – sparked an investigation into McLuckie's dealings with the Scottish Executive by writing to the Metropolitan Police.
Apparently, five houses and a plot of prime building land had been sold to Camvo 37 by the Executive for just £2 in 2004 on the site of the former Ladysbridge Hospital, near Banff, Aberdeenshire, is now worth upwards of £1million. Mr. Watson is quoted as saying:
There is something which appears not quite above board about this deal. It raises a number of serious questions about the relationships between all those involved and the Labour Party.
What I want to know is why was this sale of what had been a public asset not put out to tender? Like any other public asset it should have been put up for sale in public. Also why is it that property worth supposedly only £2 is now worth one million just three years after-wards?
And the NHS Grampian official responsible for the sale to Mr McLuckie's company was at one time a prospective Labour Party MSP. He is now a Labour councillor. It would appear to the average man in the street that spending £2 and making a million from it is quite a bit of luck no matter how expert the property speculator behind it. It smells and not just a little.
It was also reported that 'six months before negotiations over the Ladysbridge deal opened, another company he owned, Choices Community Care, donated more than £2,000 to Mr McConnell's election funds
Follow-up:
Apparently, 'The Inland Revenue tried to stall the sale after discovering Camvo 37 was benefiting from public cash being used to develop the site.
But it was pushed through by NHS Grampian property transaction manager * Ramsay Milne, who was on a list of prospective MSP candidates selected by Labour in 1998. He is also a Labour councillor in Aberdeen.
This refers to the fact that 'Inland Revenue district valuer (DV) Jim Campbell tried to halt the deal in 2004 when he discovered Camvo 37, the firm run by the First Minister's brother-in- law Robert McLuckie, was to receive £120,000 from an Executive quango, Communities Scotland, to help build new homes on the land.
Another £230,000 of NHS and council cash was spent renovating the existing houses even though the DV said the company should pay. Paperwork relating to the deal had explicitly stated that Camvo 37 should cover all costs associated with the development rather than relying on grants.
Further, 'Camvo agreed to use its new acquisitions solely to care for adults with learning difficulties for the subsequent 20 years. It built four homes on the site, and rented them out to 'Choices, a Livingston-based firm which provides care facilities for people with learning disabilities. Mr McLuckie was on the board of Choices until February this year when he sold his stake as part of a £10 million management buyout.
Records for the 2004/05 financial year show that Camvo 37 had debts of £1.4 million. It made a loss of £2,044 from a turnover of £141,239, making the grant Camvo gained from Communities Scotland three-quarters of its annual turnover. The strictest penalty the company faced was £255,000 for paying less than the market value of the site and failing to keep its promise.
At one point, Jack McConnell was questioned about his brother-in-law's financial dealings but refused to be drawn in to the argument. As it turned out, in June 2007, the deal was given the all-clear by Health Minister Andy Kerr.
Earlier, in 2002, Choices Community Care, which largely provides community care services in Motherwell and Wishaw, secured £337,000 worth of business in Mr McConnell's constituency, which was brought to the public's attention by SNP council leader Richard Lyle.
http://powerbase.info/index.php/Robert_McLuckie
17 February 2009: Grampian Police in probe on council land sale – Officers pass internal report to fiscal
Fraud squad police have investigated the sale of millions of pounds of Aberdeen City Council properties and prosecutors were today examining a police report into the controversial council property sell-offs, which spending
watchdog Audit Scotland said were almost "bordering on neglect". Property was sold off by Aberdeen City Council for £5.5 million less than its potential value on the open market and one senior council official was sacked.
A Grampian Police spokeswoman said: "We have made inquiries, assisted by Aberdeen City Council, and the information obtained was the subject of an internal report to the procurator fiscal.
http://www.afc-chat.co.uk/forums/index.php?showtopic=19819
2009: Audit Scotland Report on the sale of properties in Aberdeen 2000-2004
There is a lack of evidence to support the valuation at which properties were sold and there are cases where the Council may have achieved a better price
Of the 26 disposals considered, internal audit concluded in eleven cases that there was a lack of evidence to support the valuation at which the property was sold. Such a high proportion indicates weaknesses in procedures and in senior management supervision and control.
In particular, internal audit found:
• Cases where no valuation report was prepared or where valuation reports were not signed off by the Principal Surveyor.
• Evidence that valuations were prepared after property deals were agreed with purchasers or where there is no evidence to support valuations.
• The potential loss of more than £5 million in proceeds from disposals, based on a comparison of valuations by Asset Management with those obtained by internal audit from independent surveyors.
As part of the investigation, internal audit commissioned independent chartered surveyors to value properties and the District Valuer to provide additional advice on Carden House. The following table summarises the information contained in the internal audit report on the main transactions showing a potential loss:
                                                                                                                                        Property/site                              Potential value (£)                Proceeds
College Street Car Park                     3,630,000                     1,800,000
Land at Carnie                                   1,065,000                        365,000
Seafield Club and Allotments            2,930,000                         685,000
Site at Earnsheugh                               20,000                                 100
Land at Powis Terrace                         372,000                         275,000
Carden House                                1,250,000                          590,000
Total                                               £9,267,000                     £3,715,100                                                                                                                                                                                                                       There is of course a degree of subjectivity in such valuations and in some cases the maximum potential value would have been dependent on planning approvals. However, based on these figures, it is clear that the Council may have achieved more across these six properties. In total, this could have exceeded the amount achieved by more than £5.5 million (£9,267,000 less £3,715,100).
While the independent valuations are important in quantifying the financial consequences, the valuers' comments provide useful additional insight on the deficiencies in the Council's processes. The importance of option appraisal is highlighted as a key recurring point. In the case of Seafield, for example, where there is a potential loss of £2.2 million, the valuers note that investigations of alternative uses for the site would have resulted in
substantial additional capital receipts.
The most serious comment by independent valuers relates to the College Street car park where they concluded that the proceeds may have been double the £1.8 million achieved. Based on the information available and their opinion on open market value, they concluded that the deal struck by the Council was 'extremely poor and almost bordering on negligent'
Monday, 31 March 2008: Aberdeen Council Sex Case Manager Wins Case
A council manager forced to quit his job after complaining about senior colleagues having sex in the office has won his case for unfair dismissal. Former leisure manager Tom McNeil, 52, was accused of breaching the confidentiality of a report by his employers at Aberdeen City Council. He was also claimed to have made defamatory remarks about a woman he claimed to have seen engaged in a sexual act in the office. Mr McNeil had lodged a complaint about the senior manager cavorting with another manager behind a partition.
He also complained that on another occasion, later that year in 2004, the female senior manager, who cannot be named for legal reasons, was seen by Mr McNeil performing oral sex on then manager Brian Woodcock. And he claimed Mr Woodcock then asked him "would you like a cup of tea and a piece of cake?" when he spotted him.
Mr McNeil reported both incidents to his bosses, including the chief executive of Aberdeen City Council – Douglas Paterson, but claimed he was then the victim of a witch hunt. Mr McNeil, who worked with the council for 32 years, has been awarded £26,028 after taking the council to an employment tribunal in Aberdeen.
Today he described his win as "absolutely brilliant". He said: "The council has caused themselves damage yet again and the tax payers will be left to foot the bill for this 20-day tribunal. I was asked to run Garthdee Ski Slope and was then bullied into getting the centre to make a profit. But it was in financial difficulties, I told them but they wouldn't listen. There's a bullying culture at the council from the top down, if you don't believe their point of view you get kicked out. The staff are not to blame, they work really hard – this comes right from the top. This woman went to all costs to protect her lover, and she is still there when she should have been investigated. I had no choice but to leave. The allegations against me were scandalous. This has never been about the money, I just wanted to clear my name."
The tribunal found that the relationship between the two managers, who were married to other partners at the time, was "well-known" to every senior manager and "probably to more than 90 per cent of their employees". And it was described by one witness as being "the talk of the steamie".
Mr Woodcock, who was in charge of the Garthdee Ski Centre, was later suspended and investigated after allegations relating to financial matters but the other senior manager remains in employment at the council. Woodcock was then sacked from his post after allegedly sending "inappropriate" emails to the owner of the Garthdee Sports and Alpine Adventure centre in the city. He later sued Aberdeen City Council and was awarded more than £100,000 in a settlement.
When Mr McNeil was given his role, he advised the council chief executive the £2.3 million ski centre would always run at a loss but was told to make it work.
The tribunal ruled that evidence given by chief executive Douglas Paterson was truthful but criticised him for his lack of recollection of crucial matters that he might have been expected to remember.
The tribunal heard how the council was involved in a "sex for favours" scandal and council solicitor, Mary Kearns, claimed Mr McNeil was one of the managers involved. But Mr McNeil, now a business development manager, said he was subjected to a witch hunt because the chief executive wanted to get rid of him.
It was alleged he had breached the confidentiality of an investigation and had made "defamatory" remarks against the woman while expressing his concerns about the conduct of her relationship with Brian Woodcock in the workplace. The female manager had also alleged that Mr McNeil was a "sexual harasser".
The tribunal found that Mr McNeil should not have discussed a confidential report but held that his remarks were not defamatory due to the council not having investigated his claims the woman and Woodcock engaged in a sexual act in the council office. It held that Mr McNeil was unfairly constructively dismissed by the council but awarded him half the compensation he was entitled to because he had contributed 50 per cent to his dismissal because of his conduct.
http://www.careappointments.co.uk/care-news/scotland/item/19758-Aberdeen/Council/Sex/Case/Manager/Wins/Case
2006-2008: Aberdeen City Council – Performance Inspection of Social Work Services by the Social Work Inspection Agency (SWIA)
A performance Inspection of Aberdeen City Council's social work service was commissioned early and completed late 2007 and published in a report in June 2008.
Main findings were;
1. The Council's performance failed to rate above 'adequate' against any of ten areas for evaluation. 'Resources and capacity building' and 'leadership and direction' were both evaluated as 'unsatisfactory'.
2. The report also contained findings from a follow-up inspection of criminal justice social work in the city, following an earlier inspection in 2006. There was a lack of progress in improving service performance and scrutiny of the service by senior operational, strategic and corporate managers was rated unsatisfactory.
3. Her Majesty's Inspectorate of Education (HMIE) published a report of a joint inspection of services to protect children and young people in the Aberdeen City Council area in November 2008. The reports were critical of the performance of Aberdeen City Council, across the range of services inspected. Each inspection was due to be followed up during 2009. Because the findings were so serious, the audit and inspection agencies agreed to co-ordinate timetables and activities.
http://www.scie-socialcareonline.org.uk/performance-inspection-of-social-work-services-aberdeen-city-council-follow-up-report/r/a11G00000017xYSIAY
August 2013: Aberdeen City Council gets £100,000 penalty for IT security failings
The ICO said information included details relating to the care of vulnerable children by social services. The information was released after a council employee accessed council documents, including meeting minutes and detailed reports, from a home computer. A file transfer program on the machine automatically uploaded the documents to a website, publishing sensitive information about several vulnerable children and their families.
The council was informed and the original documents were removed, before the incident was reported to the ICO. The ICO's investigation found that the council had no relevant home working policy in place for staff and did not have sufficient measures to restrict the downloading of sensitive information from the council's network.
Ken Macdonald, assistant commissioner for Scotland at the ICO, said: "In this case Aberdeen City Council failed to monitor how personal information was being used and had no guidance to help home workers look after the information. The council also had no checks in place to see whether existing data protection guidance was being followed. The result was a serious data breach that left the sensitive information of a vulnerable young child freely available online for three months. We would urge all social work departments to sit up and take notice of this case by taking the time to check their home working setup is up to scratch."
The council is currently in the processes of agreeing an undertaking with the ICO, which commits the organisation to improving its compliance with the Data Protection Act.
http://www.computerweekly.com/news/2240204497/Aberdeen-City-Council-gets-100000-penalty-for-IT-security-failings
Council cutbacks
2014: Capital Allocation underspend
Aberdeen City Council reported that they had underspent by 45% against their 2013/14 capital budgets.
Reasons offered for the underspend included unexpected withdrawal of, or delays caused by, external partners in projects to develop new waste management facilities, build a new bypass (the Western Peripheral Route) and introduce hydrogen-powered buses.
Ongoing underspending will result in the council not having the most appropriate assets in place to deliver services effectively.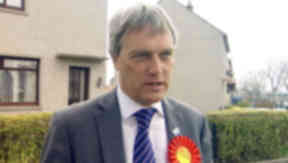 Aberdeen city council's finance convenor Willie Young
2016: 38degrees have placed a petition on line castigating the Councils performance
If you think that the current Labour Conservative administration at Aberdeen City Council is not fit for purpose can I ask that you sign this petition please? The intention is to confront them with a vote of No Confidence and to have them removed from office.
Why is this important?
The current Labour and Conservative administration at Aberdeen City Council took office in May 2012. Almost immediately they awarded senior council executives (themselves) a 5% pay increase while most other council staff were given nothing. Up until then the Labour Party had been opposed to pay increases for management at the council.
http://newsnetscotland.com/index.php/scottish-politics/5005-labour-group-in-aberdeen-council-accused-of-hypocrisy-over-pay-award
In February 2014, Willie Young offered the First Minister of Scotland a train ticket to visit him, claiming Aberdeen wasn't getting it's fair share of public money and wanted to discuss it.
http://www.eveningexpress.co.uk/news/local/councillor-makes-fare-offer-to-salmond-1.235340
Later that month Willie Young voted NOT to accept £7.3 million boost in funding for Aberdeen City Council, why? Was it to make the Scottish Government, First Minister and the SNP look bad? Wouldn't this extra funding have given Aberdeen it's fair share as Mr Young wanted? Unsurprisingly the First Minister accused the ruling Labour Party of incompetence and in response to that on the 3rd March 2014 Willie Young and Aberdeen City Council proposed to ban Scotland's democratically elected First Minister from all Council Buildings. The administration are having a vote on this on Wednesday 5th March.
http://www.falkirkherald.co.uk/news/scottish-news/council-votes-on-salmond-city-ban-1-3326999
What is clear is that these officials, Willie Young in particular, spend more time, energy and money (public money at that) hating our First Minister and the SNP than they do doing their jobs.
What the Labour Party fail to realise is that the money they awarded themselves is public money. All property owned by Aberdeen City Council is public property and owned by the people of Aberdeen and NOT the administration or the Labour Party so they have no right to ban anyone because of their politics. The £7.3 million Willie Young should have accepted would, if used properly, have benefited the City.
The Labour Conservative admin in Aberdeen seem more interested in playing politics with attempts to discredit and oppose the First Minister and the SNP at every opportunity regardless of the cost to the city and as a result are neglecting their duties to serve the people of Aberdeen.
https://you.38degrees.org.uk/petitions/vote-of-no-confidence-in-aberdeen-city-council