21 March 2014: Glasgow Council Rips Off Female Employees – But the lamb Nips the Lion. Remember this fiasco- and the cost of Attempting to Defend Their Actions
In the Inner House Lords Brodie, Drummond and Philip this morning handed down a major decision affecting more than 2,500 Action 4 Equality Scotland clients with equal pay claims against Glasgow City Council.
The Council then argued that these female employees could no longer compare themselves to male comparators who remained in the employment of the Council – the plain purpose of the Council's strategy being to try and evade responsibility for equal pay claims.
"We began this litigation back in 2005 and over the past 10 years we have witnessed Glasgow City Council enter into complicated and costly avoidance measures to escape their responsibilities to low paid.
I might also add that none of the local Labour MSPs spoke out against these payments at the time – including Johann Lamont, the Scottish Labour leader – whose partner/husband Archie Graham was, and still is, a senior Labour councillor in Glasgow.
Finance Secretary John Swinney said the new rules will end payments to Councillors who sit on bodies known as arms-length external organizations, after a Holyrood committee discovered that Glasgow Councillors had claimed £260,000 between them.
True to his word during the Scottish election campaign – John Swinney has now put a stop to the practice which has been widely condemned – as a ridiculous waste of public money.
Glasgow City Council has lost a big appeal case, I'm pleased to say – over whether or not thousands of council workers transferred to various arms length bodies (known as ALEOs) – can continue with their equal pay claims.
The good news is that they can – so hip, hip, hooray – for the 2,700 claimants from Action 4 Equality Scotland who are affected by this decision!
Last year Glasgow City Council managed to persuade an Employment Tribunal that these ALEOs were not an 'associated employer' – in employment law terms.
The significance of which was that these ALEO workers effectively lost their ability to continue with an equal pay claim – once they had been 'TUPE transferred' to one of the new Arms Length External Organizations (ALEOs for short).
Now that always looked like a crazy decision – since the council controlled all of these bodies and even paid some of its Councillors extra 'top-up' payments for overseeing the ALEOs – which to many people, myself included, seemed like money for old rope.
My view has always been that Glasgow created these ALEOs in a cynical attempt to evade their responsibilities over equal pay.
Because the council calculated – wrongly as it now turns out – that by putting many of its low paid women workers into a separate, artificially created box (Cordia) – that the women would no longer be employed alongside higher paid male workers who were comparators for equal pay purposes.
Since the men – according to this train of thought – were all placed in their own ALEO (City Building) which was not the same or even an associated employer – so the was 'off the hook' as far as future equal pay claims were concerned.
All I would say is that whoever dreamed up this despicable plan – should be sacked forthwith by Glasgow's ruling 'socialist' Labour administration – that is if they have not already departed the scene with an generously enhanced tax-free lump and final salary pension.
The Action 4 Equality Scotland clients were represented by Fox and Partners Solicitors – and Daphne Romney a leading QC who also represented A4ES during the successful GMF hearing against Glasgow City Council back in 2007.
Action 4 Equality Scotland now represents 5,500 clients in the ongoing equal pay claims against Glasgow City Council – whereas the trade unions represent only penny numbers.
 The unions in Glasgow kept their members in the dark about the huge pay differences between traditional male and female council jobs – and originally sided with the council when these big pay differences were exposed by A4ES in 2005.
So the trade unions have a credibility problem because of their behaviour in Glasgow which remains to this day – since the trade unions Glasgow also failed to put up any serious resistance over the creation of ALEOs either. So watch this space for news.
http://action4equalityscotland.blogspot.co.uk/2014/03/glasgow-city-council.html
http://www.employmentcasesupdate.co.uk/site.aspx?i=ed16273
GLASGOW'S largest arms-length body has overspent by almost £3million in the last nine months according to the latest council figures.
Cordia, which runs home care services and catering across Glasgow, is £2.8 million shy of what council bosses had budgeted for.
The figures were revealed in the latest ALEO report covering April 1 – December 18, 2015.
Care services are running at a loss of £3m which the shortfall expected to rise to £4.4m by the end of March, while catering is due to end the year £3m in the black.
Finance chiefs have put the problems down to higher staff absence levels, fixed fees for home-care services and staff pay awards, and said the high absence levels were related to the workforce reforms introduced by the company last year.
A Freedom of Information request seen by the Evening Times shows the company spent more than £1m on agency staff between April 2015 and January 2016.
For five of the last six months of 2016, the firm overspent by as much as three times their target for agency staff, which they said was due to staff absence and the opening of the Queen Elizabeth University Hospital.
A spokesman for Cordia said: "Around 2% of Cordia's overall home care operation is made up of agency staff, a figure which is lower than many other local authorities.
"This is to ensure a continuity of service provision during peaks in major holiday periods or exceptionally high volumes of work."
The whole company is predicted to finish the year with a deficit of around £700,000, instead of an expected surplus of more than £2m.
Four other ALEOS, including Glasgow Life and City Parking are expected to end the year with less cash than budgeted for by the local authority, while five are forecast to come in on budget.
As reported by the Evening Times, the Cordia's home-care sector has undergone a major restructure in the last eight months with staff moving to a seven-on seven-off shift pattern in June.
Union representatives slammed the shortfall and said Cordia has "mismanaged" its spending.
Sam Macartney, of Unison's Glasgow City branch, said: "The home-care reorganisation was a shambles. It has weakened the service and it has not improved it.
"It stressed their staff out and it penalised the public.
"They have wasted a lot of resources, particularly within the home-care structure where there has been misspending.
"There has been far too much money being spent on agencies particularly if you take into account that the council themselves has ceased using agencies for years, especially in social work where it was shown not to be cost-effective."
SNP councillor Susan Aitken, Glasgow city council opposition leader, said: "The value of removing social care services from the Council, both financially and in terms of the quality of service provided to vulnerable service users, was always open to question.
"The fact that Cordia is now not even delivering the profits it was set up to achieve shows that the original concerns were valid ones."
Councillor Aitken said social care services must be returned to focus on the "needs of service users", instead of "profit being the main driver".
A council spokesman said: "Cordia is dealing with a number of increased costs – including overtime and associated pension payments and the delivery of key service reforms.
"This is being managed within Cordia's own budgets and will not impact on the service delivered to home-care clients.
"The council has been fully aware of the position and has taken it into account in the probable out-turn for the current financial year."
Earlier this month we revealed that discussions are at an advanced stage which would see the dismantling of Cordia.
The company employs around 7,000 staff, most will move across to Glasgow City Council by the end of the year, with workforce levels and terms and conditions expected to remain the same in the medium term.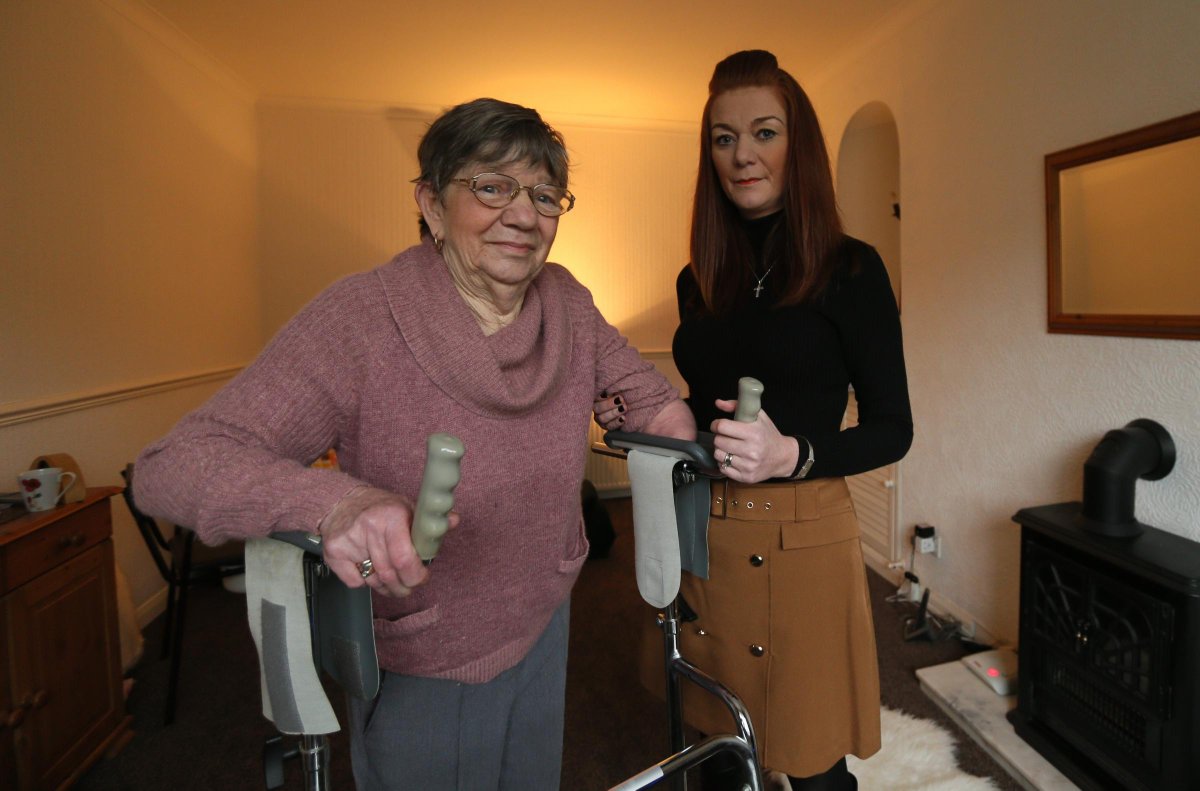 Margaret Matts with her daughter Jane
A MAJOR overhaul of care services must be made by Glasgow city council, claim staff and clients at care provider Cordia.
In the last year, the Evening Times has highlighted a number of cases where Cordia failed to provide a service to vulnerable clients, some of whom were left for hours without help.
Home carers were moved to a seven on-seven off shift pattern in June 2015, sending the service in to meltdown within days of it being introduced.
Bosses said at the time the new rota would provide clients with "greater continuity of care" and vowed the service would improve once the new pattern "bedded in".
Now staff and clients have called for Glasgow City Council to introduce vital changes to the service should they take on responsibility for home care provision.
Frances Smith previously raised concerns about care for her diabetic mum after she went without care for 17 hours one one occasion, and had reported at least 16 other missed visits from Cordia carers.
Frances, 59, said: "There have been too many apologies and something different needs to happen. Glasgow City Council must look at what they are able to provide. A lot will depend on whether the council get it right, and if it's the same management. If all it is is a different name, that would worry me."
Frances added that since she raised her concerns in the Evening Times, her mum's care has been "excellent" but said she would be concerned if there were changes to the individual carers who come to visit, due to her mum's dementia.
The daughter of 74-year-old Margaret Matts also said she hoped the local authority would improve the service should it take control.
Jane, whose mum Margaret was previously left lying in bed for hours when carers didn't turn up for their appointment, said: "I think before [the service] became Cordia it ran much better.
"It was relatively new to our family anyway, but I'd hope the council would do a better job of it. This is a chance for them to sort out the issues which were happening before."
Two members of staff echoed their concerns, but admitted they were not aware of the plans.
One employee, who has been with the firm for more than five years, said: "Whatever happens, it has to get better than it is now. Things must change, they need an overhaul.  We [the staff], never get told anything until the last minute. There were rumours that this might happen, but nothing has been told to us."
Another home carer, who has held her post since the service was previously controlled by the council, said: "Cordia has just made a mess of everything, so hopefully it will be better going under the council. I don't know if it will be the way it was under social work before, but hopefully, if they are going to do that, it would be better. When I first started…it has changed so much since then. It's not the same any-more, you're not treated the same."
The carer said she hoped she would be given more time to spend with clients if the council were in charge, adding: "I'm just in and out with them at the moment, I hardly get to spend any time with them and some of them need much more time than I have. I'm hoping this will change things. It's just terrible now, hopefully if it goes back to the council hopefully it will be a lot better."
http://www.eveningtimes.co.uk.news/14258432.Staff_and_families_call_for__major_overhaul
__at_Cordia_under_Glasgow_City_Council_s_control/
Thousands of staff on the move as plans launched to scrap controversial council spin-off companies
Scotland's largest home care provider is to be wound up and the country's most successful marketing bureau merged as part of plans to overhaul Glasgow's network of controversial council spin-off bodies.
Discussions are at an advanced stage which would see the dismantlement of Cordia, the arms-length agency which provides social care, catering and janitorial services.
The company employs around 7,000 staff, most of whom will move across to Glasgow City Council by the end of the year, with workforce levels and terms and conditions expected to remain the same in the medium term.
Cordia was set up almost a decade ago from the council's social work department in a move primarily designed to avoid its predominantly female staff being caught up in the avalanche of equal pay claims.
Meanwhile, in a related move, the council-owned marketing agency, credited with generating hundreds of millions of pounds annually for the city economy via conferences and events, is to merge with the trust which runs Glasgow's museums and sports facilities.
It is unclear what the new body combining the Glasgow City Marketing Bureau and Glasgow Life will be called but sources insist none of its functions will be diluted and the coming together is "about efficiencies and economies of scale".
Questions have been raised, however, about the future of the council's most successful spin-off merging with an organisation with a number of internal challenges, whilst unions and opposition leaders have expressed concern over the impact of axing Cordia on workers and the thousands of elderly people using their services.
Details of the plans, which it is understood is being driven by the council's Labour leadership, come two months after it emerged the chief executives of both the Marketing Bureau and Cordia were stepping down.
Glasgow's arms-length bodies, or ALEOs, have been an often controversial addition to the local government landscape in the past decade, not least because of the system of payments paid to councillors who sat on their boards.
However, after this was exposed and questioned the £250,000 top-up payments were axed by John Swinney.
One council source said the Cordia plan was "about tidying up the council family and simplifying complex arrangements" and that it would be gradually broken up.
The source also said the Marketing Bureau would continue with all its top staff continuing the work they do but under a different corporate. The source added: "It makes sense as far as efficiencies go, both organisations are also involved in events. It's an economies of scale thing."
Under the stewardship of chief executive Scott Taylor, the marketing bureau became one of the most successful in the UK. However, Mr Taylor announced in December that he was stepping down from the organisation.
Susan Aitken, leader of the council's SNP group, said: "Dismantling Cordia simply exposes the reasons why this ALEO was set up in the first place, to avoid an equal pay settlement for low paid women workers and to provide extra paid jobs for Labour councillors. Since neither of those now apply, Cordia is no longer politically expedient.
"Protecting vulnerable service users and Cordia staff must now be the priority. People who rely on Cordia services, particularly home care, should not experience any disruption and staff must be kept fully informed about what's happening to their jobs and be guaranteed that there will be no detriment to their pay and conditions as part of any move."
Unison's Brian Smith added: "Unions have argued for the ALEOs to be back under democratic council control for years. We find Cordia a particularly difficult ALEO to deal with, their current treatment of school janitors being a case in point.
"Home care service is also underfunded. We want Cordia workers treated with the respect they deserve."
A council spokesman said they had to find savings of at least £133 million over the next two years.
He added: "A range of options to meet the savings target is being considered for inclusion in the council's budget for 2016/17. Until then, it would be inappropriate to comment on specific proposals. Councillors will consider the budget at a meeting of the full council on 10 March."