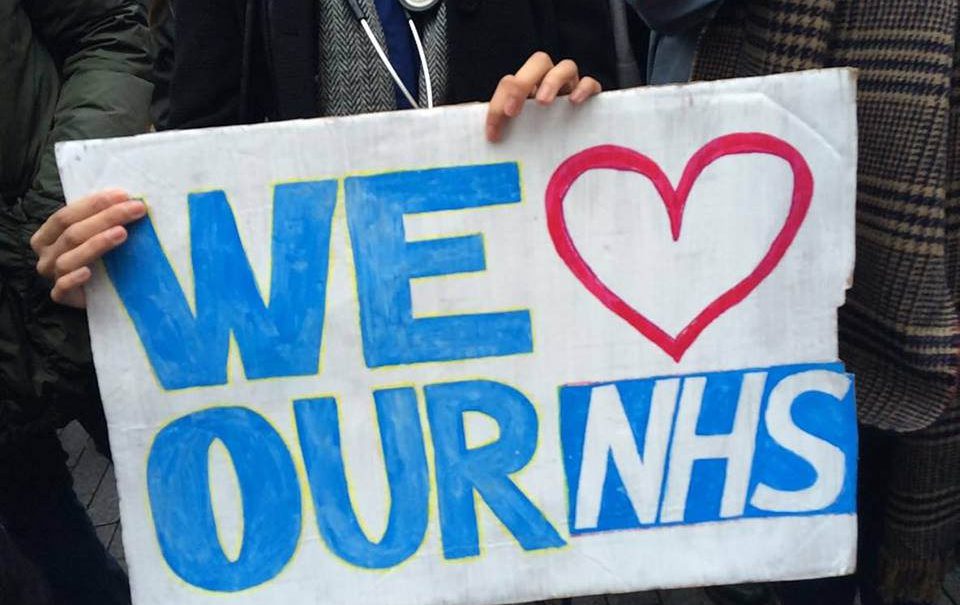 Clapping for our NHS heroes
When confronted with a health crisis beyond comprehension and increasing numbers of health service workers sacrificing their lives caring for their patients, it was nauseating witnessing the recent cynical political manipulation by Westminster politicians who decided upon asking the public to "clap for our NHS heroes" who have exceeded their duty of care attending to their patients performing their duties with admirable courage and dedication.
And the very same politicians are placing a financial noose around the necks of the electorate in the form of a 20+ year austerity programme by borrowing many billions of £ sterling with interest, from already ultra-rich corporations and similar organizations, not for the express purpose of providing financial support to many millions of workers and their families struggling to survive, but to provide finance bailing out companies like Branson's Virgin Atlantic,  and many thousands of rich businessmen and politicians who register their funds offshore enabling the avoidance of applicable business taxes which would boost the exchequer reducing the level of borrowing.
There is also the obscenity of tens of thousands of highly paid executives continuing to allocate themselves a financial bonus topping up huge unjustifiable salaries at a time when their companies and organisations are in freefall. The philosophy appears to be, "get rich now boys hard times are near hand".
If politicians were genuinely serious in their praise of health service staff they would approve the immediate payment of a £10k bonus to all frontline NHS workers and a £100k payment to the NOK of workers who have lost their lives doing their duty.
And we have been here before. Remember the Afghanistan debacle??
Political Jingoism!!!!? Armed Forces Day
In 2006 as British armed forces casualties began to increase in Afganistan, Gordon Brown, (Chancellor of the Exchequer) identified an increasing recurring cost to the exchequer resulting from a need to maintain support to maimed and permanently disabled servicemen and women being returned to the UK.
Intent on reducing the recurring financial burden on the exchequer he proposed that a "Veterans Day" be held on the last Saturday in June each year, providing an opportunity to encourage young people to learn about the history and realities of war and to show their appreciation of war veterans together with rest of the nation celebrating the contribution made by those who had served in the Armed Forces.
The day was held in each of the years 2006 – 2008  and raised public awareness, (and lots and lots of money) for the needs of veterans,
But, in late 2008, faced with the reality that the war in Afganistan was not going well. It became necessary to find a way to mobilize the nation to continue to give their support to the military while avoiding any discussion or critical examination of Westminster's political support for the war.
In 2009 Brown, by then Prime Minister decided on a change in emphasis, shifting policy away from the remembrance of veterans, introducing the jingoistically named  "Armed Forces Day" claiming its intention was to raise awareness and appreciation for those on active duty well knowing that the intent was to stir-up blind patriotism and support for the unpopular war.
"Armed Forces Day" was subsequently celebrated from 2010, on the last Saturday of June, at arranged venues throughout the UK, feeding upon the feelings and beliefs of people whose belief is that Westminster  politicians are always honourable and right in their support of aggressive acts against other countries
The  2014 "Armed Forces Day" was particularly poignant as I reflected and shed tears, upon the fate of three of my uncles, (all Calton, Glasgow boys who were forcibly conscripted and sent to die in Belgium, sating the greed and power of politicians in Westminster. One of my uncles died in battle at, "Ypres". Another two died at the "Somme". My Uncle Johnny was only 18y. 
In the war 1914-1918, of the 557,000 Scots who enlisted or were conscripted in all services, 27 percent lost their lives.
This compares with an average death rate of 12 percent for the rest of the British army between 1914 and 1918.
The primary cause of the higher-than-average casualties among the Scottish soldiers was that they were regarded as excellent, aggressive shock troops who could be depended upon to lead the line in the first hours of battle.
An Eton educated General when asked by one of his brigadiers why his Scot's had to, despite a mauling four days before, lead the line in a planned assault, said, " Because they need to be less concerned with politics and more with survival".
35 General's serving with the Army in the war were educated at Eton. "Lions led by Donkeys" indeed!!!
In a free Scotland "Armed Forces Day" should be replaced once again with a day of respectful remembrance denying Westminster politicians a way of transferring the cost of their wars onto an unwitting public.