Scottish Tories increasingly restless about Brexit
In the months following the outcome of the European Union referendum Ruth Davidson and her Tory party colleagues in Scotland have been significantly reticent about getting involved in the political scene in Scotland. It appears to be the case that many MSP's and Party activists in Scotland are maintaining a low profile until a decision on the form "Brexit" is to take is decided. A "hard Brexit" might well trigger a rebellion in Scotland with the Scottish Tories giving their backing to a referendum on Scottish independence, preferring to promote their policies in a Scotland free from Westminster.
The party membership and leaders in Scotland are well aware Scotland and its needs are not given a high priority by Westminster and the natives are becoming restless. The content of this article provides evidence it will not require a deal of pushing of the party membership before their tolerance of Westminster politics ends in the withdrawal of the party in Scotland from their UK controllers.
5 September 2011: Murdo Fraser divides opinion with 'radical' plan for Scottish Conservatives
Fraser said he had received an "extremely positive" response since making the suggestion and particularly welcomed the support of former Scottish Secretary Sir Malcolm Rifkind. who said "I think that what Murdo Fraser is saying is very refreshing. In broad terms, I welcome it." Several other senior Tory MSPs also backed the proposal. Alex Johnstone, North East Scotland MSP, said: "This is the type of imaginative thinking we need and I will be supporting Murdo all the way."
But the plan also drew criticism from some high-profile Conservatives and opposition politicians and prompted Glasgow MSP Ruth Davidson to confirm she would contest the leadership and defend the present Scottish party. Davidson, who grew up in Fife, is considered his biggest rival in the leadership contest and has the backing of David Cameron. "I am proud to be a Scottish Conservative and Unionist. This is a destabilising distraction" she said.
22 March 2016: Scotland, the UK and the European Union -This is an extract from Mundell's address as the Secretary of State for Scotland
"It is a feature of our times that people no longer give unquestioning, deferential support to political constructions in the way they once did. It is right that those of us who are elected to positions of responsibility and who support these political institutions should be put on our mettle to defend them. Whether it is the United Kingdom or the European Union or whatever – if we believe sincerely that they are in the best interests of our country and our people, we should make the case for them with clarity and honesty.
The benefits which Scotland and the rest of the UK gains from EU membership are clear. Stepping away from the EU would be backwards step. We would be forfeiting our genuine freedom for a false freedom, which would impose real risks and dangers. In the end, it makes sense to be a part of the things which influence you. So let's make the case for the real freedom which Scotland in the UK, and the UK in the EU gives to us all. https://www.gov.uk/government/news/david-mundell-scotland-the-uk-and-a-reformed-european-union-speech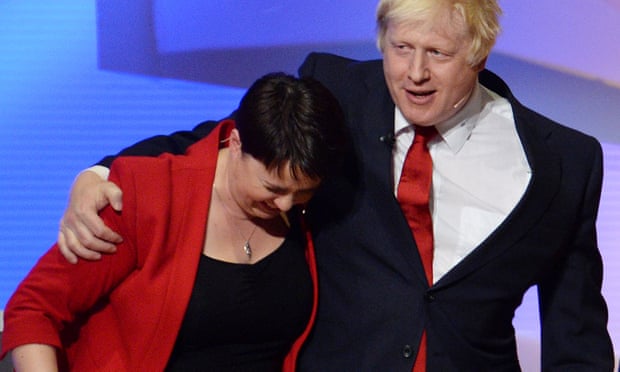 21 June 2016: Scottish Conservative leader Ruth Davidson will declare independence from her UK party if Boris Johnson becomes its leader.
Some at Westminster are predicting a coup in the aftermath of Thursday's EU referendum. The prospect of Johnson replacing Cameron as Prime Minister is caused such concern in the Scottish top team that going solo, in a move mirroring Murdo Fraser's failed leadership campaign tactic, is now seen as a viable option.
Davidson, who saw off Fraser five years ago and guided the Tories to second place in May's Holyrood election, considered the radical action ahead of a televised showdown on the EU referendum with Boris. A source close to Davidson said: "If Boris becomes leader we'll do a Murdo. We'll have to break off."
Supporters of Mr Fraser's plan argued that forming a new party would be the "next logical step" for her, whether Johnson entering Downing Street or some other factor was the catalyst. Party insiders said she had distanced the Scottish party from the UK Tories in several key policy areas and they campaigned in the recent Holyrood election under the banner "Ruth Davidson for a strong opposition" rather than the Conservative name.
Davidson recently savaged Johnson arguing a Leave Vote would be "a conscious decision to make Britain poorer" which "would hurt the poorest the most".
She added: "Boris Johnson and Nigel Farage would be OK; the wealthy are always able to fall back on their pension pots and savings. It would be ordinary workers who would suffer: the easyJet air hostess who could lose her job because, after Brexit, the airline would be priced out from flying within Europe; the dad on the factory floor at one of our many car-makers whose job disappears because Europe has slapped a new tariff on British-made motors; the single mum on a zero-hours contract whose job is extinguished to cut costs." https://www.thecourier.co.uk/fp/news/politics/scottish-politics/210365/scottish-tories-split-uk-party-boris-johnson-becomes-leader/
30 June 2016: Willie Rennie believes support for independence is at 'a record high'.
Rennie said the Scottish Conservative leader Ruth Davidson should be "embarrassed" over rising support for independence since her party became the second largest group in Holyrood after May's election. His concerns were expressed at the last session of First Minister's Questions before Holyrood moved into summer recess. The Lib Dem leader said: "I don't know if Nicola Sturgeon felt the same but I found it difficult to believe that Ruth Davidson showed no signs of embarrassment at all when she claimed to stand up for our place in the United Kingdom. "Within weeks of becoming leader of the – apparently official – opposition support for independence is now at a record high."
Rennie went on to reiterate he personally continued to "oppose independence" but he is at odds with his party membership who recently voiced their support for a second independence referendum to him and his fellow Liberal Democrat MSPs at a meeting in Edinburgh. Membership of the European project has been a fundamental strand of British liberalism since the mid 20th century. http://stv.tv/news/politics/1359194-god-help-the-union-willie-rennie-slams-scottish-tories/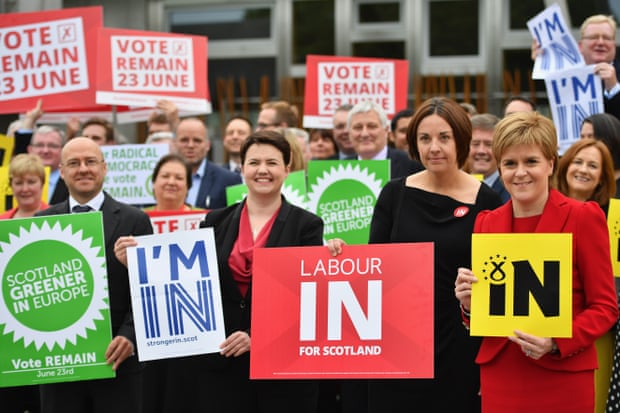 12 July 2016: Ruth Davidson, leader of the Scottish Conservatives, increases the pressure on Theresa May to tell the three million EU nationals living in the UK that they can remain after Brexit.
Davidson, who backed Ms May in the Tory leadership election, urged her to move quickly after taking over as Prime Minister to allay fears among the EU nationals that they might be forced to leave the UK. Ms May refused to make such a promise. Davidson briefed Westminster journalists that the status of the EU nationals should be guaranteed. "That's an assurance that I want from the Government, and I want it pretty quick. It's not enough to say to people who have come here and made a home here, and have made their life here, that we want your labour, that's all we want," adding "We have got to be able also to say we want your brains, we want your culture, we want your passion, we want you in our country, making our country better, and giving these people security." She further admitted "The result is testing this country's sense of unity. In Scotland, where people voted overwhelmingly to remain in the EU, the result is testing the binds of the Union as well." http://www.independent.co.uk/news/uk/politics/brexit-second-eu-vote-theresa-may-scottish-referendum-ruth-davidson-t-a7133271.html
And now for a wee bit of fantasy. What if Ruth Dreamed a Dream???   Ruth has an epiphany – reflecting on the implications of Brexit for Scotland (a fantasy but?)
Ruth Davidson's sudden and striking realization that her party's political viability in Scotland following Brexit would be much weakened if it were it to remain as part of the UK forced her to consider other more radical options. With independence there would be the prospect of a shake-up of a party system presently dominated by the SNP and Labour party's:
1. Ruth reflected first on the prospects for the Tory party at Holyrood elections. She calculated that under existing devolution there would never be another government of Scotland that involved her Party. Unlike in Wales, there seemed no prospect of the Conservative Party going into coalition with any of the other parties in the Scottish Parliament. Thus on the big devolved domestic policy issues facing Scotland (education, health, social justice), it would be unlikely in the immediate future that Conservative ideas would ever have any influence. If you are in politics because you want to represent your constituents and occasionally influence a minority government's policies, then this may not be a problem. If you are in politics because you want to be in power, the present arrangements are deeply unsatisfactory. If Ruth cannot envisage an improving situation, then she might be tempted to opt for more radical change. Her other option is simply to join the SNP.
2. Ruth also formed the view that winning a Tory majority at the 2015 UK general election was a hollow victory without significant gains in Scotland. She is tired of arguments about legitimacy and what she sees as the Scottish Government's tendency to blame Westminster for problems. Increasingly, she thinks that the UK without a truly statewide Tory Party is difficult to defend. Ruth began to consider whether it was worth the effort.
3. Having reflected on the prospects for the Tory's, Ruth turned to the best way to see centre-right policies in Scotland. She thought that the best way to reduce the size of the Scottish state in the long term was to make it responsible for the taxes it spent. She saw no better way of imposing fiscal discipline and an incentive to think about productivity in public services. The buck would once and for all stop in Edinburgh. She calculated that the UK government would not devolve the extent of powers necessary to have a sensible debate in Scotland about the proper role of the state and the market. But, after independence, the link between money raised in Scotland and money spent in Scotland would no longer be blurred. At a stroke, politicians could only raise spending if they taxed, borrowed or grew the economy. As a Tory, this is ground on which she felt comfortable debating.
4. Lastly, Ruth speculated about the party system in an independent Scotland. The centre-right would stand the chance of breaking free from the past and reinventing itself. In particular, removing the centre-periphery cleavage from Scottish politics would encourage members of other parties (particularly the SNP) to consider joining a new party of the centre-right because their main goal has been achieved. In any event, Ruth concluded that, politically, things could hardly get any worse in Scotland for people holding her ideological views. With independence there would be at least the prospect of a shake-up of a party system dominated by two parties (broadly) of the centre-left.
Tories in Scotland are separated in part by an assessment of whether the political possibilities for the centre-right within the British state are still attractive. Is the price being paid for very limited influence or power at Westminster worth it? A UK Tory majority with no increase in Tory MPs from Scotland places the Scottish Tories once again in an awkward position. Faced with steady decline or (perhaps) steady recovery, it is not irrational for a Tory to consider more radical options.
The Original article (modified for the purpose of the article) was written by:Alan Convery: Lecturer in Politics in the School of Social and Political Science at the University of Edinburgh.
http://blogs.lse.ac.uk/politicsandpolicy/four-reasons-a-scottish-conservative-might-vote-yes-in-2014/

A Scottish Tory backs Independence
Former Tory MSP and activist Michael Fry left the Tory Party in 2007, to explore the tensions in centre-right thinking about independence. He later launched "The Wealthy Nation Institute" which consolidated into a single group a strand of thinking about independence that had hitherto not received much attention. http://www.wealthynationinstitute.com/