Brian Wilson
Brian Wilson former Labour party minister at Westminster and in Scotland has been at the forefront of Scottish and Westminster politics for nearly 40 years.
He is an accomplished author and Journalist responsible for many hard hitting articles almost always attacking the SNP government. He is always vociferous in his defence of the Union and consistently voted against any form of Scottish home rule.
He retired from front line politics at the age of 55 taking up a new career in business concentrating on re-establishing Nuclear power as the main source of electricity supply in the UK.
He fully supported the 2003 invasion of Iraq and active in the Labour government as the trade minister successfully negotiated a small number of rebuilding projects to a total of around £1bn. The value of the contracts was a pittance when set against the total for all reconstruction contracts thought to be in the region of £300bn, all of which went to USA based companies. So much for the "special relationship" which brought death and injury to many fine young servicemen and women. The main company benefiting was AMEX (remember the name it features again and again in this article.
Wilson holds directorships in a number of energy related businesses and continues to publicly comment on UK government energy policy, particularly on the subject of nuclear power, which he is a supporter of, and has written opinion pieces in national newspapers as well as appearing on television news programmes to air his views.  He has called for Britain to retain a balanced energy policy with contributions to our electricity needs from nuclear, renewable' s, clean coal and gas.
Wilson took a great deal of interest in Cuba which (when Trade Minister in the Labour government) he visited on a number of occasions in an effort to improve political and trade links. He recently set up a new company and is Chairman of Havana Energy Ltd; Developing  Renewable Energy Strategies for Cuba and the Caribbean. The company was recently awarded a lucrative renewable contract by the Cuban government.  Read over his recent conference speech: "http://www.havana-energy.com/downloads/WWEC2013HavanaEnergySpeech.pdf"
Other executive positions held:
Non-executive director of Amec Foster Wheeler   Appointed, 26 October 2005, non-executive director of AMEC Nuclear Holdings Ltd, the nuclear services arm of AMEC plc. The announcement boasted that the firm was the UK's largest private nuclear services business. Wilson said "It is vital to have a British company of AMEC Nuclear's standing involved in every aspect of the industry. There is a huge amount of essential work to be done at both home and abroad, including clean-up and decommissioning, and I want to see the maximum level of participation from the UK in that process".
non-executive director of Celtic plc
Chair of the UK Operations Board of Airtricity:  UK arm of an international renewable energy company developing wind farms in Scotland and  the UK, USA and Europe. Supplies renewable energy to over 43,000 customers in Ireland and Northern Ireland.
Chair of Flying Matters:  A lobbying organisation supporting the aviation industry. It was wound up at the end of April 2011 following the withdrawal of four founding members including BA, BAA and Virgin Atlantic.
A closer look at  notable events in which his involvement is evident. The first, in 1996 condemns Wilson for his actions after leaving government
1996: Former Tory transport minister Steven Norris is set to take a job heading a private bus company, it emerged yesterday as Labour condemned a "jobs- for-the-boys" scandal.
Brian Wilson, Labour campaigns spokesman, said: "This is a public scandal. Common decency dictates he should not walk out of government and start taking money from one of the beneficiaries of his policies. This will heighten the public impression that Tory ministers legislate for their own futures rather than the national interest."
http://www.independent.co.uk/news/uk/politics/ex-minister-accused-of-job-scandal-1351066.html
1997: Labour was last night at the centre of a fresh home rule row after one of the party's senior campaign strategists, Brian Wilson claimed a future Scottish parliament would not be allowed to hold a referendum asking the people of Scotland if they wanted independence.
Opponents say Wilson, who heads Labour's rebuttal unit, had gaffed and was completely wrong when he told an Irish radio programme that a Scottish parliament could not hold an independence referendum stating that the Scottish government did not have the powers to legislate and only Westminster could approve such a move. Daily mail April 22, 1997
1998: A number of Labour MPs face "yellow cards" over their poor voting record in the Commons. Party leaders are to "name and shame" laggards in a drive to tighten discipline and end revolts. They are believed to include Scottish Minister Brian Wilson, Local parties are to be sent voting records and persistent offenders will even risk being dumped as Labour MPs. A senior whip claimed that Mr Wilson, could not be relied on to turn up for votes.  The Mirror June 5, 1998
2001: Amec, in partnership with British Energy is to be awarded a contract to build the largest wind-farm in Europe (up to 300 wind turbines) on Lewis, at a cost of £600m .
The project was unveiled by construction and energy minister Brian Wilson on Lewis last Thursday.
British Energy and Amec are already working in partnership to build an offshore wind farm of 30 turbines near Skegness. http://www.building.co.uk/amec-to-build-%C2%A3600m-scottish-wind-farm/1014547.article
2001: Foreign Office Minister Brian Wilson embarrassed the Labour Party yesterday by calling for the construction of a new nuclear power station in his constituency.
Wilson wrote to the chairman designate of British Energy, Robin Jeffrey, urging him to think about replacing the ageing Hunterston B nuclear power station in North Ayrshire.
But the Minister's desire for a new nuclear plant runs counter to Labour's last election manifesto, which claimed there was no case for new reactors.
No one from the Labour Party would comment officially yesterday, insisting it was a constituency matter, but party managers will not be happy Mr Wilson has given such strong support to nuclear energy when the party is split on the issue. …The Mail March 15, 2001
2001: It is an open secret in the closed and murky world of Scottish Labour. To say that Brian Wilson and Henry McLeish do not see eye- to-eye is an understatement.
In the name of keeping Tony Blair's commitment to devolution on track, the two men buried their deep-rooted antipathy in the wake of Labour's first general election landslide in 1997.
Mr Wilson stifled his conviction that delivering a Scottish parliament was like handing a badly wrapped gift to the Scottish National Party, while Mr McLeish took delight in his role as devolution minister at Westminster.
But under the deceptively calm surface, dangerous currents of dislike between the two MPs continues to swirl . …The Scotsman June 9, 2001

2002: So now we know. John Birt, former director general of the BBC, spilled the beans about a conspiracy at the highest levels of Government to prevent Scotland having a normal broadcasting service.
During 1997 and 1998 almost everyone in Scotland was in favour of what was called 'The Scottish Six' – a 6pm BBC TV news programme run from Scotland by BBC Scotland and reporting the events of the world through Scottish eyes.
Supporters included the Church of Scotland, which criticised the broadcaster over its ignorance of Scottish affairs, BBC Scotland staff themselves and the public at large.
Only two members of a specially gathered audience opposed the move to a 'Scottish Six' – Labour's Brian Wilson, now Energy Minister, and Lord 'Gus' MacDonald, former boss of Scottish Television. By everyone else, it was seen as a natural development which would match the devolution of some powers to a Scottish parliament. Daily Mail October 21 2002

2002: AMEC has secured a major petrochemical contract in South East China to work on the design and construction of a new US$2.7 billion petrochemical facility in Shanghai "- one of the largest overseas investments yet to be made in China.
AMEC's role, as part of the owners Integrated Project Management Team (IPMT) – is central to the successful management of the design, construction and commissioning phases of the project.
This first phase has a value of around $US 60 million and is expected to grow substantially as the project progresses.
The Minister for Industry, Energy and Construction, Brian Wilson said "This is a magnificent result for AMEC and British industry.
I recently visited Shanghai and was hugely impressed by the opportunities available to UK companies". http://archive.amecfw.com/news/2002/amec-in-major-chinese-petrochemical-win
2002: AMEC and 50/50 joint venture services partner Fluor Daniel will participate in South Korea's first offshore gas development following the signing of an initial £6 million two-year services contract with the Korean National Oil Company (KNOC).
Brian Wilson, UK Minister for Energy, attending the contract signing ceremony in Manila, Philippines, said: "It is an extremely exciting concept that operations of this kind can effectively be supported remotely from Aberdeen and other centres in the AMEC network, as necessary.
This is an extension of the principle that expertise developed in the North Sea can now be utilised on a global basis, while securing jobs at home and valuable contacts for British companies worldwide." http://www.contractorsunlimited.co.uk/news/030113.shtml

2004: Amec has won a contract worth £300m forming part of a $1bn (£550m) contract to rebuild water and sewerage networks in Iraq.
The deal is the biggest so far by a UK company for reconstruction work in the war-torn country, but otherwise British firms have lost out.
The combined successes sent Amec's share price up 3% to 305p. It is still in the running for two more pieces of work, one in transport, the other related to justice and security, which could be worth up to $1.2bn.
Brian Wilson, the prime minister's special envoy in Iraq who lobbied in Washington said: "This is a US-funded contract and I have no doubt that, as funding sources diversify, British companies will play an even bigger part in rebuilding Iraq." https://www.theguardian.com/business/2004/mar/25/politicsandiraq.iraq
2004: More nuclear power stations must be built if Britain is to meet its energy needs, a former Labour minister said yesterday. Brian Wilson, MP for Cunninghame North, denounced a policy of running down the nuclear industry as "irrational and irresponsible".
He told an energy conference in Glasgow, organised by the Scottish TUC, that new figures showing Britain was failing to meet its own greenhouse gas reduction targets "put the tin lid" on the argument for building new nuclear stations. …The Herald December 14, 2004 Wilson lobbying for the nuclear industry. There's a surprise.
2005: Amec and Fluor team have approached the government about buying the Sellafield-based British Nuclear Group (BNG) offer to take ailing British Nuclear Group private. This would complete the break-up of fuel and reprocessing operator BNFL.
In April, the ownership of Sellafield and a further 20 nuclear sites passed from the control of BNG to the newly created Nuclear Decommissioning Authority (NDA), along with the liability for dismantling them.
The state-controlled NDA will enter into contracts with private firms, (such as AMEC) to decommission the sites from 2008, when an interim arrangement allowing BNG to continue managing them will run out.
Amec, which last week paid £38 million for nuclear services consultancy NNC Holdings, is expanding aggressively into the nuclear market, having made acquisitions in France, Canada and the US. It wants to buy all or part of BNG and is hoping that a sale process will begin soon. https://www.theguardian.com/environment/2005/jun/26/energy.business

2006: The minister in charge of approving wind-farms in Scotland was accused last night of a blatant conflict of interest over his links with two private companies bidding to build the turbines.
Allan Wilson is Labour's deputy enterprise minister in Scotland and is ultimately responsible for deciding if wind-farm projects should be given the go-ahead. But it has now emerged he also spent several years as election agent for Brian Wilson – the former Labour energy minister who recently became a director with two energy companies bidding to build wind-farms.
Last night, the revelations sparked an outcry among anti-wind-farm campaigners, who argued the close relationship between the men represented a conflict of interest and could breach the strict ministerial code. …Daily Mail January 26, 2006
–
2007: Richard Caborn, the former trade minister, has been approached to become director of a nuclear alliance bidding for the £5bn-plus contract to clean up Sellafield.
He is just one of many high profile Labour politicians to join the nuclear industry's payroll as a lobbyist. He is understood to be ready to accept the non-executive post with the alliance formed by Amec of the UK and fellow nuclear clean-up specialists Washington Group of the US and France's Areva. It is thought the job could be worth up to £96,000 a year.
Former energy minister Brian Wilson is a non-executive director of the nuclear division of Amec and more recently, another former Labour trade minister, Ian McCartney, was recruited by Fluor of the US.
Of note is that the Washington Group already employs Lord O'Neill, the Labour peer and former chairman of the trade and industry select committee, as a consultant. O'Neill is also chairman of industry body the Nuclear Industry Association.
Companies are competing for a slice of the £73bn decommissioning market in the UK, with the clean-up of the sprawling Sellafield site representing at least half this sum.
If, as expected, the government sanctions the construction of new nuclear reactors later this year, more lucrative contracts will be up for grabs.
Having on board politicians with inside knowledge of the Department for Business, Enterprise and Regulatory Reform (Berr), trade unions and regulators is a great asset for bidders. https://www.theguardian.com/business/2007/nov/11/amec.nuclearindustry

2007 Labour Party hypocrisy exposed. Peter Mandelson's spin doctor Derek Draper was fired after his links with nuclear industry lobbyists was revealed by the press. The lobbyists regrouped and flooded the media conducting a sustained and sophisticated public relations campaign, using climate change, using energy security, saying that nuclear was cheap and safe.
There are certainly no shortage of links between the nuclear industry and the New Labour establishment. Former energy minister Brian Wilson is now a non-executive director of Amec Nuclear, a client of BNFL, the government-owned nuclear reactor operator.
Since 2004, BNFL has used lobbyists Weber Shandwick to help it push the case for new nuclear plants. Weber Shandwick's UK arm is headed by Colin Byrne, the Labour Party's former chief press officer.
French energy giant EDF has also been at the forefront of the campaign to change perceptions of nuclear power. Chancellor Gordon Brown's brother, Andrew, is EDF's head of media relations in the UK.
The company, operates 58 nuclear reactors in France and is already a big player in the UK electricity market, has said it is ready to invest in a new generation of plants in the UK, provided it gets the go-ahead from government. It has successfully lobbied ministers to introduce a fast-track planning process to make it easier to build new plants without lengthy public enquiries.
Yvette Cooper, housing and planning minister, and wife of Mr Brown's closest political ally Ed Balls, also has links to the nuclear industry. Her father, ex-trade union official Tony Cooper, is the former chairman of the Nuclear Industry Association, and is currently a director of the Nuclear Decommissioning Authority. He has been one of the most vocal champions of the industry's green credentials.
One of the most well-connected nuclear lobbyists is Alan Donnelly, former leader of the Labour group in the European Parliament. Mr Donnelly's company, Sovereign Strategy, represents US engineering giant Fluor, one of the world's biggest nuclear contractors, which is currently vying for a slice of the UK's £70bn nuclear clean-up market – but like other US firms, such as Bechtel, also has an eye on future nuclear build.
On its website, Sovereign Strategy, offers among other services, "pathways to the decision makers in national governments". Its board members include Tory peer Lady Maitland and pro-nuclear Labour peer Lord Cunningham, Tony Blair's former "cabinet enforcer" and the ex chairman of the Friends of Sellafield campaign.
Lord Cunningham is also "legislative chair" of the Transatlantic Nuclear Energy Forum, an organisation founded and run by Mr Donnelly, that aims to foster "strong relationships" between nuclear power companies and governments.
Tony Blair has spoken at events organised by Sovereign Strategy, including 2005's North East Economic Forum in his Sedgefield constituency, where he was reportedly introduced by a Fluor executive.
Friends of the Earth Chief said "Labour has often castigated the old boy network, the public school tie and so on, but they have a similar network. It depends who you know in the unions or ex-Labour ministers. People may accept that as the way things are, but there needs to be more transparency." http://news.bbc.co.uk/1/hi/uk_politics/5149676.stm

2009: Parkmead Group bank in false market claim. A company that numbers Tom Cross, chief executive of Dana Petroleum, and Brian Wilson, the former energy minister, among its non-executive directors has come under fire for creating "false market" in its own shares after putting misleading information into the market.
Ken Olisa, former chairman of Parkmead and now a non-executive director of Thomson Reuters and founder of Restoration Partners, alleges that the Aim-listed boutique investment bank, which specialises in the oil and gas sector, "has repeatedly failed to properly communicate with the market." He also alleged that the company created a "false market" in its own shares.
Olisa commented further saying "Everyone who put money into Parkmead, including widows and the orphans, has lost money as a result of this and other corporate governance abuses by the company, but they don't seem to have any recourse, The people whose job it is to enforce the regulations don't see enforcement as particularly important. They are too preoccupied with systemic risk."
What matters  said Olisa "is that Parkmead's shares fell by 20% as a result of the second announcement, so there had clearly been a false market for over a year." Regulatory authorities stand accused of failing to intervene. http://www.ianfraser.org/corporate-goveranance-abuse-at-parkmead/

2012: This is an example of the "spoiling" role of the Scottish Office who conspired with the Unionist parties in Scotland to defeat the wishes of the Scottish electorate in the independence referendum.
The UK Treasury used public finances allocated to Scotland to recruit a suitable individual located within Scotland in order to counter the campaign for Scottish independence (There were no UK Treasury employees based in Scotland).
The role, which was advertised by the UK government department, committed to pay the successful applicant £50,000 of public cash in order to promote the benefits of the Union.
The role was to become redundant in December 2014, immediately after the independence referendum. Now there's a surprise. Might be a unionist businessman will apply.
Well, well, well. Shortly after, "The Scotsman" published the following:
"Brian Wilson charged with promoting Scottish enterprise both at home and abroad. His role will see him use his expertise to promote the Scottish economy and business environment, and encourage more firms to engage in international business, with the view to growing Scottish exports. He said "I am very willing to make whatever contribution I can to supporting Scottish and other UK companies overseas, and by encouraging more of our businesses to become exporters."
How is this to work? Wilson will need to cooperate with the Scottish Government, a Government which he does not think should exist and endlessly disparages. He also represents Irish commercial interests in green technology. How can he represent Scottish interests in this field?  He also has financial interests in Nuclear power which the Scottish Parliament ( not just the SNP ) opposes.
He is a British Nationalist who has done nothing to further Scottish interests. Part of the Westminster government campaign against Scottish independence. But using Scottish funds for the purpose is yet another insult foisted upon Scots. http://www.scotsman.com/news/politics/former-labour-mp-brian-wilson-appointed-business-ambassador-for-scotland-1-2499843

2013: Celtic FC getting sucked into the Labour Party Co-operative Bank Scandal. As well as the evolving local Glasgow scandal of Celtic receiving cheap land deals from a Scottish Labour controlled Glasgow City Council and Greater Glasgow Health Board.
Celtic have been using the land as security to obtain cheap interest rate loans from the Labour riddled Co-operative Bank, most likely through former Chairman John Reid and Director Brian Wilson, both Labour party heavyweights. Now that's what you call doubling up on corrupt leverage.
The Co-operative Bank, due the drug dealing antics of ex-chairman, 'Crystal Methodist' Paul Flowers, a Labour ex-councillor, is soon to experience a forensic examination of it's 'policy' of giving risky loans at low interest rates to Labour party connected entities.
In 2006, when the Labour party was close to bankruptcy, the Co-Op Bank bailed the party out and in March this year gave them a loan of £1.2 million at the preferential low rate of 4%.
Compare this with Celtic's Co-op Bank debt facility of £34 million at 1.5%. Celtic's interest rate is ridiculously low and market loss-making.
Here we have the alignment of Celtic and Labour benefiting from the same low loans corruption. Hmmm, a coincidence?
Well Celtic's loans were obtained while John Reid, ex-minister of the Blair Labour govts and Brian Wilson, who was Labour Energy Minister were on the Celtic Board.
John Reid was chairman of Celtic from 2007 until 2011. Brian Wilson joined the Celtic board in 2005 where he remains a Director.
Note: All of the Co-operative Bank – Celtic mortgages were created during their tenures therefore so were the loans based on those securities. https://footballtaxhavens.wordpress.com/2013/11/24/celtic-fc-getting-sucked-into-the-labour-party-co-operative-bank-scandal/

2013: Mike Small of bellacaledonia wrote of Brian Wilson:
"Wilson in standard mode this week: apoplectic. The sense of self-importance and enshrined right-to-rule is most evident with Unionist politicians like Wilson but the sheer hypocrisy is breathtaking.
Last week he used his regular platform in the Scotsman to pour disdain on the Scottish Government's use of consultants to give expertise on defence, referring to "paying consultants substantial sums of public money" as if such a thing was anathema.
This week he is bemoaning the fact that the nuclear industry doesn't have the feather-bedding it does in England. He cheers for the idea of a Hinkley C and calls Scotland's energy policy "Salmond's nuclear fatwa" (memo to Brian, it's called a mandate)." http://bellacaledonia.org.uk/2013/10/23/nuclear-meltdown/

2014: George Monbiot, published a scathing analysis of Brian Wilson (extract below) and his ilk just before the referendum (The Guardian 9th September 2014)
"Of all the bad arguments urging the Scots to vote no – and there are plenty – perhaps the worst is the demand that Scotland should remain in the Union to save England from itself.
Responses to last week's column suggest that this wretched, snivelling, apron-strings argument has some traction among people who claim to belong to the left.
Consider what it entails: it asks a nation of 5.3 million to forgo independence to exempt a nation of 53 million from having to fight its own battles.
In return for this self-denial, the five million must remain yoked to the dismal politics of cowardice and triangulation which have caused the problems from which we ask them to save us. Brian Wilson, the sage of Scottish politics claimed in a recent article published in The Guardian:
"A UK without Scotland would be much less likely to elect any government of a progressive hue. We must combine against the "forces of privilege and reaction" (as he lined up with the Conservatives, UKIP, the LibDems, the banks, the corporations, almost all the right-wing columnists in Britain and every UK newspaper, (except the Sunday Herald) – in the cause of "solidarity" http://www.monbiot.com/2014/09/09/england-the-brave/

2014: Rev. Stuart Campbell is no fan of Wilson, (with good reason) He wrote an article highlighting, (not for the first time) another one of Wilson's flights of fancy:
"Alert readers will already be aware that former Labour MP, minister and nuclear-power lobbyist Brian Wilson is one of our least favourite figures in the independence debate.
A man utterly consumed by tribal hatred of the SNP – even by the standards of Scottish Labour, which is no mean accolade – his Scotsman columns are some of the most mendacious, bilious propaganda to be found in the country, to the extent that we don't even link to them in our "Zany Comedy Relief" section.
Today, however, he's outdone himself in spectacular style. His latest newspaper article is a foaming-mouthed diatribe (poorly researched) about postal charges, based on the price of sending a letter from Northern Ireland to the Republic. http://wingsoverscotland.com/brian-wilson-is-a-liar/
2016: The content of this article is mind blowing, exposing many Labour politicians that have climbed on board the gravy train piggy-backing financially on knowledge and influence gained at the expense of the electorate. http://www.countrydoctor.co.uk/politics/politics%20-%20Government%20corruption.htm
2016: on April 29th, we bade farewell to a great Scottish comedy talent. For the journalist, political commentator and former Labour MP Brian Wilson penned his final column for the Scotsman newspaper.
When I call Wilson a Scottish comedy talent, I'm thinking of a particular strain of Scottish comedy. I'm thinking of Walt Disney's Scrooge McDuck, and John Laurie's Private Frazer in the much-loved wartime sitcom Dad's Army, and the Reverend I.M. Jolly, one of the characters essayed by the late Rikki Fulton in his sketch show Scotch and Wry.
Like those three, Brian Wilson is dour and crabbit and negative, traits commonly attributed to the Scots, but is so over-the-top about it that he becomes hilarious.
Though there's a slight difference. The actors and animators who created Scrooge McDuck, Private Frazer and the Reverend I.M. Jolly weren't being serious.
When the glowering, gurning, face-like-a-skelped-arse Wilson sits down at his computer and thumps out another thousand-word missive of misery and more misery for the Scotsman, he is being serious. He means it. That's the real him. Which usually makes me fall off my perch laughing.
Seriously though, he's had a sane attitude to energy policy, favouring a combination of renewable's and nuclear power. I don't like the idea of nuclear power, but I think with global warming hanging over us like the Sword of Damocles we don't have any choice now but to continue using it. Mind you, I suspect Wilson's opinions on the subject are coloured by his private financial interests.
From 2003 to 2004 he was director of a company called Virtual Utility Limited, which supposedly was involved in wind-farms.
While in 2005 he was appointed non-executive director of AMEC Nuclear Holdings Ltd, the 'nuclear services arm' of AMEC.
Oh, and while he was special envoy to Iraq, who won part of a half-billion-pound deal to reconstruct the country's water and sewage systems? Why, AMEC did!  Funny, that.
http://bloodandporridge.co.uk/wp/?tag=brian-wilson

2016: Hinkley C Nuclear Plant: Britain's Biggest Political Scandal.  Why would Britain or any supposedly sane country sign the world's most insane energy contract ever? There is only one answer – deep scandalous multi-million pound systemic political corruption.
The international corporate nuclear industry has bought all three of Britain's political parties. It is the most scandalous classic example of The Corrupted Political System Pillar of The Prostitute State.
Senior figures or members of their families from Labour, (including Brian Wilson) the Lib Dems and the Tories all are political prostitutes working for the notoriously corrupt nuclear industry. They are lining their pockets to push through the biggest heist ever perpetrated on the British people.
A list of nuclear industry lobbyists across the four pillars of The Prostitute State including politicians, journalists, academics and lobbyists is listed here:
http://www.powerbase.info/index.php/Category:Individuals_linked_to_the_push_for_nuclear
https://www.permaculture.co.uk/news/%5Bdd%5D%5Bmm%5D%5Byy%5D%5Bnid%5D/hinkley-c-nuclear-plant-britains-biggest-political-scandal
The Braes of Doune wind-farm disaster
Airtricity Brian Wilson (later chairman) executive member applied to build a 50-turbine wind 'farm' on the Braes of Doune, near Stirling, in 2002. The site was to prove contentious not only on account of its visual prominence but because of its peatland habitat and its proximity to the River Teith. This had recently been designated by the European Union as a Special Area of Conservation to protect important populations of salmon and lamprey.
For the most part, those that opposed the development were people for whom 'the environment' was not the abstraction of the urban middle class but the place where they lived and worked, often in the footsteps of parents and grandparents. Some were experienced conservationists, others, farmers, anglers and the like but all had a lifetime's wisdom as countrymen and a deep knowledge of the locality. They were folk who tolerated rather than welcomed the rules and regulations that underpin modern rural life, for whom the river had been a steady part of that life, its special qualities perhaps taken for granted but its well-being never hitherto in doubt.
It certainly never crossed their minds that it would fall to them to defend its ecological integrity against the actions of a powerful developer and the confused and supine response of the environmental authorities. However, despite the strutting assurances of the developer, the bland prose of the 'statutory bodies' and brash politicians' talk of 'targets', 'job opportunities' and so on, they spotted that something was wrong with the project almost the moment it got underway.
Early in 2004, news emerged of a destructive peat-slide at a wind farm at Derrybrien, Co Galway, a site also featuring deep peat soils and nearby protected waterways.
Probing alleged planning irregularities, the EU's Environment Commissioner called it 'an environmental disaster' and began legal action against the Irish government. Shortly after, the Scottish Executive called on Airtricity to assess the risk of a similar event on the Braes. Expert advice was that the assessment, which downplayed the risk, was inadequate.
Without consulting either the public or SNH on the issue, the Executive (in breach of the EIA Directive) consented the project and explicitly postponed full assessment to a later date. This. The habitats Directive lays down strict rules for developments that might damage areas like the River Teith. In short, a project must not damage a protected area and, if there is any 'reasonable scientific doubt' on that score, planning consent must be refused.
A purportedly new peat-slide risk assessment submitted after consent was only a re-hash of the old one and did not rely, as the Directive requires, on the 'best available scientific knowledge'. The risk had never been properly assessed even though it was known to be serious:
At a hitherto undisclosed meeting with the Executive in March 2005, (in recognition of the risk of peat-slide) the developer agreed to drop 13 turbines from the scheme, all scheduled to be sited on deep peat. The peat-slide contingency plan was shown to be well below standard and reliant on a technique that failed at Derrybrien.
As construction proceeded, competent observers reported widespread pollution of hitherto pristine waterways to SNH and SEPA. The response was at best indifferent and at times dismissive so they circulated a pictorial report and expert commentary on environmental Issues at the Braes of Doune. Politicians who followed up this report were assured that there were no significant ecological issues which was not true.
It is an indictment of the planning and supervisory regimes that members of the public had to invest so much time and spend, literally tens of thousands of pounds of their own money to try and get the Scottish Executive to fulfil its international obligations and the environmental authorities to do their job.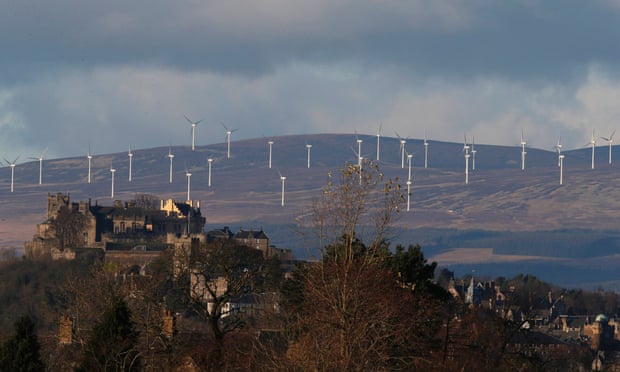 The Follow up
A complaint alleging that the Scottish Executive had breached European Directives in consenting the Braes of Doune wind-power project was submitted to the European Union's Environment Commissioner in April 2006.
The Ardoch Burn owner complained to the EU's Environment Commission that the conduct of the Scottish Executive over Airtricity's planning application breached both Directives in the way it consented the project and the Habitats Directive in the substance of the consent. Endorsing an authoritative report challenging the official line on the incident, he noted inter alia that:
1. Floating roads were sinking into the bog and destroying its acrotelm, creating potential rupture points and a risk of future land slips;
2. Check dams erected to halt the peat slide were 'totally ineffective';
3. Drainage essential for site operation was increasing the turbidity and silt load of streams;
4. Straw-lined silt beds designed to filter run-off were demonstrably failing;
5. The intense precipitation incidents that characterise the SW Grampians would render them equally ineffective at the Braes of Doune and put the River Teith at risk.

Stirling Council Failures
Despite the foregoing proper (and expertly informed) concerns the official response was peremptorily dismissive and the dialogue soon petered out. This was unsurprising since, by the time Stirling Council made its final or implementing decision on 16 December 2005, work had been underway on the site for over five months. There was little prospect of an official rethink on environmental grounds.
As a condition of the consent, Stirling Council had to approve a plan for coping with a slide should one occur. In June, McAlpine (the contractor) submitted a draft of its Peat Slide Contingency Plan that in effect combined assessment, mitigation and contingency planning. A second draft, dated September, provided the first acknowledgement in the record of the cut in turbine numbers: 11 turbines were omitted from the list.
A note to Airtricity shows frustration with progress as late as October, a year after consent and nearly six months since construction started:
"The plan lacks a sensible logic . . . this plan is fundamental to protection of water courses in the worst case scenario. At present, a range of potential causes of instability are identified but the plan does not go on to identify the risks associated with them and the implications for this site. In my view, the plan should address: causes of instability, risks associated, prevention/minimisation/mitigation for each cause, identification of residual effects and associated risks, in that order."
Another note the following week complained that:
" It is not fair to expect consultation authorities to keep reviewing and repeating the same comments, comments we have in some cases been making since June . . . I would be grateful if
Airtricity would take a role in reviewing and approving methods statements before they are issued
Airtricity promised to do just that but stressed the urgency of its situation:
"Our project is nearing a critical stage in terms of financial close and achieving additional funding from the bank and it is really important that I have the support of all the consultees to achieve method statement approval"
Given that it was poor work by its own contractors, that was delaying approval, it is not clear what support the writer felt entitled to. In any case, the company was boasting of a favourable political climate in which to negotiate with bankers. It had just set up a 'UK Operations Group' with former energy minister Brian Wilson as non-executive chair.
A press release explained that:
One of the Group's functions will also be to set up a strong communications link with the UK Government, the Scottish Parliament, the Scottish Executive and the Northern Ireland Office . . . Eddie O'Connor, Chief Executive of Airtricity, said: "It is a pleasure to operate in the UK where the Government is committed to the growth of the renewable energy sector . . .Brian Wilson is a keen advocate of renewable energy . . . His industry and political insight will be invaluable to Airtricity as we undergo ambitious expansion in the UK."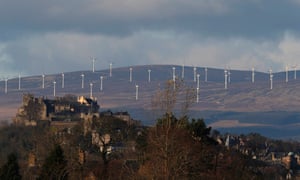 The Scottish Executive Failures
The Scottish Executive called for a peat-slide risk assessment of the Braes of Doune but:
1. Consented the project without considering that risk. It deferred it to post-consent evaluation even though it was
indubitably a 'main effect' of the project;
2. Did not consult on it before the 'principal' consent and never consulted the public on it.
And yes!! there was at least one massive peat-slide which needed in excess of 5,000 tonnes of rock creating a 10 meter bridge to bring it to a halt.  Take time to read the full report:
http://www.windsofjustice.org.uk/wp-content/uploads/2015/11/scandalonthebraes-lores1.pdf