Gardie House. Tavish Scott's residence in Shetland. The attaching estate takes up almost all of the island.
Tavish Scott MSP For Shetland
Scott, the son of the Laird of Bressay, Sir John Scott was born on 6 May 1966 in Inverness, Scotland. He was schooled in Lerwick, Shetland and gained a BA (Hons) Business Studies from Napier College in Edinburgh.
After graduating, he worked as parliamentary assistant to Jim Wallace, Lib Dem MP for Orkney and Shetland, and then as the Press Officer for the Scottish Liberal Democrats.
He later returned to Shetland and took over the family farm and became a councillor on Shetland Islands Council and Chairman of the Lerwick Harbour Trust.
He was elected the first Member of the Scottish Parliament for Shetland in May 1999 and was the Leader of the Scottish Liberal Democrats from 2008 to 2011, stepping down after the 2011 Scottish Parliamentary election, in which the Liberal Democrats were reduced to five seats, down from 16 in the previous parliament.
When he is not in Edinburgh attending Holyrood and caring for his second wife and family Scott lives in Gardie House (an "A" listed mansion built in 1724) on the isle of Bressay, Shetland (near to the Town of Lerwick) where he runs the family farm (mainly sheep) which occupies much of the island.
He was married to first wife Margaret for about 14 years. She bore him three children (1g & 2 b). The couple separated not long after he took up his MSP post at Holyrood and were divorced some three years later.
His ex wife still resides in Bressay, Shetland with the children. Tavish returns home to the family farm at Gardie House, Bressay frequently, at weekends maintaining contact with the children, his farm and constituents.
His other life, as an MSP required him to reside in Edinburgh so that he would be able to attend Holyrood regularly. He first rented then purchased a flat for the purpose.
In 2001 he entered into a relationship then married the BBC political correspondent Kirsten Campbell in 2003.

Tavish Scott and politics
His political beliefs are akin to the weather, changeable. At 2016 he is determined to get back to Holyrood so that he can ferment political revolution by persuading his constituents to return him to office with a mandate to ask the Westminster government to authorise a plebiscite in Shetland granting the Isles "British protected semi-autonomous British Overseas" status mirroring that of the Channel Islands.
This would remove Shetland from the control of the Scottish parliament. The new status would include, (where applicable) a 200 mile exclusion zone which would in effect transfer, oil, gas and fisheries to Westminster through Lerwick.
To assist his campaign he has secured the backing of the recently formed right wing group "Wir Shetland". Activists number around 400. They are led by John Tulloch who resides in Argyll where he formed the ultra right wing "For Argyll" group which has aims mirroring those of the new Shetland group.
Tavish with his second wife Kirsten Campbell
May 2004: BBC Scotland forced to defend its political coverage last night after a senior reporter revealed she was in a relationship with a Liberal Democrat minister, but was to carry on in her current role.
Kirsten Campbell, BBC Scotland's political correspondent, and Tavish Scott, deputy finance minister, yesterday announced they had been romantically involved for around six weeks.
The couple are understood to have made the declaration amid mounting speculation. Mr Scott, 37, MSP for Shetland, is separated but not divorced from his wife of 14 years, with whom he has three children.
He said: "Given media interest in my separation last year, I have decided to avoid any speculation by confirming that I am in a relationship with Kirsten Campbell and have been since last month." He refused to give further details or say if an engagement was being planned.
Ms Campbell, 35, added: "It's early days. I consider myself lucky to have found such a wonderful man." She said she told her employers of the relationship around two weeks ago to ensure there was "no question of any impact on my integrity or credibility, or the BBC's integrity or credibility". She added: "If this relationship becomes serious then I will have to move out of political coverage."
However, the BBC last night said that Ms Campbell would continue to cover the Scottish Executive, in which Mr Scott has a number of important duties and uniquely covers two portfolios.
As deputy finance minister, he has responsibilities for the Scottish budget, public services, local government, civil service reform and external relations. As deputy minister for parliamentary business, he is involved in organising Holyrood's legislative programme.
The BBC said Ms Campbell would not cover stories involving Mr Scott personally. A spokesman said the corporation "absolutely" stood by the integrity of its output. He said: "We all know Kirsten Campbell is highly regarded and known for her impartiality and lack of bias, as is the case for all our political correspondents."
http://www.heraldscotland.com/sport/spl/aberdeen/reporter-backed-by-bbc-over-holyrood-romance-journalist-and-senior-msp-confirm-their-relationship-1.85807
Typical Morningside home

November 2006: Scandal. The Edinburgh Accommodation Allowance Scheme.
One of the biggest winners from the scheme appears to be Tavish Scott, the Liberal Democrat MSP for Shetland. He is charging the public nearly £1000 a month in mortgage interest payments to help him buy a £380,000 house in Edinburgh. He has doubled the amount he bills the taxpayer for the property perk despite making a £36,000 profit last year on another flat bought with help from the public purse. And he previously claimed rent on a flat which at the time was owned by his sister.
The revelations are further blows for the widely discredited Edinburgh Accommodation Allowance. The parliamentary scheme allows MSPs to either claim mortgage interest payments on a property in the capital, or to rent, or to stay in a hotel. The allowance is also deeply unpopular because it has allowed several MSPs to make substantial profits on properties bought with the help of taxpayers' money. One of the biggest winners from the scheme appears to be Scott, the Liberal Democrat MSP for Shetland.
Land registry documents show that most MSPs have used the allowance to buy small flats in central Edinburgh costing between £80,000 and £100,000. But Scott has taken advantage of the generous system by purchasing a house last year in Morningside worth £380,000, on a mortgage of £265,000. Parliamentary records show he is now billing the public £979 a month in interest payments on his mortgage – the highest charge of any MSP. Scott is also entitled to claim the £1920 council tax on his new band-G house. An identical property for sale in the same street, inviting offers over £350,000, has three bedrooms, a "lovely private garden", and a conservatory and patio.
Tavish Scott's housing is affordable. The taxpayer pays the mortgage, rates and service charges
The purchase of the house is only part of the Lib/Dem minister's use of the accommodation allowance. The MSP bought his first property through the scheme in 2002, a £112,000 flat at Lower London Road sold to him by his sister. Figures show he claimed around £500 a month in mortgage payments for the property.
He sold the flat last year for £148,000, pocketing £36,000 in profit. This allowed him to buy the much bigger property in Morningside. This purchase coincided with Scott's changed personal circumstances. By 2005, he was separated from his wife and dating BBC journalist Kirsten Campbell. The electoral roll shows a "Kirsten Campbell" is registered at the new property.
The minister is now charging the public almost double the amount he charged for his previous flat, up from £500 to £979 a month. Scott has also left himself open to criticism regarding his rental arrangements prior to buying his first taxpayer-funded flat in 2002. That property was bought by Scott's sister in 2000 – just months after her brother was elected to Holyrood – and sold to him two years later. However, council records show a Tavish H Scott was on the electoral roll for this flat in 2001. The LibDem MSP was claiming rent for staying in his sister's property.   http://forum.caithness.org/archive/index.php/t-16987.html
10 December 2010: Kirsten Campbell, BBC Scotland political correspondent and wife of Scottish Liberal Democrat leader Tavish Scott was lead reporter on last week's BBC presentation "Scotland at a standstill" story which covered the totally unexpected extreme weather that hit Scotland overnight.
She falsley reported and repeated the allegations often over a period of 2 days that – Scottish Transport Minister Stewart Stevenson had apologised and resigned over his handling of the chaos brought on by the unexpected extreme winter weather. And that the resignation had been self-inflicted.
But the foregoing is untrue. He was not forced to resign because of the bad weather. He was not even forced to resign because of the councils' handling of the bad weather. He was forced out of his job because of his initial reaction to last week's snowfalls. With hundreds of people trapped in their cars overnight, Mr Stevenson went on the BBC the following morning and tried to brazen it out. The Scottish Government's response had been first class, he said and then he went on to blame any failures on others for not being more accurate with the forecasts. It was entirely the wrong approach and despite his later apology, the mood among the opposition, some sections of the media and a small number of furious motorists had, by this time, swung against him. They demanded a culprit and, as a result, Mr Stevenson was forced from his job.
Responsible newspapers however, gave attention to the poor quality of the forecasts airing the view that there was little Stevenson could have done. Newspaper letter columns also called for personal responsibility: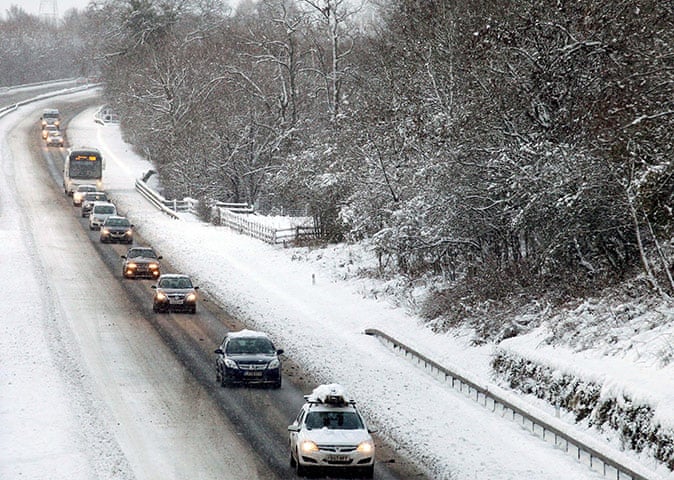 * "I'm all for bashing the Nats," said one writer in The Scotsman, "but surely this comes down to common sense. Everybody could see for themselves what the conditions were like."
Significantly, the BBC continued with it's rabid approach, the corporation was determined to set the agenda, and it succeeded when the tabloids later followed its lead and pilloried Stevenson.
There was no exploration by BBC Scotland of the many different agencies involved in keeping Scotland running (or not), such as the quango Transport Scotland, councils, the police, and private road maintenance companies.
BBC Scotland point blank refused to engage with any arguments other than political cock-up.
BBC Scotland repeatedly played a single interview with one frustrated driver demanding – after some prompting by the BBC interviewer – "the transport minister should take the blame".
In doing so the BBC angled the story in the way a newspaper editor might run a campaign, going for the jugular.
But newspapers are not regulated by a charter committing them to editorial values such as "no significant strand of thought is knowingly unrepresented".
Thursday night's News-night went so far as to use the M8 blockages as a metaphor for the failure of devolution itself.
By Sunday the thaw had come and Stevenson had gone. But BBC Scotland continued to re-run the Monday night News-night, on the Politics Show Scottish opt-out.
They twice replayed the clip of Stevenson's now infamous interview. The very familiar angry motorist also got another outing, along with the selective use of weather forecasts. It was tabloid television and about as useful to the public as a jack-knifed lorry.
So her blatant anti SNP government agenda is exposed. why then was she not removed from her role as the BBC political correspondent for Holyrood.
http://www.bbc.co.uk/news/uk-scotland-11976328

6 February 2011: Consistently inconsistent
But what of Tavish Scott? During the snow chaos which hit Scotland, he hit new political heights by calling for the resignation of the Scottish Government's transport minister. But when the same chaos hit England a week later, the calls for the Con-Dem counterpart to resign were… not forthcoming. Fancy that!
Irrespective of political allegiances though, the word on the street… well from civil servants in the Scots Parliament who have to deal with him, is that Tosspot Scott is an arseloch par excellence, if you don't mind the Franco-Germanic profaning.  http://tocasaid.blogspot.co.uk/2011/02/egypt-and-evil-that-is-tavish-scott.html
10 May 2011: Tavish Scot not to go for Presiding Officer
We understand that the former Lib/Dem Leader, Tavish Scott, received disappointing responses to the soundings carried out by his friends at Holyrood on what sort of support he might expect if he put himself forward for the post of Presiding Officer. He has now let it be known that he never had any intention of entering the contest for the role. As they do. In the absence of a lucrative escape route, the importance of trying to re-establish his credentials in Shetland has suddenly become more important than it was on Sunday.
A helpful but indiscreet friend of his revealed in the national media that Scott's intention was to become Presiding Officer and then use that as a springboard to the House of Lords. His failure to attract any great enthusiasm from his parliamentary peers for the move has led to a certain rowing back of the Viking longboat from its planned journey south.
Some unsung hard work below ground to try to tunnel his party back to the light might bring more respect – as his party senior, George Lyon, has hinted.  http://archive.is/niTRT
7 May 2011: Disastrous election performance forces Scott to stand down as party leader
Tavish Scott resigned as leader of the Scottish Liberal Democrats today after the party's disastrous showing in the Scottish Parliament election on Thursday.
Although he retained his Shetland seat with a significantly reduced majority after a strong showing by independent candidate Billy Fox, Mr Scott was one of only two constituency MPs who made it back to Holyrood. The other was Orkney MSP Liam MacArthur. The party's other three MSPs, making five in total, down from 16, were elected on regional lists.
In a statement, Mr Scott said: "I want to announce that I am resigning the leadership of the Scottish Liberal Democrats with immediate effect. "Thursday's Scottish general election result was disastrous and I must and do take responsibility for the verdict of the electorate. "The party needs a new direction, new thinking and new leadership to win back the trust of the Scottish people. I am honoured to serve as Shetland's MSP in this Parliament."  http://www.shetlandtimes.co.uk/2011/05/07/disastrous-election-performance-provokes-scott-to-stand-down-as-party-leader
17 April 2013: Northern Isles are Scottish, say islanders
An opinion poll of residents of the Northern Isles, has given the lie to claims by certain supporters of the anti-independence campaign that Shetland and Orkney might seek to remain a part of the UK if Scotland becomes independent.
The poll, published in the newspaper on Wednesday, finds that 82%, the overwhelming majority, of the islanders wish to remain Scottish. Asked "Should Shetland/Orkney be independent countries, separate from Scotland?" only 8% of islanders who participated in the poll said that they were in agreement, with a further 10% saying they did not know.
Earlier this year Tavish Scott, former leader of the Liberal Democrats in Scotland and MSP for Orkney and Shetland, called on the islands to loosen their ties with Scotland. Mr Scott said that he was in favour of the islands forming a crown dependency in their own right, with a similar status to the Isle of Man or the Channel Islands.
Scott and other supporters of the anti-independence campaign seized upon a report published at the beginning of this year by Capital Economics, an economic research firm, which cited the "strong" negotiating position of the islands if Scots vote for independence. The report was widely cited in the Scottish media as evidence that Shetland and Orkney would choose not to remain a part of Scotland if the rest of the country opted for independence.
Capital Economics is headed by economist Roger Bootle, who is a regular columnist in the Daily Telegraph newspaper. Bootle was previously appointed as an advisor and economic forecaster to the UK Treasury during the Conservative administration of John Major.
The analysis carried out by London based economist Martin Beck for Capital Economics said Shetland and Orkney islanders could decide to remain part of the UK in the aftermath of a Yes vote or insist on a high degree of autonomy from Scotland, similar to the relationship between Denmark and the Faroe Islands.
Claims that the islands could opt to remain part of the UK have featured regularly in the Scottish media, with BBC Reporting Scotland also broadcasting similar items.
According to a report published in the Times newspaper in 2009, during the campaign for Scottish Home Rule in the 1970s, UK Treasury officials suggested encouraging local campaigns for independence in Orkney and Shetland in order to deprive Scotland of as much of the oil reserves as possible.
In his diaries, the late Anthony Crosland, who was a Cabinet Minister in the Labour government until his death in 1977, admitted that the UK government intended to plant stories with sympathetic journalists and politicians to foster divisions between the Northern Isles and Scotland as part of a campaign to subvert Scottish self-determination.
Mr Crosland and his civil servants suggested that this could be achieved by carrying out "confidential briefings of selected public opinion informers" and placing articles in the press with no acknowledgement of official involvement.
In the current independence campaign, similar articles have appeared prominently in the UK media, although it is unknown whether the present UK government has adopted a similar strategy. However today's opinion poll proves that there is little or no appetite amongst islanders for such a move, and the people of the Northern Isles see their future as remaining a part of Scotland.  http://archive.is/hxCkE#selection-2777.1-512.2
Comments:
Much like Labour believe Glasgow belongs to them I think Tavish and other Lib Demmers believe the Northern isles to be somehow their`s but with most unionists what the people want always comes behind the needs of the union.  Always thought Tavish was smug and quite a poor politician also but i`m sure he has done some good for those he was elected to represent also. However, disguise it as they may, the question and answer were very, very clear. Its most important that for this show of support the folk of Shetland and Orkney are not let down in our support for them. They've blown the enclave/crown dependency argument out of the water with their response and left Tavish Scott with a huge amount of egg on his face. Wonder if Tavish will make an appearance today?
Apart from a few lunatic politicians, everyone accepts that the Northern and Western Isles are part of Scotland.The clue to this lies in the acceptance by Westminster that people residing in the islands are registered on the Scottish electoral role and consequently are eligible to vote in the referendum. Should Tavish Scott and friends wish to separate the islands from Scotland,they will have to go through the same process as Holyrood beginning with a manifesto pledge to their electorate to do so. If the poll reported in the P&J is accurate then they may wish to consider an alternative career.
It's ironic that Tavish Scott is advocating "Independence" for the Northern Isles, but not for Scotland. The man's a fool – you only have to look at what a bollocks he made of the Aberdeen bypass plans. He was given the choice of five possible routes by the planners, but chose a sixth. Hence my nickname for him. "Six Roads" Scott.

7 April 2016: Campaign group Wir Shetland this week gave its backing to Liberal Democrat candidate Tavish Scott for the upcoming Scottish Parliament elections.
The endorsement came in the same week that Mr Scott, who has represented Shetland since the parliament was formed in 1999, launched a campaign seeking re-election on Thursday 5th May.
A Wir Shetland statement issued this weeks states: "We are neither a political party in our own right, nor in a position to field a candidate in the forthcoming Scottish parliamentary election.
"Which leaves the options of supporting a candidate from one of the existing political parties; an emerging independent candidate; or remaining neutral.
"Given our well-documented opposition to the treatment of Shetland by the incumbent SNP Scottish government since 2007, remaining neutral would be neither a realistic nor a credible position."
The statement continues to criticise the SNP and explains why Wir Shetland cannot back Danus Skene's party before going on to say that "the Conservatives and Labour have shown little interest and at best, lukewarm support" to the idea of Shetland self-government.
Wir Shetland goes on to say that "Tavish Scott, by contrast, in the tradition of Liberal and Liberal Democrat parties, has long supported the idea of greater local powers".
Group chairman John Tulloch said: "Tavish is miles ahead of the other candidates in making the case and fighting for Shetland on local powers, education, transport subsidies, NHS funding and we must return him to Holyrood as 'wir MSP'."

7 April 2016: Scott launches campaign as Wir Shetland declare support
There was a surprise when Non-Political Campaign group "Wir Shetland" this week gave its backing to Liberal Democrat candidate Tavish Scott for the upcoming Scottish Parliament elections.
The endorsement came in the same week that Mr Scott, who has represented Shetland since the parliament was formed in 1999, launched a campaign seeking re-election on Thursday 5th May.
A Wir Shetland statement issued this weeks states: "We are neither a political party in our own right, nor in a position to field a candidate in the forthcoming Scottish parliamentary election. "Which leaves the options of supporting a candidate from one of the existing political parties; an emerging independent candidate; or remaining neutral. "Given our well-documented opposition to the treatment of Shetland by the incumbent SNP Scottish government since 2007, remaining neutral would be neither a realistic nor a credible position."
The statement, issued by John Tulloch, continues to criticise the SNP and explains why the committee cannot back Danus Skene's party before going on to say that "the Conservatives and Labour have shown little interest and at best, lukewarm support" to the idea of Shetland self-government. Tavish Scott, by contrast, in the tradition of Liberal and Liberal Democrat parties, has long supported the idea of greater local powers".
Group chairman John Tulloch went on to say "Tavish is miles ahead of the other candidates in making the case and fighting for Shetland on local powers, education, transport subsidies, NHS funding and we must return him to Holyrood as 'wir MSP'." http://www.shetlandtimes.co.uk/2016/03/24/tavish-launches-campaign-as-wir-shetland-declare-lib-dem-support
Comments:
* Robin Stevenson: You're correct John, I do remember asking you to start a campaign for more a more autonomous Shetland, but I certainly didn't imagine you being daft enough to back an utterly useless and dying UK party whose only agenda is to make sure that Shetland is 'hog-tied' to Westminster? Tavish [like Labour/Tory] will offer you the moon and deliver exactly what they've delivered to date? Nada. So I applaud what you have done and I'm fully aware you have the best interests of Shetland at heart, but I'm afraid your goal is NOT shared by those that have chosen to jump on 'Your' bandwagon. Surely someone – eventually – will look look to their motives and past deeds, and ask themselves, 'Why has this not been done before by the very – elected – people that are now insisting that this is the way forward? The sad part for you, is these are the guys that are actually being paid [handsomely] to do what you have decided to take on yourself, while dragging them along for the ride?….Weird?
* Derick Tulloch: The credibility of a political group (that claims to be non-political) that doesn't have the courage to put their ideas before the electorate is questionable.
* Derek Sim: Credibility in politics is indeed hugely important, John. Unfortunately for you, then, I can't be the only one laughing at your claim that WS is "the biggest political group in Shetand" when all the publicity around the group at its launch and since has carefully avoided calling WS a political group at all. On your website, the description is "a multi-party campaign group dedicated to winning self-governing powers for Shetland… the option of registering as a political party will be considered if necessary." Believe it or not, I (like many others, I suspect) am neutral as regards WS's aims. I don't think they are achievable but that is another matter. What bugs me is all the fuss posting in a rather self-defeating and attention-seeking way on here instead of just getting on and doing what you clearly want to do but are afraid to: putting up a candidate for election.
* Ray Purchase: I thought you said Wir Shetland were a non-political group but now you're saying it's the biggest political group in Shetland? Make up your mind man!
* Ian Leask: I live in the Shetland Isles, these are the very same people who passionately campaigned for a No vote last year, all you hear from them on a daily basis is SNP bad. They seem to think that Scotland isn't good enough to run its self but some how the Shetland Isles Is. As I see It, this Is just a ploy by Unionists to take Shetlands Oil out of the equation so Its tied to England for ever more
* Murdoch Mackenzie: How true your words are Ian, with a name like Leask you are obviously a real Shetlander. I used to work with a Dougie Leask but he lived in Wick although he had been born and brought up on the Islands.
I don't know if you are old enough to remember the start of the oil boom when Shetland was being flooded with ex military types from the South, you could sense then that they were trying to establish themselves locally and it is the same today. Islanders are very wise people and see incomers with an agenda a mile away. Westminster has no claim on Shetland, no matter what some on here would wish.
* James Cassidy: Wow. "For Argyll". The website that's so anti-Scottish it supports an independence campaign for Shetland- So long as it ties itself to Westminster! I've no idea who Mr For Argyll is, but what happened to make you hate Scotland so much?
* No Cheese Here: My contacts .basically tell me that the Wir are in the main expats who have been anglicised and toryfied one living in Arrocher in Argyll — see the connection and the broader For Argyll right wingers are in league with the right wing groups.
* James Cassiday: That would explain a fair bit then. I recall seeing a clip on Russia Today a few weeks back of British Nationalists protesting against immigrants somewhere in Ayrshire (the location escapes me).
One was arrested after throwing an object at the pro immigrant Scottish Nationalist protesters. A man with a strong Northern Irish accent, he was shouting at the immigrants to "go home". Clearly he didn't do irony…
Shetland Councillor Amanda Westlake
7 April 2016: Councillor Amanda Westlake quits Wir Shetland in wake of Tavish endorsement
Councillor Amanda Westlake has withdrawn her support for island autonomy group Wir Shetland after being treated in an "aggressive" manner by its chairman for asking how it came to back Tavish Scott in the upcoming Holyrood election.
The Lerwick South representative resigned from the organisation on Monday with immediate effect after questioning chairman John Tulloch about its recent decision to support Scott in 5 May's Scottish election without apparently polling its members. Westlake said she did not get answer about how the party came to support the Liberal Democrat and instead received messages penned in an "aggressive tone" from Tulloch, a Shetlander who lives in Argyll, about unrelated matters.
She was one of three councillors – alongside Andrea Manson and Robert Henderson – who backed Wir Shetland when it was formed last year with the aim of securing self-governing powers for the isles within Scotland. The councillor's conversation with Tulloch took place on an online forum that could be viewed by Wir Shetland members, with Westlake claiming other people have since resigned from the group.
Amanda said "I posted a question to John Tulloch asking if I had missed a poll asking their members for their views on representing Tavish. I was led to believe when I joined Wir Shetland that it was a multi-party organisation for bettering the autonomy of Shetland. Was it the chair that made the executive decision for all of the members to back Tavish Scott, and quite deliberately slate the SNP party?"
Wir Shetland chairman John Tulloch denied he had been aggressive and said Westlake was over-reacting. He went on to say that Wir Shetland's support for Scott became necessary after the group decided it was not in a position to field its own candidate. He did admit that the subject of endorsing the Lib Dem had been discussed on the Wir Shetland members page previously and "not all members were happy with it".
Westlake said her grievances were not political adding that Tulloch very quickly became "negative" and seeking to avoid answering questions of relevance started to question her about matters of no consequence. "For members not be consulted properly on issues, to be refused to be told why things were being done and to be treated in a negative and what I personally felt was an aggressive manner – it is not an organisation I want to be part of," she concluded.
Asked why Wir Shetland's membership had not been polled about the decision to endorse Scott's candidacy, Tulloch replied: "The answer is simple – it's a decision for the committee. The committee decides policy – it's in the constitution." http://www.shetnews.co.uk/features/election-2016/news-feed/12504-councillor-quits-wir-shetland-after-tavish-endorsement.