March 2011: Bob Geldof to receive honorary doctorate From Israeli University
Irish musician and activist Bob Geldof will receive an honorary doctorate from Ben-Gurion University of the Negev. Geldof's paternal grandfather, a Belgian chef, married a Jewish woman, Amelia Falk, in London before moving to Ireland.
The honorary doctorate from BGU will be the latest in a string of honours conferred upon the musician – who has also received a lifetime achievement for outstanding contribution to the music industry, an honorary knighthood as Knight Commander of the Order of the British Empire from Queen Elizabeth II and a nomination for the Nobel Peace Prize.  While in Israel, Geldof will also participate in the IsraAID conference, "Israel in Africa – Past, Present and Future."
http://www.jpost.com/Features/In-Thespotlight/Bob-Geldof-to-receive-BGU-honorary-doctorate
June 2016: How Saint Bob became (in his own words) a  'private equity whore' by launching £125m fund
Geldof is chairman of firm seeking to make large profits for its rich clients by investing in – of all places – Africa
'My name is Bob. I'm a PE [private equity] whore and I'm looking for £25million,' he said during speech to investors
Geldof has sunk a substantial amount of cash from his £32m fortune into the 8 Miles fund
Fund's managers are ploughing money into agriculture, financial services, health and telecommunications firms on behalf of its rich investors
He made his name raising charity aid for Africa. So how can Bob Geldof justify spearheading a fund that could make him massive profits from the continent?As its name would imply, the annual Super Return International investment conference is not the sort of event where little old ladies seek advice on what to do with their life savings. Instead, the invitation-only jamboree sees billionaire big beasts and corporate raiders of global finance descend on Berlin in their private jets in search of one thing — mega-bucks. At its latest meeting a few weeks ago, the keynote speaker cut a distinctly out-of-place figure.Although Bob Geldof may have looked typically unkempt as he loped on stage, within minutes he had the super-rich audience eating out of the palm of his hand. And for once, the ex-Boomtown Rats frontman's message was not an impassioned — and expletive-strewn — plea for the well-heeled contingent to offer up some of their millions to help Africa's poor.  Instead, this was Geldof in his new incarnation, as chairman of a £125 million private equity firm, seeking to make large profits for its rich clients by investing in — of all places — Africa.
Certainly, he appears to have taken to the role like a duck to water.  During another speech to potential investors, Geldof began in typically blunt fashion: 'My name is Bob. I'm a PE [private equity] whore and I'm looking for £25 million.' You could be forgiven for thinking that the Live Aid founder and tireless campaigner for Africa has morphed into Gordon Gekko, the 'greed is good' trader played by Michael Douglas in the film Wall Street. Geldof has sunk a substantial amount of cash from his £32 million fortune — though his spokesman refuses to say exactly how much — into the fund. It is called 8 Miles, after the shortest distance between Southern Europe and North Africa.
June 2016: Battle of the Thames: Is this what multi-millionaire –  Non-Dom Bob Geldof thinks of British fishermen's EU protest?
Farage led a fleet of Brexit-supporting fishermen through Tower Bridge, in a colourful stunt that drew crowds to the riverside.But Geldof and an assortment of Remain activists in dinghy's and hired craft and joined the flotilla. Boomtown Rats music blared from a deafening speaker system as Geldof taunted Brexit campaigners, infuriating onlookers and Farage.
Geldof appeared to make a rude hand gesture at Farage's flotilla

The Ukip leader said the singer's actions were "just disgusting". He added:  "These are communities that have been devastated. These are communities that no-one has listened to for years.  They are here today, they have taken – some of them – several days out of their working week to come and make their protest, to say 'Look, we want to take back control of our seas, we want to get jobs back in this industry. To see multimillionaires frankly mocking them is a pretty shameful sight."
Davington Priory, a mansion near Faversham, Kent. One of Geldorf's homes

Bob Geldof – Tax avoidance – and Home ownership
"Land Registry documents show that his luxury apartment in Battersea, South London, is owned by a company called Quiet Ventures, while Davington Priory, a mansion near Faversham, Kent, is owned by Bandol Holdings. Both companies are registered in the British Virgin Islands and have London contact addresses linked to Geldof's accountants, O.J. Kilkenny.
As Geldof is a non-domiciled taxpayer, it means the houses – together worth an estimated £4m – would avoid the normal inheritance tax of 40%, or £1.6m."
http://taxjustice.blogspot.co.uk/2008/11/melua-vs-geldof-bono.html
November 2014: The immorality of tax avoidance and The hypocrisy of Bob Geldof
Businesses depend on a workforce expensively trained by a state education system, and kept healthy by state healthcare. They depend on state-funded infrastructure such as roads and transport, a bailed-out financial system and a system of law and order that protects them and their property. By not paying their taxes, the workforce is forced to subsidise tax avoiders.  "Tax avoidance is robbery, regardless of what any silver-tongued outrider of the corporate world says."
Given that tax avoidance is such an incontrovertibly bad thing then, it is difficult to understand why Bob Geldof  responded "bollocks" to a suggestion by a Sky News reporter  that fundraisers such as Band Aid 30 would perhaps be unnecessary if more of the wealthy individuals involved paid their taxes properly.
Geldof is a prominent charity campaigner and, one would be forgiven for thinking, not a free market zealot. Why then was he so hostile towards such a valid concern?
Assuming that Geldof wasn't disagreeing with the argument's premise. That some of the musicians involved in his fundraiser avoid tax would be a difficult point for him to contest. For one thing, he is himself a registered non-domicile, meaning he is free to avoid income and capital gains tax on international earnings.
Other than sheer denial, the only other explanation for Geldof's response is that he considers tax avoidance defensible in some sense. Indeed, one can quite easily see how he might be tempted into thinking such a thing.
Band Aid raises millions of pounds for humanitarian aid, and – in spite of the fact that some of the artists involved avoid tax – surely this doesn't morally forfeit the cause? Indeed, Geldof has played such a charity card before.
When questioned by a reporter about his tax affairs, Geldof responded, "I pay all my taxes, my time? Is that not a tax?" The bottom line seems to be that if you're wealthy and doing something charitable with your money, avoiding tax is an entitled perk.
If Bob Geldof really wants to help the developing world, he should use his platform to lobby businesses to pay their corporation tax. Defending tax avoidance through his indifferent practice of it and his rubbishing of its criticism on live TV, is two steps backwards and one step forward for his campaign.
http://www.theguardian.com/commentisfree/2014/nov/12/eu-crack-down-tax-avoiders-jean-claude-juncker
http://www.cherwell.org/2014/11/26/the-hypocrisy-of-bob-geldof/
August 2014: The Scottish Referendum and Bob Geldorf
The recent intervention by Sir Bob seeking to influence the outcome of the Scottish referendum brought back memories of Bob and his punk rock group, "Boomtown Rats". As is the case with the vast bulk of groups they had one hit record then declined and largely disappeared. Not Bob. He met up with, Paula Yates, married her in the celebrity wedding of the year and remained in the public eye, through her. That is until the Ethiopia Famine and, "Live Aid" . Bob and the bulk of the entertainment world raised over £100million and through the provision of aid saved the nation from disaster. Or did they???
At a news conference many years after Bob launched a scathing attack on a female journalist who asked him if it was true his personal net worth exceeded £50Million. Included in his response was a claim that his newly launched African Charity, (there have been a number since, "live aid") employed over 500 personnel, all paid for by himself.
Another correspondent spoke up and reminded Bob that every penny he had accumulated had been a charitable donation and by result all expenditure through his company, in support of African countries needed to be credited to donors.
Another correspondent inquired of Bob as to why he was registered as a, "Non-Dom" since this deprived the UK treasury of any contribution of tax from himself at a time the government had committed even more financial aid to Africa. His reply was that the time he donated free of charge to charity was more than enough.
So far as Scottish independence is concerned, his intervention, "takes the biscuit" given his nationality. A follow up might question Bob about Irish Independence. I expect he wishes Ireland had stayed with England since he was Knighted by a descendent of, "Good Queen Bess".   http://debirhan.com/?p=676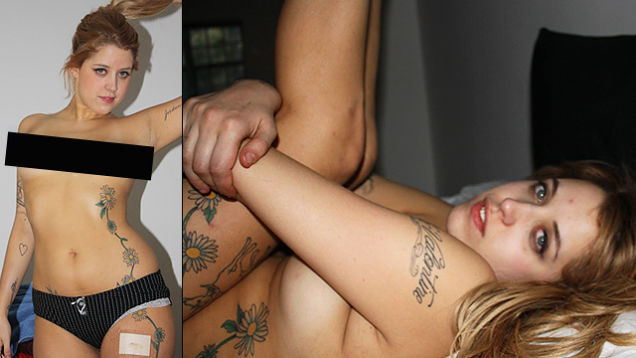 Peaches Geldorf and husband Thomas Cohen
May 2014: BOB GELDOF'S CULT OF MYSTERIOUS DEATH
The sudden death of the British sometime-model Peaches Geldof at 25 freaked out the British press so much that there are now journalists accusing other journalists of writing excessive, weepy, hang-wringing tributes to a girl who was famous for nothing more than being a rich man's daughter.
The daughter of Sir Bob Geldof was found dead in her home. An autopsy indicated the cause of her death was inconclusive, but, heroin was found in her system and "played a role."
She was a new, married mother of two baby boys and had just posted baby pictures online 19 minutes before she died. No suicide note was found. Nothing.
This is the third shocking, untimely death in the Geldof family: Peaches' mother, Geldof's ex-wife Paula Yates, died of a heroin overdose in 2000, less than three years after her boyfriend Michael Hutchence of INXS was found dead, hanged in a Sydney hotel room.
Yates, Hutchence and Geldof were in the middle of a miserable court fight over custody of the three Geldof girls: Fifi, Peaches and Pixie, as well at Yates' youngest, a daughter with Hutchence, Heavenly Hiraani Tiger Lily.
Hutchence hanged himself.  Yates only lasted more three years until she was dead from drugs. Bob is indeed an unfortunate man who keeps being struck with the worst kind of luck imaginable, or ………..  Read more:  http://www.anomalies.net/bob-geldofs-cult-of-mysterious-death/
April 2014: Peaches Geldof will have a traditional Jewish funeral
Peaches, 25 when she died just over two weeks ago, embraced Judaism after discovering that her grandmother was Jewish a few years ago. Her Jewish husband, 23-year-old musician Thomas Cohen, bought her a Star of David from an antiques shop in Covent Garden, which she wore constantly.
Her Jewish husband, 23-year-old musician Thomas Cohen, bought her a Star of David from an antiques shop in Covent Garden, which she wore constantly. The couple married in a traditional Jewish ceremony at the Anglican church in Faverhsam, Kent, in September 2012.Peaches shone, dancing the Hora with Thomas.
http://www.express.co.uk/news/uk/471404/Traditional-Jewish-funeral-for-Peaches
Paula Michael and Tiger-Lily
Michael Hutchence 22nd January 1960 – 22nd November 1997 – Paula Yates Statement to Police
http://www.michaelhutchenceinfo.com/library_section1.htm  
March 2010: Sorry Bob, Band Aid millions DID pay for guns: Charity's man in Ethiopia tells his disturbing story
Bob Geldof is furious with the BBC for reporting that his charity unwittingly funded weapons for warlords. So what's the truth? Here Band Aid's man in Ethiopia tells his disturbing story. The images of starving children flickered across the screen  –  youngsters hardly conscious, possessing not even the energy to bat away the flies descending on their emaciated bodies. BBC broadcaster Michael Buerk described the scene in Ethiopia 1984 as 'the closest thing you get to hell on earth'. The famine pictures awoke the conscience of the world. A year later, Britain was host to the biggest fund-raising event of all time, Live Aid.
Who can forget it? At Wembley, and in Philadelphia, pop stars including Queen, David Bowie and George Michael were part of a dazzling line-up determined to feed the world. And Bob Geldof demanded: 'Don't go to the pub tonight  –  please, stay in and give us the money. There are people dying NOW, so give me the money.'  Money poured in. The 16-hour rock concert on July 13, 1985 raised around £65million and was watched by a global audience estimated at 1.5 billion. It was a moment of hope. But that was then.
Peabody  –  the cliche of the sandal-wearing foreign aid worker  –  opening a satchel full of "Christian Aid" cash, ($500,000) which is being counted by Gebremedhin Araya and Tekleweyni Assefa, director of the Relief Society of Tigray (REST)  –  a group which was, in effect, run by the rebels. Grants totalling $7,2M were provided to REST between 1985 and 1991.'
John James was Band Aid Field Director in Ethiopia from 1985-91 and was awarded an MBE for his charity work. He says: 'I would be surprised if it were any less than 10-20 per cent of funds were diverted to the rebels. 'Did I sympathise with the rebels? Yes. We would not have tolerated any direct assistance in the purchase of arms or condoned it, but just remember it was a highly complex situation.' James, a farmer who is now 85 and living in Devon, adds: 'I think it is ridiculous for anybody to claim that not one penny of aid money was diverted.
'You couldn't help the hungry in the rebel-held areas without helping the rebels. You have to be realistic about that. It is probable that some money was diverted to buy arms. I believe a just use was made of the money. I think it fulfilled the interests of the donors.' He recalls travelling on a rebel convoy, which he suspected carried arms, saying: 'I didn't know what was in the heavily sheeted tarpaulin load of the lorry in which I travelled, and I didn't ask. I would be surprised if it had not contained arms.' Read more: http://www.dailymail.co.uk/news/article-1259061/Sorry-Bob-Geldof-Band-Aid-millions-DID-pay-guns.html#ixzz4Bh5nyXmZ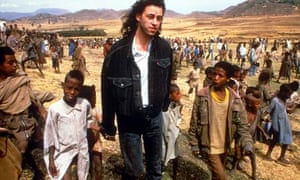 March 2010: Even Band Aid is not above criticism
Rageh Omaar wrote:  Let's get some things straight: humanitarian operations in the midst of large-scale civil wars where territory is held by rival powers are almost always politicised and misused. The idea that this never happens and that NGOs are never put in situations where, in order to get the aid delivered, they have to work with and often through the powers that control the territory where the suffering is taking place is a ridiculous fantasy.
It's happening now, in Congo; in my own country, Somalia, where al-Qaida-affiliated groups have dictated how the World Food Programme delivers emergency food; and also in Zimbabwe, where I have just spent two weeks talking to aid workers having to work through government bodies in delivering aid to prisoners of Mugabe.
One aid worker told me: "There is a really bad outbreak of measles in townships with huge HIV infection rates, but we can't mention or talk about it if we want to remain here." Those are just three examples; there are many more. Read more: http://www.theguardian.com/commentisfree/2010/mar/08/rageh-omaar-live-aid-geldof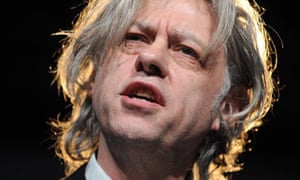 March 2010: Bob Geldof: My rage at this World Service calumny
Rageh Omaar's piece "Even Band Aid is not above criticism" is ridiculous. It is of course not about me, or Band Aid, but rather a defence of journalistic exceptionalism, and the now thoroughly discredited BBC World Service programme that "sexed up" a claim that nigh-on the entire humanitarian relief effort by all aid agencies was diverted to arms in Tigray province in 1985. Read more: http://www.theguardian.com/commentisfree/2010/mar/09/bob-geldof-world-service-ethiopia
March 2010: How Bob Geldof's Live Aid funds went to Ethiopian rebels
MILLIONS of dollars raised through Bob Geldof's worldwide Live Aid project were siphoned from the mouths of Africa's starving into the arms of guerillas fighting the then Ethiopian government, according to a former senior Ethiopian rebel leader who has admitted taking part in the scam.
Gebremedhin Araya, the former head of finance with the Tigray People's Liberation Front, told The Australian last night he and his organisation had lied and cheated authorities who were desperate to distribute food and money as quickly as possible to Ethiopia's starving millions in 1985 after the Live Aid concerts plucked the world's heartstrings.
His claims support allegations made in a BBC radio report on Wednesday alleging that much of the $250 million raised to feed Africa's starving was used to buy arms and support corrupt warlords fighting to overthrow the equally corrupt government. Geldof told the London Times it would be a "f . . king tragedy" if the reports made people think twice about giving to charity.
Mr Araya, who fell out with the rebel leadership in late 1989 and was forced to flee the country before spending a decade in African refugee programs waiting for Australia to accept him, now lives in a small flat in Perth, Australia. He said instead of the cash and food being handed out to the poor and dying, the vast majority of it went into the pockets and bellies of the warlords, who were also being supported by the CIA. Taking on the role of a Muslim merchant, he convinced the authorities that he was a pivotal man to deal with. He had access to vast amounts of cash and food.
"I was acting as a merchant, as a Muslim, and they (NGOs) don't know me because my name was Mohammed," he said. "The money, much of it, the leaders put it in their accounts in Western Europe . . . Some of it was used to buy weapons. The people did not get half a kilogram of maize. I received a great amount of money from the NGOs and automatically it was taken by (rebel leaders). This is a heavy trick, assigned by the top leaders. When the NGOs wanted to check on whether the food was being processed and organised to be distributed into regions, Mr Araya would show them warehouses full of sacks stacked on top of each other. "But if you go there, half of the warehouse is stacked full of sand," he said. http://www.theaustralian.com.au/news/nation/how-bob-geldofs-live-aid-funds-went-to-ethiopian-rebels/story-e6frg6nf-1225837286175
July 2010: Live Aid should not be celebrated
Every so often, the BBC reminds us that its capacity for woolly thinking is greater than that of the entire sheep population of Wales. Its decision, announced this week, to make a "warm and deeply moving" drama about Bob Geldof and Live Aid is a case in point. According to the corporation, Geldof – The Movie, on BBC2 this autumn, will "celebrate… one of the most iconic moments in 20th-century history" and "the two men who together changed the politics of international aid forever" (Harvey Goldsmith, Live Aid's promoter, is the second saint).
It hurts to say this, but Live Aid should not be celebrated. It was a failure. Geldof's approach exemplified the worst about Western ideas of "helping Africa": top-down handouts which ignore, or worsen, the continent's problems.
The real cause of the 1984 Ethiopian famine, and so many other African tragedies, was not cruel nature, but bad government: the country was torn by civil war. That is what stopped food getting through. There is substantial evidence that charitable intervention, Geldof's included, may have prolonged and deepened the conflict, and therefore the catastrophe.
Perhaps the BBC's new bout of halo-polishing is a way of making up for its grave error in producing a piece of actual journalism about Sir Bob earlier this year, which reported claims by two former civil-war leaders that most of the funds he raised had in fact been diverted to buy cuddly, child-saving rocket-propelled grenades, light machine guns and the like.
The Wrath of Bob promptly descended on the BBC, with the great humanitarian describing the report as a "total collapse of standards" and "calumny", calling for all those involved to be fired, and saying: "There is not a single shred of evidence that Band Aid or Live Aid money was diverted."
The amount diverted is a matter of dispute – the rebels' claims of 95 per cent may well be exaggerations – but it is simply untrue that there is no evidence. John James, Band Aid's own field director in Ethiopia at the time, has said: "I would be surprised if there were any less than 10 to 20 per cent of the funds diverted to the rebels. It is probable that some money was diverted to buy arms." The more money we give to bad leaders, the less incentive they have to change, and the less notice they must take of their own people. That is why absolutely nobody in Africa, outside government itself, is calling for more Western handouts, and why many African activists campaign fiercely against aid.
Geldof has conspicuously failed to learn the lessons of Live Aid, staging a very similar event, Live 8, before the 2005 Gleneagles G8 summit. He was criticized by the main G8 pressure group, Make Poverty History (MPH), after describing the aid-based promises made at Gleneagles as "mission accomplished" (MPH was far more interested in trade concessions so African nations and businesses could support themselves). "At the G8, our worst nightmares came true as far as celebrity engagement was concerned," said a senior MPH figure at the time. "Ultimately, there wasn't anyone who didn't think it was a big mistake to allow Geldof to have the platform in the way that he did."
Youssou N'Dour, one of Live 8′s very few African acts, said: "I don't want to expose [Geldof and Bono], but they have to know what Africa thinks of them. [Geldof] needs to come to Africa more, talk to people more. We don't need pity."
Turning the Geldof story into feel good drama is the logical culmination of the Hollywood idea of international politics, in which one eloquent individual inspires men of goodwill to get round a table and Sort it all Out.
Treating Africa as the White Pop Stars' Burden certainly gave lots of Westerners a free concert, and a warm glow of self-satisfaction. But it's much less clear what the Africans got from the deal.
This is the most authoritative African corruption exposure site on the web. It's coverage is extensive and demands a careful read.  http://debirhan.com/?p=676
July 2015: Live Aid: The Terrible Truth
On the 30th anniversary of Live Aid, we're republishing SPIN's 1986 exposé on the so-called "global jukebox"
The Live Aid concerts in Philadelphia and London directly and indirectly raised over $100 million dollars for famine relief in Ethiopia. Just 6 months after there was talk about Ethiopia being in a civil war. The news had not been covered in the press which was strange given what had happened .
There was a need to get to the truth. The assignment was simple — all this money had been raised, where was it going, was it actually doing good?
Horrifically, unimaginably, the exact opposite. The Ethiopian dictator, Mengistu, until then deadlocked in the war, was using the money the west gave him to buy sophisticated weapons from the Russians, and was now able to efficiently and viciously crush the opposition. Ethiopia, then the third poorest country in the world, suddenly had the largest, best equipped army on the African continent.
By this time we had all seen the pictures and TV footage of Bob Geldof, the figurehead of Live Aid, bear hugging and playfully punching Mengistu in the arm as he literally handed over the funding for this slaughter. It was on TV now alright, but as an endless, relentless reel of heroic Bob Geldof highlights. He drenched himself in the adulation and no one begrudged him it, until our investigation exposed the holocaust that Live Aid's collected donations had help perpetrate on the Eritrean independence fighters. 
Most damningly, it was reported that Geldof was warned, repeatedly, from the outset by several relief agencies in the field about Mengistu, who was dismantling tribes, mercilessly conducting resettlement marches on which 100,000 people died, and butchering helpless people. According to Medicins Sans Frontiers, who begged Geldof to not release the money until there was a reliable infrastructure to get it to victims, he simply ignored them, instead famously saying: "I'll shake hands with the Devil on my left and on my right to get to the people we are meant to help. Read more: "
http://www.spin.com/featured/live-aid-the-terrible-truth-ethiopia-bob-geldof-feature/