A young Duchess of Sutherland: Between 1811 and 1820, about 15,000 crofters were forcibly removed from their Sutherland-shire homes, opening up thousands of profitable sheep-farming acres. The statue of the 1st Duke near Golspie – "The Mannie" – is regularly vandalised to this day.
Scotland's Holocaust
Throughout the 17th and 18th century's a huge part of Scotland, to the South, North and West of Glasgow and to the North, West and South of Edinburgh was divided into large estates and formally given over to the ownership of a rich elite group of English Baron's, Earl's and Scottish Lairds who swore an oath of fealty to the the throne of England.
Similar loyalty was not assured of Scots whose presence on the estates pre-dated the new ownership by many centuries and remedial measures designed to eliminate the problem were approved. The remedy selected by the Westminster Unionist government was the removal from the land of many thousands of Scots families.
This would be coupled with transportation of those affected to Canada, Australia and other parts of the "new world".
A consequence of the brutally enforced forced removal of entire families from their homes meant that those affected had to live rough in the open over many months. In consequence many thousands of Scots died of starvation, disease and cold. To ensure there would be no return their homes were destroyed leaving tens of thousands to an uncertain but hazardous fate.
Survivors were later transported, (many in bondage) to Canada, Australia and other parts of the "new world" never to return to the land of their birth. A substantial number failed to survive the voyages being forced to remain below the decks in the squalor of hopelessly overcrowded, unseaworthy ships. The, "clearances" as they were later called were Scotland's holocaust.
Buoyed by the success of their measures the Unionist government in Westminster went on to inflict similar policies on countries large and small in the course of expanding the Empire.
An image of an evicted Scottish family circa 1895 photographed on the ruins of their house
Over Half of Scotland Is Owned by Just 500 Individuals and They are Primarily Foreigners
Starting just after the end of WW2 the wealth of England's great land-owning aristocratic families rapidly declined and a new breed of foreign laird exploited Scotland's arcane land laws to buy up huge tracts of the Highlands and islands.
At the beginning of the twenty first century a majority of lairds no longer hail from England's tweed-clad huntin', shootin' and fishin' classes. These days the local feudal overlord is more likely to be a self-made continental millionaire or an entrepreneur from Dubai, Egypt, Malaysia, Hong Kong or plain old America. Sad events indeed in Europe's last great wilderness.
All over Scotland there are now glens and peaks that are forever Swiss, Danish, Malaysian, Middle-Eastern and American. A small selection:
* The owner of the 50,000-acre, Strath Conon estate in Ross-shire, is Kjeld Kirk-Christiansen, who runs the huge Danish Lego corporation.
* The Hebridean island of Eigg, was recently sold (as part of a divorce settlement) by Keith Schellenberg, (the fantastically wealthy former captain of Britain's Olympic bobsleigh team) who once described "his" islanders as "drunken, ungrateful, lawless, barmy revolutionaries". The new laird is the chain-smoking, beret-wearing "fire" painter, "Professor" Marlin Eckhard Maruma from Stuttgart.
* The 40,000-acre Queen's View estate in Glen Avon was recently purchased (for £6m), by a mysterious businessman, (Mr Salleh) reputedly behind the Kuala Lumpur-based Andras conglomerate.
* The 30,000-acre Braulen estate around Glen Strathfarrar in the North-west Highlands in Inverness-shire is owned by non-Scot of no name. It was the scene of a legal battle over land access. The owner took Scottish Natural Heritage to court to prevent the agency sending in nature conservation inspectors on parts of its land.
* The Dunecht Estates, spread over 77,000 acres, in Aberdeenshire and Kincardineshire are owned by the Hon Charles Pearson who resides in England on Shotters Farm, Lickfold from which he spends a deal of his time managing a large Estate in Sussex.
* Blackford Estate, home of Highland Spring mineral water is owned by, His Excellency Mahdi Mohammed Al Tajir, from the United Arab Emirates. He stands accused of abandoning farms on the slopes of the Ochil Hills.
          Scottish Lairds enjoying their land                                                            Destruction of Scottish society in favour of wool and mutton,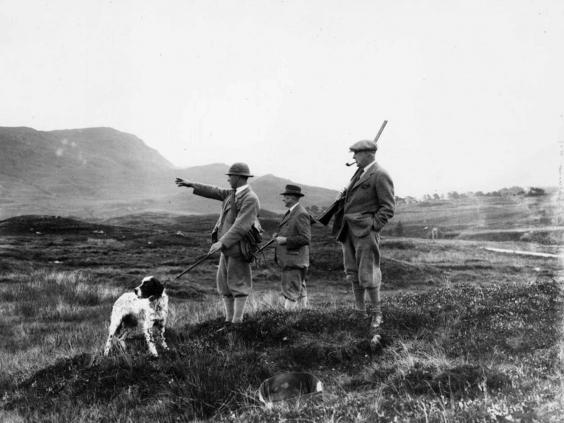 The findings sparked a political row in Scotland. Nationalist politicians saying Scotland's free market in land, (it is one of the few countries in Europe which allows wealthy foreigners to buy up unlimited amounts of land with no questions asked) had created a "land lottery" and new measures should be introduced limiting the size of holdings, coupled with a policy of removing ownership from absentee land-owners found guilty of neglecting their land. But Westminster politicians repeatedly refused to abolish feudal structures regulating land use since this would be to the disadvantage of an ultra-rich Westminster backed elite.
Following a transfer of control of land use to Holyrood a frustrated SNP government acted and set up an independent land commission determined upon introducing legislation designed to limit foreign land ownership. A comprehensive public land registry needed to be compiled to facilitate the legislation.
The wind of change has unsettled the rich landowners who are campaigning hard to counter reformers' demands. The convenor of the Scottish Landowners' Federation, which represents 4,000 estate owners north of the border, who manage some seven million acres, are claiming that the debate over land ownership is based on "dangerous generalisations and misleading assertions".
The argument they are advancing in defence of retaining the "feudal System" purport that the majority of landowners are committed custodians of natural heritage who provide jobs, housing and security for remote communities often at a personal financial loss.
Meanwhile the Scottish Crofters' Commission is encouraging crofting communities to raise money to take over their marginal plots as the potential of a reforming Scottish parliament looms, the battle for the Highlands is only just beginning. It would be a bold move but entirely justified if the Scottish government confiscated all estates without recompense with a commitment to return Scots to the land of their fathers.   http://www.independent.co.uk/news/uk/home-news/who-owns-scotland-1320933.html
The era of the Highland Clearances is one of  the most controversial times in Scotland's history. The fallout after the Jacobite rising of 1745 had led to a hammering of Highland culture, including determined efforts to wipe out the tartan dress and Gaelic language of the north.
Clan chieftains, who'd held lands in trust for their extended family, were advised that under the laws of the United Kingdom they actually owned the land themselves – and it could make them rich.
With the Empire expanding and troops engaged in wars across the world, there was more money to be made from sheep's wool than from the clansmen the chiefs had formerly protected.
The clearances saw thousands of people dispossessed, and many left to die of poverty. And one of the darkest characters to oversee the driving out of men, women and children was lawyer Patrick Sellar.
After a particularly vicious eviction, which led to the slow and painful death of 67-year-old Margaret McKay, he was called to answer for the crime of murder.
But a jury of his peers quickly found him innocent – and the judge apologised to Sellar for having taken up his time.
In a bar in Glasgow Sellar's name is engraved in a urinal in the gents' toilet… so that modern Scots may do to him what he did to their ancestors 200 years ago.