Ruth Davidson's rose covered route from her humble home in Fife to the Holyrood Parliament a place she had no desire to be. Her destiny is as yet unfulfilled but she intends to get to Westminster, by any means.
Potty mouth
February 2010: Ruth Davidson, an ex BBC journalist who finished well down the field at the 2009 by-election in Glasgow North East was shortlisted for the Ultra-Safe Bromsgrove Worcestershire, England seat. But lost out to: Sajid Javid – Businessman and entrepreneur with family connections to the West Midlands.
http://conservativehome.blogs.com/goldlist/2010/01/the-six-names-in-the-frame-for-bromsgrove-the-first-to-be-chosen-under-the-byelection-rules.html
May 2010: Davidson returned to Scotland still determined to win a seat at Westminster and subsequently stood once more for the Glasgow North East seat, but could only finish 4th. Facing the prospect of an extended period of unemployment having to potentially wait another 5 years until the next GE she contracted to work as an office manager for the Scottish Tory Party leader Annabel Goldie. Not for Davidson the Scottish Parliament which she held in some contempt believing it to be a very poor imitation of Westminster which she had set her heart on gaining admission to.

June 2010 – March 2011: David Cameron, David Mundell and Andrew Fulton, ( supposedly retired senior MI5 officer) and recently appointed Party chairman in Scotland, selected Davidson for the role of party leader in Scotland. In the course of a secret meeting she reluctantly accepted the role which for her was a less attractive option. Over a period of months in 2010-2011 the Party in Scotland was brutally culled removing any obstacle to the coronation of the anointed Ruth. There were many bruising battles but eventually not long before the 2011 Scottish elections.
25 March 2011: The Scottish Tory party was plunged into pre–election turmoil last night when key donors were reported to have withdrawn their support from the party after the unwarranted sacking of Malcolm Macaskill
Senior party sources claimed last night that wealthy donors – believed to include Tom Coakley, a former footballer turned millionaire property developer and John McGlynn, an airport car park magnate – had told officials they would no longer contribute to party funds after Malcolm Macaskill, a Glasgow businessman and justice of the peace, was removed from the top slot on the Tories' Glasgow list by Andrew Fulton, the party chairman.
Mr Macaskill, who was virtually guaranteed a seat in the Holyrood elections on May 5, was kicked out by Mr Fulton, a former MI5 official. who made no mention of the reason for the dismissal, merely saying Mr Macaskill had been dropped "following discussions between the candidate and the party's candidates' board". He then offered his thanks to Mr Macaskill for his service and announced that Ruth Davidson, a close aide of Annabelle Goldie and a former BBC producer, would be placed at number one on the list.
There was undisguised anger from Mr Macaskill's supporters at his treatment last night. One senior party figure said "This is outrageous. Malcolm has served the Conservatives loyally for over 30 years and is treated like this." Mr Macaskill was responsible for recruiting several wealthy donors, including Mr Coakley, a former professional footballer with Dundee FC who subsequently made his fortune buying and selling property in London's Mayfair. Estimated to be worth £70 million, Mr Coakley announced two months ago that he would donate £100,000 per year for the next 10 years to Scottish Tory coffers.
However, a senior Tory with close links to the situation said last night: "Mr Coakley is furious and he has told the Tories that he will no longer be making any donations." The same source said Mr McGlynn, whose companies own airport car parks all over Europe, and who also donates funds to the party, may also withhold future donations. Last night, Mr McGlynn said "This is outrageous. to penalise someone in this way is completely wrong.
http://www.telegraph.co.uk/news/uknews/scotland/8406040/Scottish-Tories-in-turmoil-after-top-candidate-sacked.html
6 November 2011: Scotland's youngest ever Queens Counsel Paul McBride speaks out – Tory MSPs are "dysfunctional" and "moronic"
In a stinging rebuke to the Conservatives, high profile supporter Paul McBride QC quit the party today. Mr McBride branded Holyrood's Tory MSPs as "the most moronic, dysfunctional, introspective bunch of MSPs I've ever seen. They have no interest in the people of Scotland. Their only interest is their careers. I'm joining the 87 per cent of the population who don't agree with a word they say."
It was also clear that he lacks confidence in Ms Davidson's ability to turn around the party's fortunes. He said: "All they have done is replace one very nice woman, under whom the party declined, with another woman, who probably isn't as nice, is going to get less votes and is supported by only two out of her 15 MSP colleagues."
http://www.newsnet.scot/nns-archive/index.php?option=com_content&view=article&id=3606:paul-mcbride-tory-msps-are-qdysfunctionalq-and-qmoronicq&catid=1:scottish-politics&Itemid=9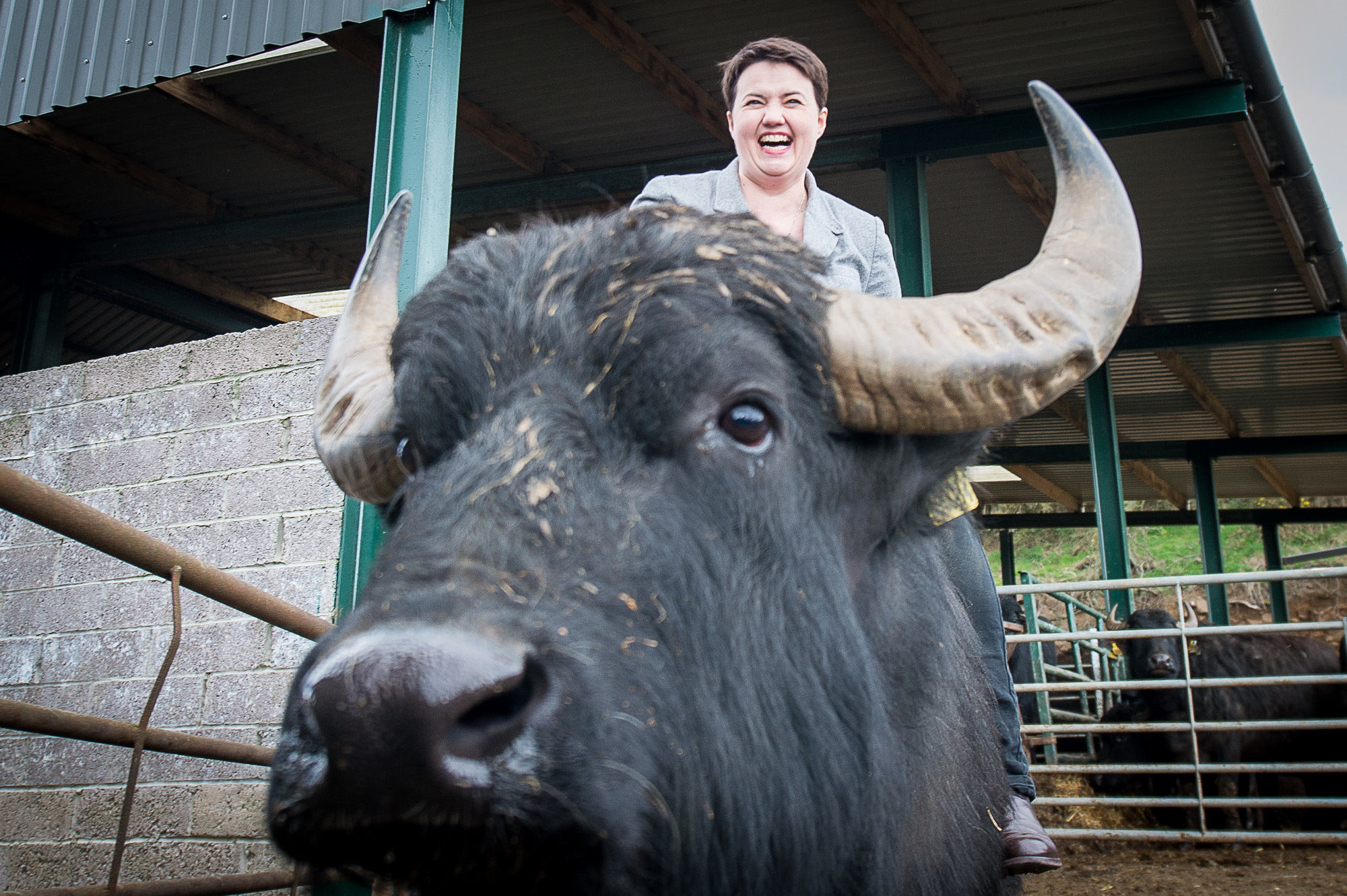 24 January 2012: An Interview with Ruth Davidson
Young, not posh and not especially wealthy, Ruth Davidson is a new breed of Tory. But does she have the steel to do battle with Salmond over independence and stay true to herself?
She is a petite, gamine woman with short, dark hair whose manner is what might be called focus-group-affable, all practised smiles and little self-deprecating jokes, until she is asked a question she does not like, for example – as we shall see – about being gay, at which point out comes a basilisk glare. Michael Forsyth, meaning it as a great compliment, once said Davidson had the balls of Margaret Thatcher, and there are times during this interview when one can see what he means.
Davidson lives in the most affluent part of the West End of Glasgow. The flat, forms part of what at one time would have been a very grand house indeed. It is still pretty grand, all original wood panelling and cornicing, but decorated with some unorthodox touches. You wonder what the rich merchant or Victorian industrialist who once lived here might have made of the Banksy and Jasper John prints on the walls, or of the pool table (albeit covered with good Tory blue baize) in the front room. The place, indeed, could be read as a decent working metaphor for what Davidson's leadership brings to the Scottish Conservatives: a veneer of modernity and a layer of liberalism laid over an oak-solid base of old-fashioned values.
Davidson, agrees that churches should not be compelled to carry out same-sex ceremonies. But for herself – a gay woman of faith – wouldn't she like to get married in the place she worships? It's not such a simple question," she says. "I support same-sex marriage. I want to see the bill that is brought before parliament because it will have to be very thoughtfully written in order to make sure there aren't huge parts of Scottish civic society that are alienated."
How, I ask, did you reconcile your sexuality with your faith? Was that a difficult thing to do? Suddenly, I get the basilisk glare. "I'm hoping this entire interview isn't going to be about my sexuality." she said. I've only asked you three questions about it out of a number so far, I tell her, and I'm trying to relate it to matters in the public sphere. These are issues that are swirling around Scotland, and so I think it is valid to ask. She relied, "sure. As long as you understand I don't read an awful lot about other political leaders' religious faith in magazine articles. I wonder if they get asked the same questions. Or about their sexuality."
But Davidson is the first openly gay leader of a mainstream political party in the UK. That in itself is noteworthy. Moreover, she leads a party which, rightly or wrongly, has often been perceived as homophobic. "I'm not sure whether that is the public perception," she says. "We have more gay MPs at Westminster than Labour and the Liberal Democrats combined. The party has just elected me as their leader in Scotland. I think you are asserting that people think the Tories are homophobic. I'm not entirely sure that's true." OK. But will she answer my question about reconciling her faith and sexuality? She sighs heavily. "There are questions that you ask yourself. I think that I can reconcile and have reconciled my sexuality with my faith."
And what were the questions you asked yourself? "Let's move on." she retorted.
We do. I ask about Paul McBride, the QC who quit the Conservatives shortly after Davidson succeeded Annabel Goldie to the leadership, saying, "All they have done is replace one very nice woman, under whom the party declined, with another woman, who probably isn't as nice, is going to get less votes and is supported by only two out of her 15 MSP colleagues."
And McBride is not the only high-profile supporter to have jumped ship. Only the day before, it emerged that Sir Jack Harvie, who had raised around £16 million for the Scottish Conservatives, has decided to stand down. Both losses are damaging, but McBride's comments felt personal. How hurtful did Davidson find them? "Paul is a man of strong opinions and he's entitled to those opinions," is all she will say on the matter, which is about as far from answering the question as you can get.
That's the really disappointing thing about Davidson. She gives the impression of being a breath of fresh air, but there's something decidedly stale and politics-as-usual about such evasiveness. She may have Lady Gaga on her iPod and a Wii Fit beneath the telly, but she will need to demonstrate real substance, charisma and radical change if she is ever to tempt the Scottish voters to end their love affair with the SNP or to prevent them from returning to the arms of Labour.
And for all that she has given herself a decade to revive the Tories, she will have to work quicker than that if she is to win the argument over Scottish independence. No doubt it means a lot to her – "I feel 100 per cent Scottish but I feel British too, and I don't like the idea that Alex Salmond gets to take that away from me" – but does she really, truly have what it takes to stop him?
"It feels like I'm doing the job I'm supposed to be doing," she says. That may be so, and a sense of personal destiny – though she would disavow that phrase – will serve her well during the months and years ahead. But, having met Ruth Davidson, or at least the part she is willing to show, I am not convinced she is the leader destined to help the Tories get over their blues. Perhaps no one is.
http://www.scotsman.com/news/interview-ruth-davidson-politician-1-2071896

10 August 2012: Ruth Davidson Castigates lazy Scottish Electorate for living off handouts from Westminster
Ruth Davidson, the leader of the Scottish Conservative Party claimed that nearly 90 percent of Scots households are currently "living off state's patronage," reports.
At a Tory conference on Monday, Davidson cited that only about 283,080 households in Scotland – 12 percent of the total number – pay more in taxes than what they receive in public services from the state. In addition, due to the dominance of the public sector in Scottish life, she said that state spending now represents at least one-half of Scotland's wealth.
"It is staggering that public sector expenditure makes up a full 50 percent of Scotland's GDP and only 12 percent of households are net contributors, where the taxes they pay outweigh the benefits they receive through public spending," she thundered.
"The rotten system of patronage, which denies so many people real choices in their lives, has created a corrosive sense of entitlement which suits its political gang masters."
Referring to the exalted 12 percent who are "responsible for generating Scotland's wealth," she rhetorically asked: "I wonder how many of them work on public sector contracts."
Citing data from the Office for National Statistics, Davidson said that the average Scottish household uses £14,151 more in public services every year than it pays out in taxes. Even middle-income Scots, she noted, consume £20,000 more in state spending than they pay out.
Only Scotland's wealthy, that is, those who account for the top 10 percent of earners, pay £17,205 more in tax than they receive in public services.
She also alleged that over-dependence on the public trough has created a generation of Scots who are hopelessly loyal to the Labour and Scottish National Party, at the expense of the Tories.
"If the gang master state is the only provider people can see for their housing, education and employment, it's no surprise those who seek to break the stranglehold find barriers in their way," she declared.
However, the Telegraph reported that on the whole Scotland paid 9.6 percent of the United Kingdom's total tax bill, while accounting for only 9.3 percent of British public spending.
http://www.ibtimes.com/scotlands-mitt-romney-moment-tory-chief-claims-90-scots-dependent-state-welfare-842993

April 30, 2016: The Tory Party cannot find a candidate to face up to disabled voters paying the price for benefit cuts.
Shameless Ruth Davidson claimed she was too busy to defend brutal Tory cuts to disabled Scots. The Conservatives were the only party to dodge an election hustings organised by the Glasgow Disability Alliance in the city yesterday. More than 300 people had turned up desperate to be given some kind of explanation for changes to benefits that have left them struggling to survive. Booing rang out across the room after a message was read out claiming Tory candidate Thomas Haddow had pulled out and that none of his colleagues were available as a replacement.
But party leader Davidson did have time to have fun on a trip to Loch Katrine in the Trossachs, where she posed for pictures on a steamship. Make no mistake, Davidson's endless fooling around at photo-ops and 'jolly head girl' mugging for the camera are only there to disguise the brutal reality. Remove the clown's make-up and you'll find the cynical face of a politician who stands for the same unjust and downright cruel policies as her English counterparts.
So there we have it; Tory leader Davidson stands accused of acting the clown for the cameras – disguising the axe-woman hovering behind. Opponents say she is desperate to keep the focus on her jolly public persona to avoid the brutal policies of her Party being scrutinised. And while she plays the fool on the back of a buffalo or on a steamship, ordinary Scots are left counting the cost of Tory rule. Neutral financial analysts say the Scottish government has been left with a £2 billion financial deficit black hole caused by Westminster cuts under Cameron and Osborne. One eminent think tank are of the view that benefits cuts will cost Scottish claimants in excess of £600 million each year by 2020.
http://www.dailyrecord.co.uk/news/politics/spineless-ruth-davidson-refuses-defend-7865388