Massive increase in the number of SPAD's and Spin Doctors in the employ of the government at taxpayers expense
16 July 2009: there were 74 Special Advisers in post at Westminster providing advice to government ministers at a cost of £5.9million to the taxpayer. By 18 December 2015: the number of SPAD's has risen to 97 . at a cost of £11.1million.
In addition to SPAD's the government employs "spin doctors" whose role is to put a positive face to anything the government might do regardless of truth or probity. There are now in excess of 100 in employment, an increase of 30 since the Tory government came to power in 2010.
Ed Milliband & SpAd Katie Myler
Roles and responsiblities of the SpAd (Special Adviser)
SpAd's are paid employees of the State and are – subject to specified exceptions – required to conduct themselves in accordance with the Civil Service Code."  which states that the highest standards of conduct are expected of special advisers.
i. "Specifically, the preparation or dissemination of inappropriate material or personal attacks has no part to play in the job of being a special adviser as it has no part to play in the conduct of public life.
ii. "Any special adviser ever found to be disseminating inappropriate material will automatically be dismissed by their appointing minister.
iii. "Special advisers…must observe discretion and express comment with moderation, avoiding personal attacks."
iv  "All contacts with news media should be authorized, in advance by the appointing minister."
But the world of the SpAd is murky. They are accountable only to the Minister that appointed them. There is no formal recruitment process or interview. How does it work? Nepotism. A minster decides he needs a SpAd. He gets in touch with David Cameron's office and obtains permission to appoint one. Approval granted the minister contacts an old friend from University who might be between jobs and offers him the post. The person accepts. The following Monday the new SpAd reports for duty on a salary of between £60 -£155,000K. Nice if you know the right people.
Norman Lamont and his young SpAd
Sir Jeremy (Cover-up) Heywood at it again
Sir Jeremy Heywood, Cabinet Office Supremo and Head of the Civil Service,( nicknamed Sir Cover Up after preventing Chilcott Iraq War inquiry from seeing letters and records of phone calls between Mr Blair and Mr Bush) has been caught up in a row over bending the rules of the Civil Service by permitting Cabinet Office, "special advisers" (pseudo civil servants) to campaign in the recent Rochester by-election.
Labour's Cabinet Office spokesman Jon Ashworth said: 'There are serious question marks here which Cabinet Secretary Jeremy Heywood needs to clear up. I will be asking him to provide answers about what guidance has been given.'
Sir Jeremy is a powerful force at No10. David Cameron once joked: 'Remind me, Jeremy, do you work for me or do I work for you?' Critics claim he was complicit in the culture of 'sofa government' when Tony Blair was PM. He was nicknamed Sir Cover-up after preventing the Iraq War inquiry from seeing letters and records of phone calls between Mr Blair and George W Bush in the run-up to the conflict.
Blair and youknowwho
Wielding Power in the Sewers of Westminster
Clare Short disparagingly dubbed them the "people who live in the dark". They can often be spotted darting through the television studios of Westminster with their minister, briefing papers under arm and Blackberry in hand. Young, sharp and driven, they are often politicians-in-waiting – among former "spads" are Prime Minister David Cameron, Chancellor George Osborne and Labour's Miliband brothers, David and Ed.
Employed as temporary civil servants, they do not have to be politically impartial like their civil service colleagues. They link together the minister, the party and the department. They are also the bridge between the neutral civil service and politicians. They help write speeches, some are policy wonks, while others focus on the media. If a journalist wants to know what a cabinet minister thinks or understand what a policy is about, a call to the special adviser is one of the first ones to make. But they are sometimes sneered at by some journalists.
Michael Jacobs, a former special adviser to Gordon Brown, told the BBC that "while ministers needed civil servants for impartial advice, they needed special advisers to help them to make political judgements and consider different options: "They are a sort of lubricant in the machine."
Special advisers first became a permanent fixture in Whitehall in the 1970s. But their number ballooned under Labour. In 1996 there were 38 working in government, costing the taxpayer £1.8m. In 2004 the number peaked at 84 and in 2008/9 there were 74, at a cost of £5.9m.
But their expanded ranks prompted concern about their role. Critics voiced concern that a more American, politically driven civil service was sneaking in via the special advisers and lines of accountability were being blurred.
An e-mail sent by special adviser Jo Moore after the terror attacks in the US on 11 September 2001 saying it would be a good time "to bury" bad news triggered a number of reviews into their role and power.
Another "spad"-related scandal – the discovery that Damian McBride was smearing senior Conservatives in e-mails – prompted Gordon Brown to ask the cabinet secretary to review the rules governing their behaviour.
Political advisers are said to be as powerful as cabinet ministers for the influence they wield on government policy.
http://www.bbc.co.uk/news/uk-politics-17260016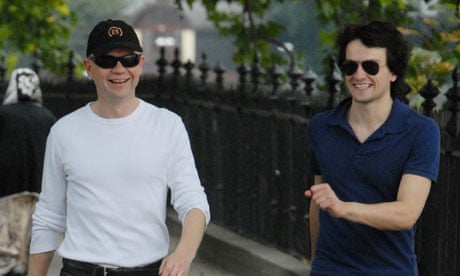 William Hauge and his SpAd enjoy a walk in the sun
Limits to be Applied to the Number of SpAd's
The Conservative opposition committed to drastically reduce the number of special advisers – a democracy task force headed by Ken Clarke in 2007 recommended they be halved. Number of special advisers by year;
1996/7: 38
1997/8: 70
2004/5: 84
2006/7: 68
2008/9: 74
2009/10: 71
2010/2011: 74*
2011/2012: 85
2012/2013: 98
2013/14: 103
2015/2016: 97
*Con/LibDem coalition 20 SpAd's appointed to support Lib Dem's
So under the tory government, special advisers continue to roam the corridors of Whitehall. Their close relationships to cabinet ministers and lobby correspondents give them influence – an influence that can hatch into a political career later on. A successful stint as a "SpAd" can be a crucial political apprenticeship – as many of the current crop of professional politicians can testify – so long as they stay in the dark. http://www.bbc.co.uk/news/uk-politics-11165381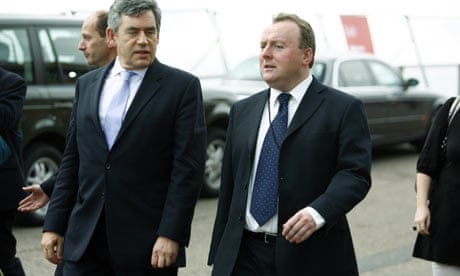 Brown and his SpAd Damian McBride
The Government's special advisers are too well protected for the power they wield. They need be accountable –
They are among the most shadowy figures in government. They sit at the right hand of Cabinet ministers and some wield more influence than the most senior civil servants, yet their names are rarely known outside Whitehall.
They are unelected and unaccountable to either the public or Parliament. They are the chosen few, though how they come to be chosen is something of a mystery. Their privileged positions are never advertised, but increasingly the posts they hold lead to the very top of politics.
They are government special advisers – or "Spads" – and right now they are under the spotlight.
One of their number, Adam Smith, Spad to Jeremy Hunt, the Culture Secretary, was found to have been far too close to the Murdoch empire. Not only did Mr Smith have to resign but Labour MPs now want the head of his former boss.
This week the Prime Minister, clearly angry, was forced to go to the Commons to defend Mr Hunt. The ongoing row raises serious questions about the role of Spads, who they are, how they are appointed and what should be done to stop them causing havoc.
Mr Smith is far from being the first Spad to embarrass his political masters. Under Labour, bad Spads included Damian "McPoison" McBride, who ran smear campaigns, and Jo Moore, who declared 9/11 a "good day to bury bad news". Then there was Alastair Campbell, Tony Blair's press secretary, whose duties included sexing up intelligence dossiers.
The Coalition's dubious Spads have included the No 10 press secretary and former News of the World editor Andy Coulson – ties to the Murdoch empire again – and Adam Werritty.
Mr Werritty's problem was that he wasn't a Spad to the then defense secretary, Liam Fox, but he acted like one. This caused outrage – proof perhaps of the muddle there is over Spads.
Spads are meant to help senior ministers with the kind of political matters that civil servants cannot touch, whether briefing the media or injecting a party line into policy. Nearly everyone agrees that, as such, they play a crucial role. So what goes wrong?
One problem is that they are… well, cronies. To become a Spad you need to know someone in the party of your choice who will take you on. A survey by the magazine Civil Service World found that 89 per cent of the current crop of Spads had worked for their party HQ or for an MP.
Most Spads are young with little experience of anything much. They tend to have been in marketing, lobbying or media relations before joining the Westminster bubble.
Once in government, they are thrown in at the deep end: they have no training, they are not accountable to anyone except their ministers and the jobs they do vary enormously from one department to another.
The really scary thing is that so many Spads go on to hold the highest offices: David Cameron, George Osborne, Nick Clegg, Ed Miliband and Ed Balls all started as Spads, and all are still young.
A  trend for people of proven ability in government would be welcome. In the past, Labour chancellor Denis Healey had been the beach-master at Anzio. Today, Labour leaders are more likely to be asked whose side they were on in the war between Tony Blair and Gordon Brown.
If Spads are the leaders of the future, a rethink is needed urgently, particularly given the public's distrust of the political elite. For a start, it may be time for Spads to come out of the dark – and not just when they are at the centre of a scandal.
The Commons' Public Administration Select Committee is embarking on an inquiry into Spads. One of the questions it will ask is whether they should be subject to pre-appointment scrutiny by MPs.
This might enable those of a more dubious character to be weeded out early on. Had Andy Coulson faced the prospect of being cross-examined by MPs, Mr Cameron might have thought better of appointing him.
Public scrutiny could also encourage the idea that Spads should have some experience and achievements to their name in other fields besides politics, before they are given jobs in the heart of government. Once appointed, they could appear regularly before MPs.
Spads have to command the confidence of their ministers and they need to share their political views. Yet why should the jobs not be advertised? This would widen the pool and be far fairer. The parties could reject those deemed unsuitable.
As it is, the likes of Nick Clegg are always complaining about the wicked middle classes giving internships to the sons and daughters of people they know. Let them follow the same even-handed principles with jobs that are in their gift.
We could even look at Spads being picked from the ranks of elected backbench MPs. We have far too many junior ministers. Indeed, civil servants often have to spend time inventing things for this lowly form of ministerial life to do.
Cut the number of junior ministers – in line with the planned cut in the number of MPs – and give promising backbenchers Spad jobs. It would at least close the democratic deficit.
Appraisals for Spads, by civil servants reporting to ministers, might also help to regulate this increasingly important cadre. The Coalition started by promising to restrict the number of Spads but the numbers are now well in excess of where they were when Labour left office. The Tory government should not wait for the next scandal. Spads should be brought out of the shadows now.
http://www.telegraph.co.uk/news/politics/9241164/Stand-up-you-Spads-and-be-accountable.html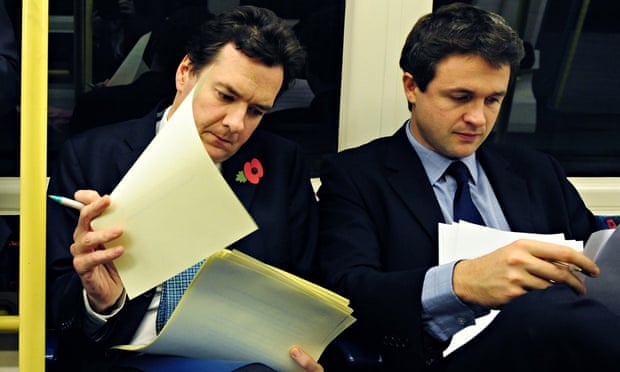 Osborne and his SpAd Rupert Harrison
Pay and Other Forms of Remuneration
David Cameron and Nick Clegg broke their promise to curb the numbers of highly-paid special advisers. In opposition Cameron promised to 'cut the cost of politics' and the coalition agreement said there would be a 'limit' on the number of special advisers.        http://www.bbc.co.uk/news/uk-politics-30541478   http://www.bbc.co.uk/news/uk-politics-17433458
In opposition Nick Clegg said. "special advisers shouldn't be paid for by the public". But as soon as he got his feet under the Cabinet table, he broke his word.'
George Osborne froze the wages of six million public sector workers at the time the Coalition came to power, plunging many into poverty under his cruel austerity drive. Yet the heartless Chancellor handed one of the chief architects of the public sector pay freeze, fellow Old Etonian, friend and special adviser Rupert Harrison, a 19% inflation-busting increase boosting the Chief of Staff's £80,000 salary by £15,000 to £95,000.  http://www.mirror.co.uk/news/uk-news/george-osborne-gives-mate-19-4836747
Not to be outdone, Alexander bumped up the pay of his own adviser Will de Peyer by 16 per cent to £75,000 – while bringing in another special adviser earning £95,000.
The Cabinet Office list showed the employ of 26 special advisers in Downing Street of which six are paid £100,000 or more, topped by Cameron's:
Chief of staff, Ed Llewellyn £140K
Director of Communications, Craig Oliver £140K
Deputy Head of the No 10 Policy Unit, Christopher Lockwood £ 134K
Prime Minister's Press Secretary, Graeme Wilson £110K
Deputy Chief of Staff, Kate Fall £100K
Director of Communications (Mr Clegg), Steve Lotinga £105K. Plus another 3 SpAd's. Plus 16 special advisers for Lib/Dem ministers Total 20.
http://www.dailymail.co.uk/news/article-2879483/Cameron-Clegg-break-pledge-cut-cost-politics-number-special-advisers-soars-50-2010.html?ITO=1490&ns_mchannel=rss&ns_campaign=1490
Political creatures: Adam Smith (left), Jeremy Hunt's special adviser, resigned following allegations that he held inappropriate discussions with News Corporation while it was bidding to take over BSkyB
Is There Any Way Out of This Mess?
A senior (retired) civil servant asked to comment said  "When I was a civil servant I was expected to keep my political opinions to myself. It was also expected, having signed the Official Secrets Act, that I would not reveal information to which I was privy because of my job. It seems to me that there is a basic conflict of interest here. Should SPADs be paid for put of the public purse? If so, is it compatible with public interest for them to stand for a political interest anyway?  The employment of SpAd's at the expense of the taxpayer should be discontinued and replaced with civil servants entrants with specialist expertise."
If you want to get to the top in politics regardless of talent !! Get a job as a SpAd to a minister